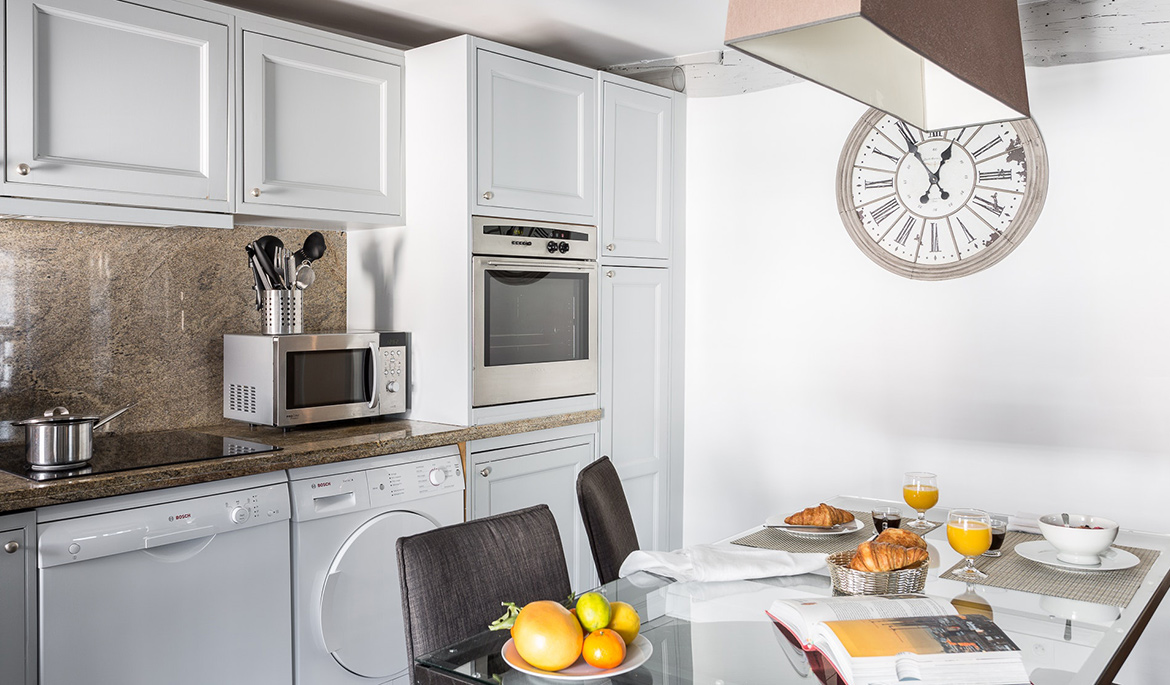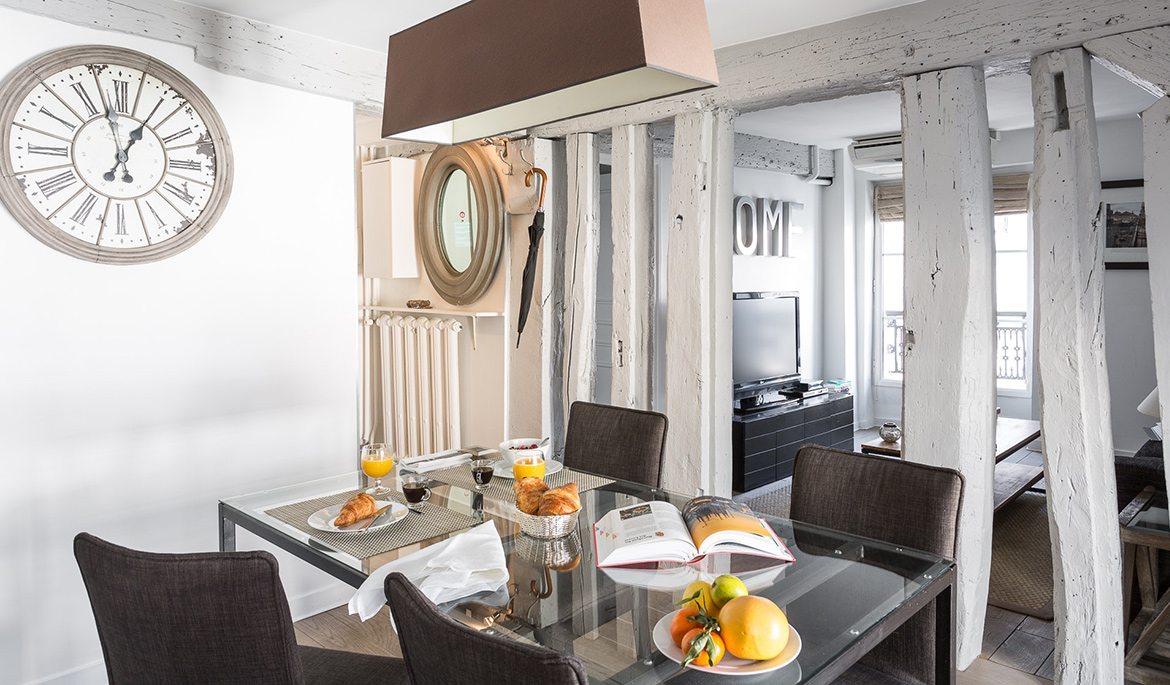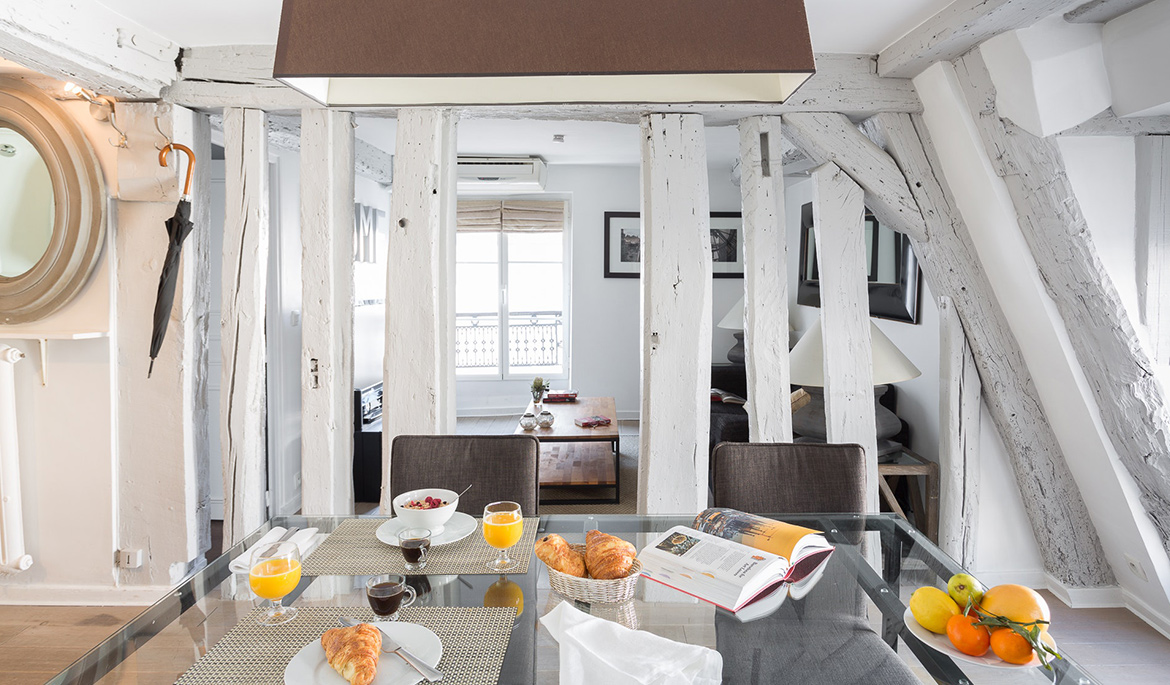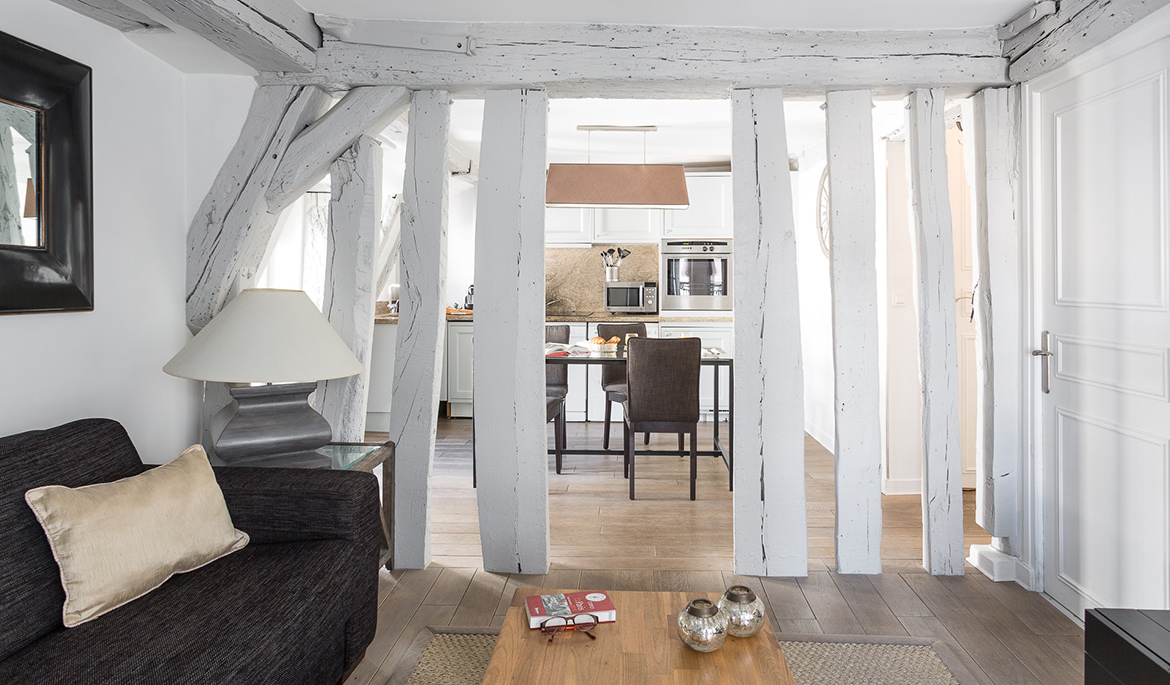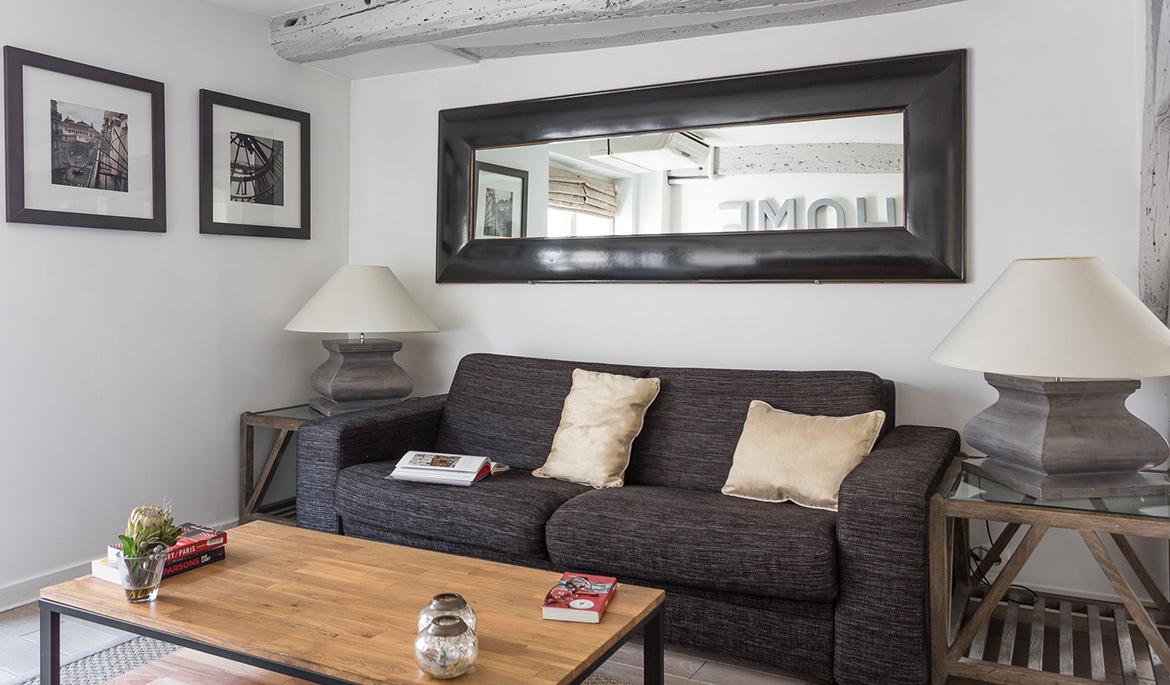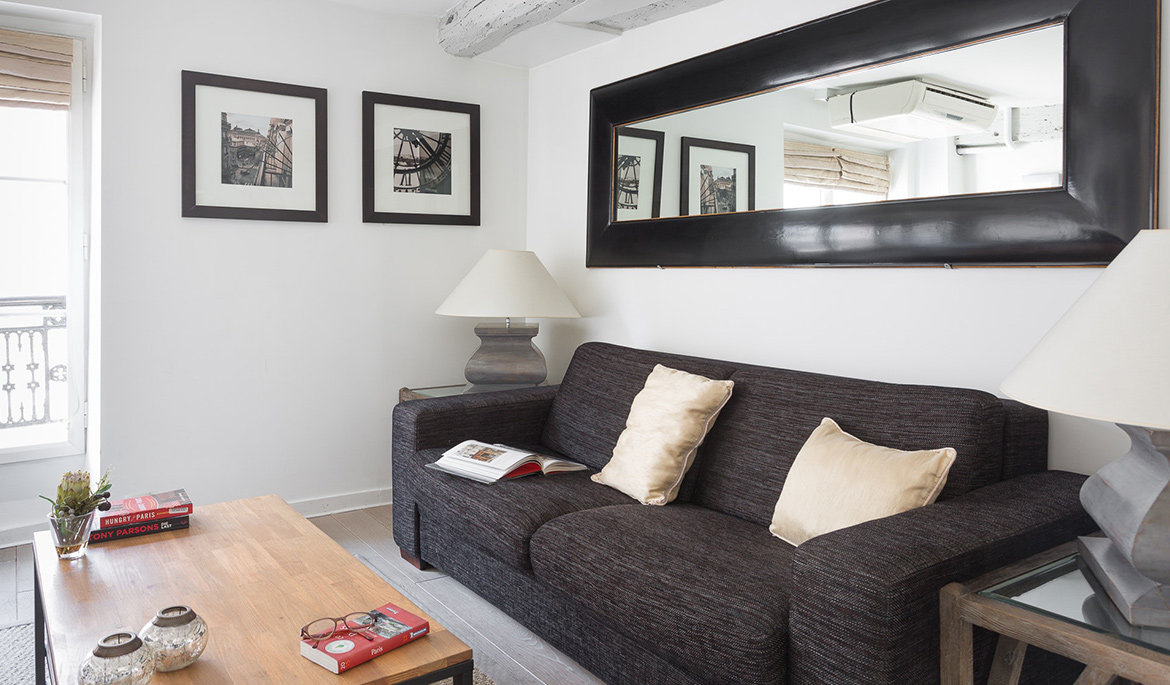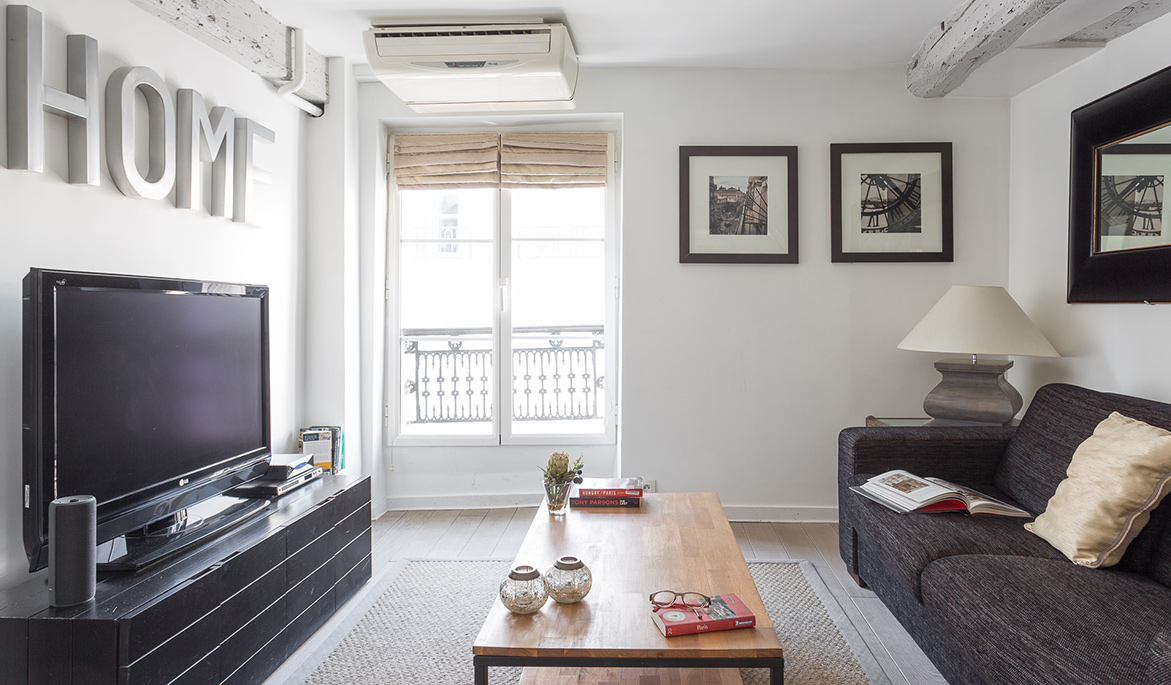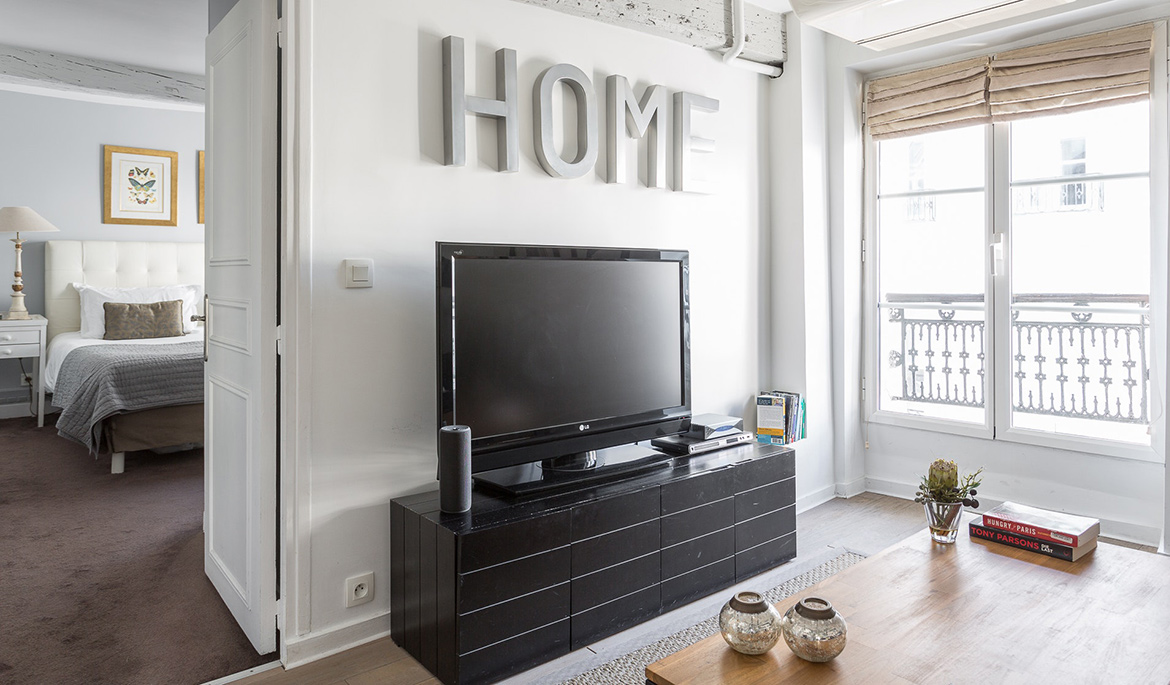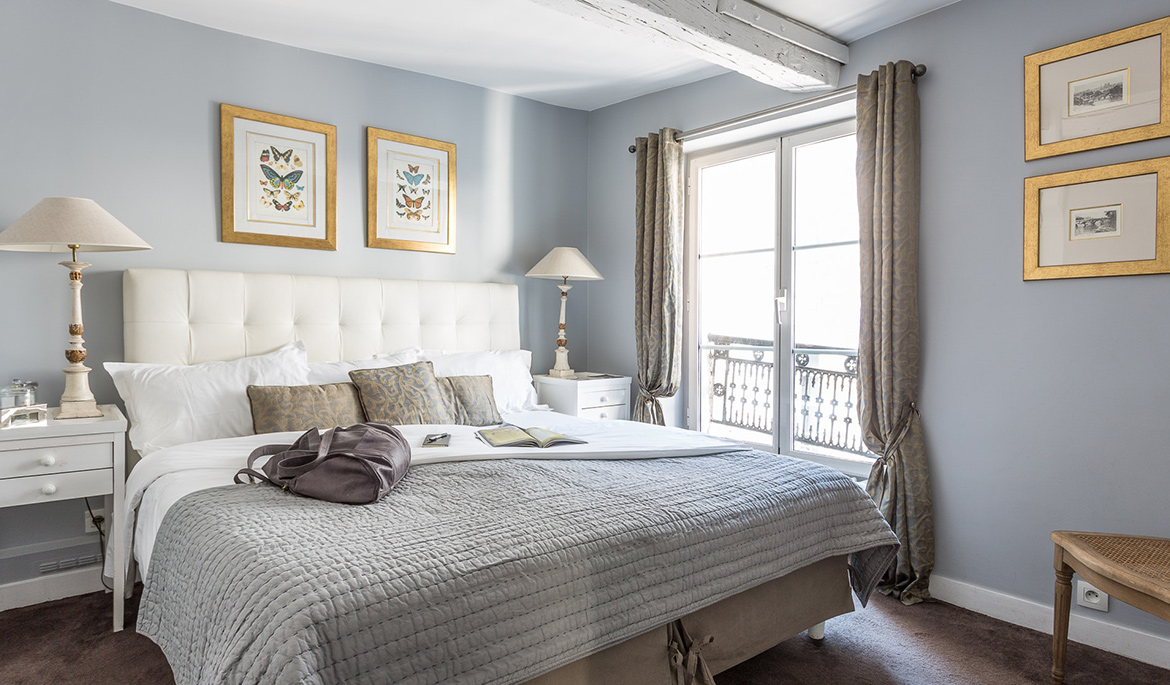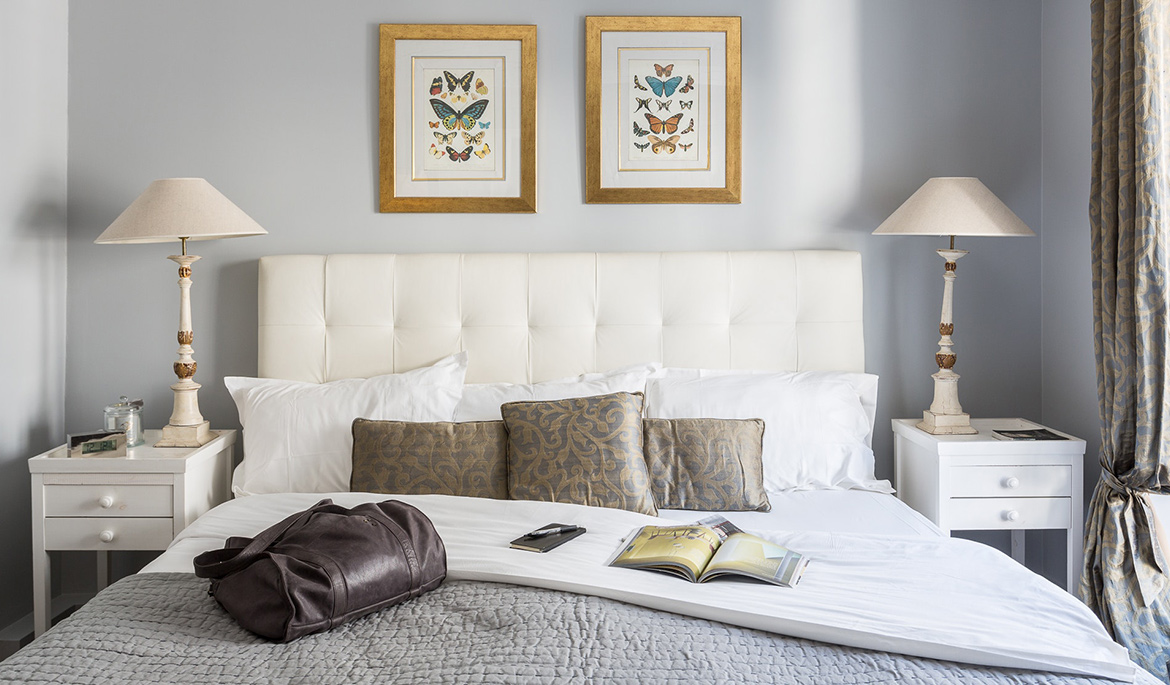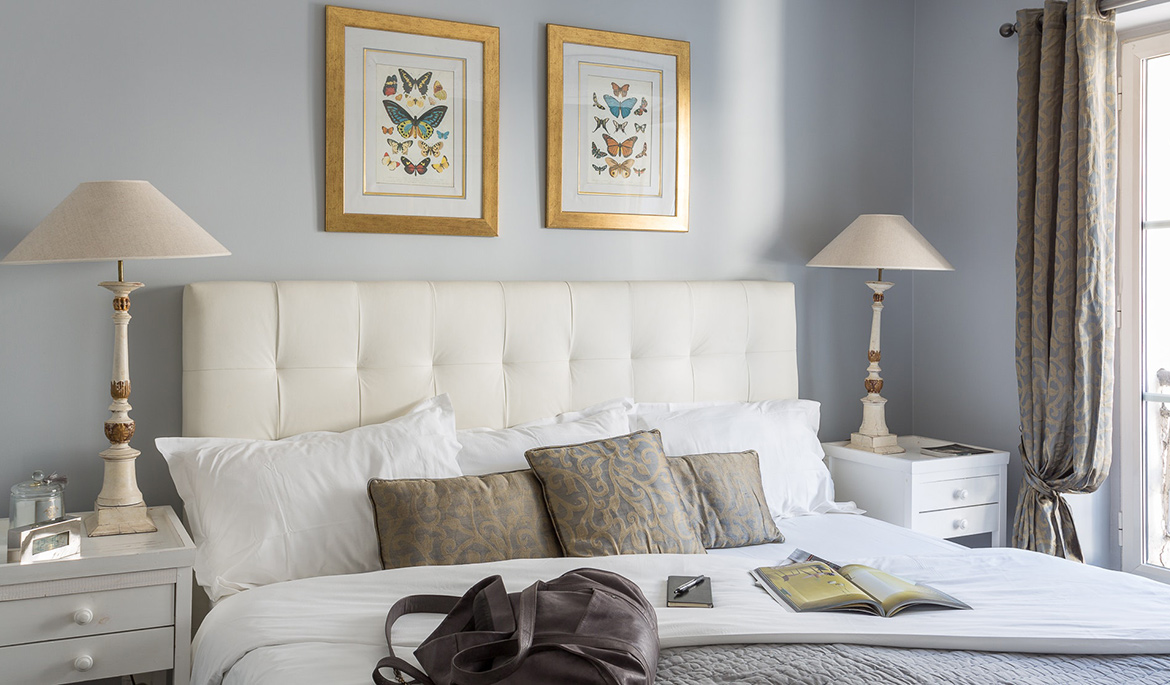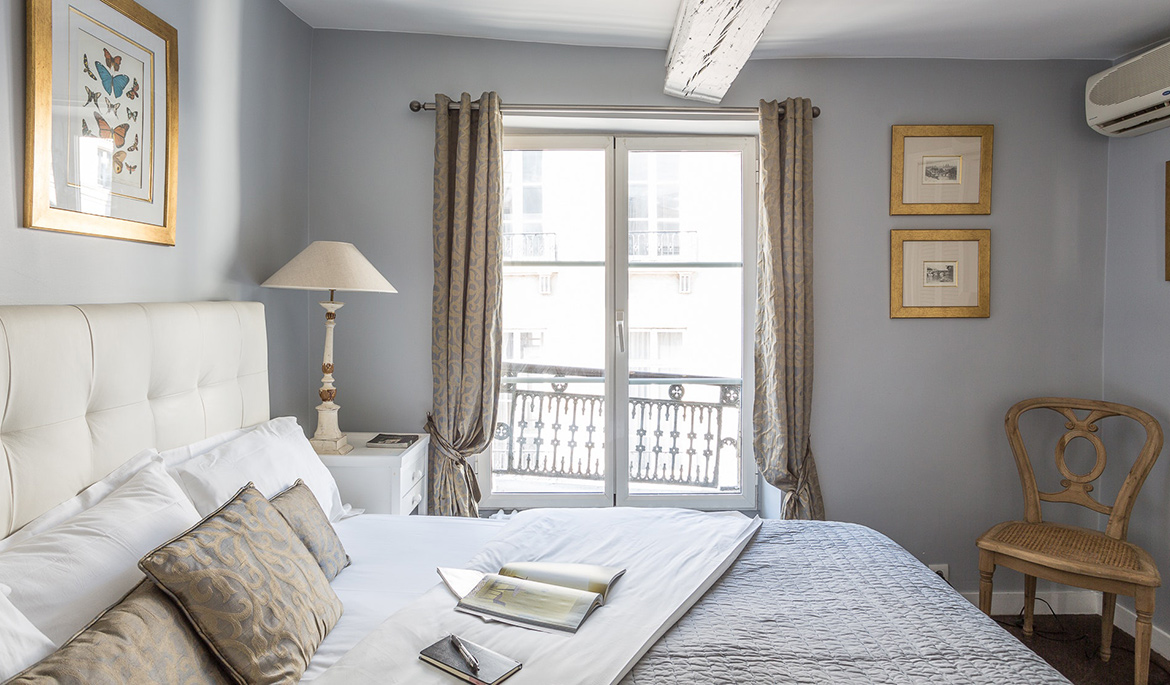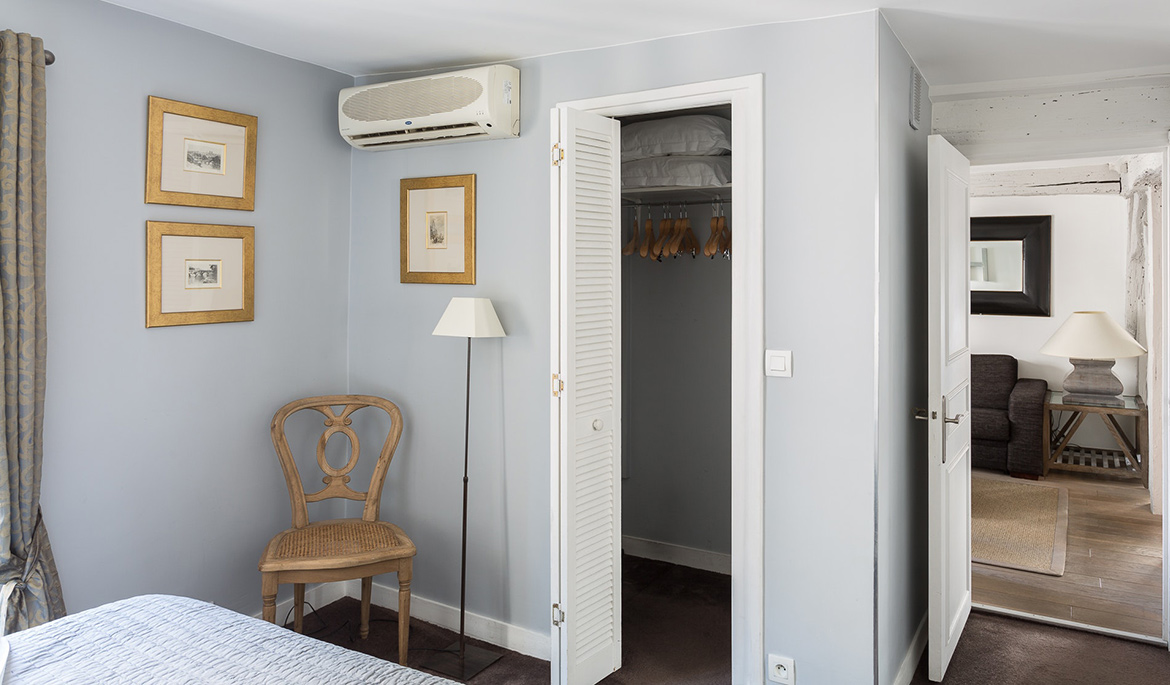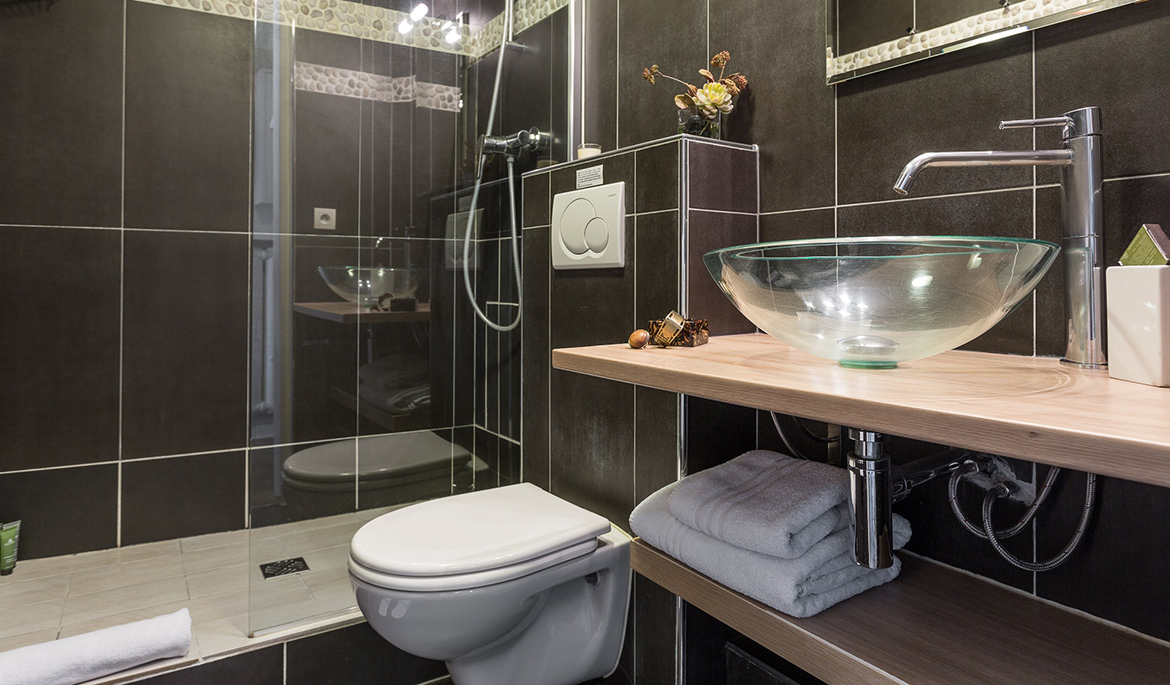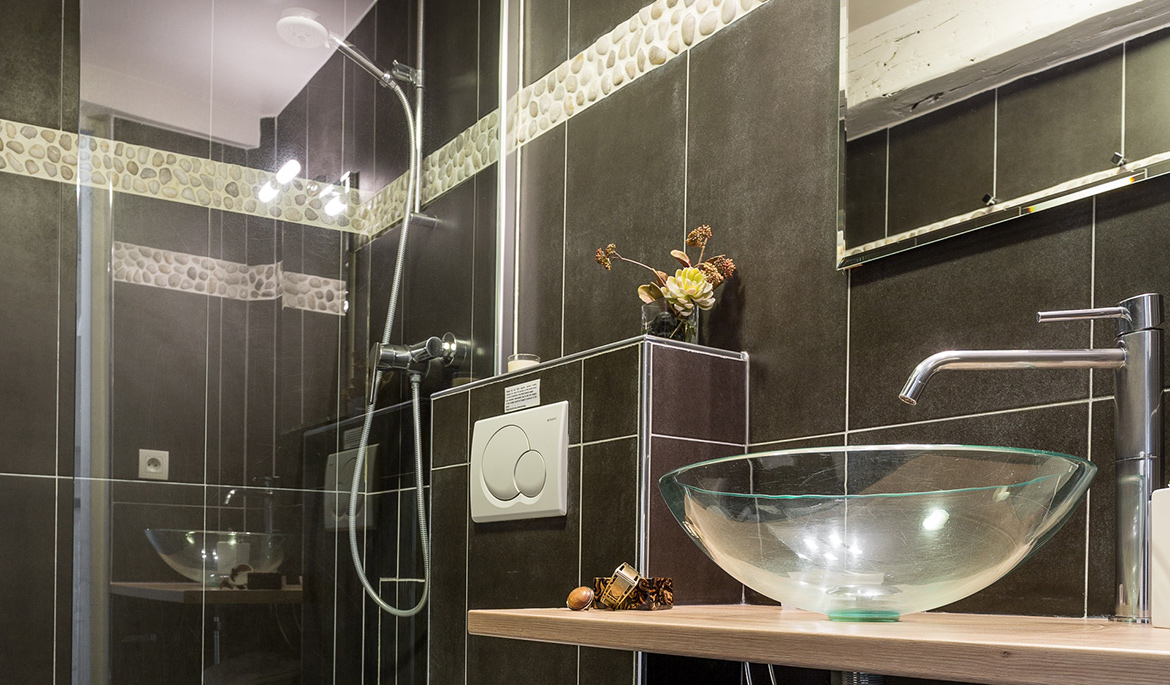 Perfectly located, spacious, and equipped will all necessary appliances, this apartment is full of charm thanks to its tasteful decoration and beautifully exposed beams that reveal a bit of old Paris. From your first step into this comfortable apartment, you will feel at home. The location can't be beaten, in the very heart of Saint-Germain des Près, a few steps from the Luxembourg Garden and only a few minutes walk from the metro.
The apartment, located on the top floor of a 17th century building, is spacious with no lost space. The open kitchen is fully equipped and will allow you to cook and eat comfortably. The living room, separated by exposed beams, has a sofa bed and a large flat screen. The cozy bedroom with king size bed includes a large walk-in closet.
The bathroom with lavatories and a nice italian shower is modern and stylish. The apartment overlooks the rue de Tournon and the Senat dôme and the rue Saint-Sulpice. All windows are double glazed very efficiently. Anti bed bug mattress protector in each bed.
General

Check in time : 14:00
Check out time : 10:00
On Floor 4 (walk-up)
Driver on request

Amenities
Air conditioning (integrated)

High speed Fiber Internet

Dish washer

Fridge

Stove

Microwave / Oven

Toaster, Coffee pot, Kettle

Washing machine

Clothes Dryer

Sheets, towels

TV with English speaking channels

Bluetooth speaker

Phone with free calls to many countries including USA, UK, Australia, Canada, and more.

Iron & ironing board

Umbrella

Hair dryer

Safe

Sleeping arrangements
King sied Bed
Full double thick-matressed sleeper sofa
Reviews
Lynn Oliver, USA

The apartment was very stylish and also full of character with it's lovely beams and calming grey colour scheme. The location in the 6th was great and there were some lovely little very French restaurants close by. Cecile was also very obliging and answered any correspondence swiftly.

Jessica Brookbanks, USA

We spent an amazing weekend. The apartment was in a fantastic location, walkable to so many great sights and surrounded by lovely stores, museums and bars.
The apartment was gorgeous, comfortable, clean and stylish. It has the views of the rooftops I really wanted. Check in and check out was seamless and Cecile was very helpful indeed.
There are a lot of stairs so just be aware but that is part of the charm and gives you the rooftop view!

Per Kuskner, Denmark

We simply had a wonderful stay at this apartment. We have lived many places in different areas in Paris over the years - but this was far the best. My husband and I, and our two children aged 18 and 22. We spend christmas here, - we might do just that again. We will be back for sure. Thank you Cecile! :)

Sara Lessley, USA

Lovely, comfortable, well-furnished top-floor apartment in an ideal Saint Germain de Pres neighborhood. Cecile (and her mother) are wonderfully helpful in checking-in, setting up, booking a driver, and when we encountered a minor TV/internet glitch. We marketed locally (Rue de Seine, Rue de Buci, Gerard Mulot patisserie -- yum!) and cooked/dined in the well-appointed kitchen. Double-paned windows keep out the street noise, but with the windows wide open, you experience the gloriously active city sounds (reminded me of Brooklyn). Walking distance to gorgeous Luxembourg Gardens, Saint Sulpice church (Palm Sunday and Easter Sunday services, and the organ, were divine), Place de la Furstenbourg (don't miss the Maison de Chou), the Seine, the university district, Pantheon. Odeon and Mabillon metro stations nearby. Bed and sofa bed are very comfortable for sleeping. And the carpeted steps up to the flat DO get easier every day!

Lori Loranger, USA

We recently stayed for just under 2 weeks in the Saint Germain Elegance apartment. It was everything we hoped for. It was beautifully decorated, immaculate, and had everything we needed. The kitchen was very well equipped. We cooked breakfast every morning and also prepared dinner there multiple times. But one of the best features was the location. We walked to the Louvre, Notre Dame, and many other sites. There are numerous markets and cafes close by, and the metro is a 5 minute walk away. Although the 4 flights of stairs were a little daunting at first, it became easier each day to climb them. And with all of our visits to cafes, we needed to burn a few extra calories. Cecile was a pleasure to work with. She was always very responsive and even arranged a driver to pick us up at the airport (he also carried our luggage up to the apartment). I will book this apartment again the next time I stay in Paris!

Darlene Dutton, USA

This was our 14th trip to Paris and we loved everything about this apartment. It is so nice to have your own kitchen, not to mention a washer a dryer, it just makes things easier. The location could not be more perfect....close to everything. The apartment was spotlessly clean and very comfortably appointed. We will absolutely rent this apartment again.

Kristina Cook, Australia

Another wonderful stay in one of Cecile's delightful apartments. Beautifully furnished, clean & quiet and close to everything. It was worth every cent.
Super easy to book and we look forward to a return visit next year.
Our only concern at the time was that the two front security doors did not close but Cecile assured us that it was going to be attended to.
I will certainly be recommending Dreams Apartments to family and friends.

Elisa Barry, USA

My husband and I traveled to Paris for a wedding and this was the perfect apartment!!! Location, location, location!!! Clean and beautiful! A walk down the street to Luxembourg Gardens...blocks from the best shopping, restaurants, cafes, St. Sulpice cathedral, St. Germain cathedral, etc. We walked all over Paris and loved it!!! Staying on the Left Bank was the best part of the trip...we could walk to the tourist areas and then come back to our lovely apartment! Everything was just as advertised and Cecile was wonderful! I am already dreaming of going back and staying here! (just remember there is no elevator, but it didn't bother us) LOVE LOVE LOVE it!!!

Alissa K.

For my 1st time in Paris there could not have been a more perfect place to stay. The apartment itself was perfectly decorated and comfortable for our family of 4 (with two teenagers). Jardins de Luxembourg is 3 blocks away and was my favorite spot in all of Paris, not to mention the close proximity of Gerard Mulot patisserie--everyday for croissants, baguettes and pain au chocolat), the market and Amorino gelato (and my sons would say the Gap!). I have already recommended the apartment to several friends and family. It made the trip outstanding!

Lisa B., South Africa.

My husband, toddler and I spent a wonderful week in June at the St Germain Elegance one bedroom apartment, and could not have been happier. The apartment was comfortable, clean, and had all the amenities we needed. Additionally, Cecile provided us with all the extras we needed to accommodate our 14 month old. The location was perfect, and working with Cecile was very easy. We will definitely be staying here again on our next visit, which we hope is soon!

Marie Foley, Ireland

We spent a week in St Germain Elegance apartment in November. I found it after lengthy research and changed our flights from October to November in order to get a booking. We were a little apprehensive and so pleased it worked out so well. The apartments manager is highly organized and completely dependable. The apartment is very comfortable and thoughtfully equipped ( washing machine, dryer, excellent cooker, a good range of stainless steel saucepans... even had utensils for baking + lots of sensible cleaning aids ) in a great location (we walked everywhere) close to an good carrefour supermarket and Nicolas wine shop. It has a proper king sized bed... a luxury in Paris rental apartments it seems to me. We will be back. Maybe we will stay in the Marais apt next time.

Darlene Pina, USA

Our family with two children (now ages 16 and 12) have stayed at this wonderful apartment three times and we love it! It is in a quiet and upscale neighborhood near an amazing park, shopping, and restaurants (and the famous Gerard Mulot's bakery!). We can walk to most of the big sites in Paris, and several metros and taxi stands are close by. The apartment is very clean and luxurious and it had everything we needed. It is warm in the winter and cool in the summer. Everything has been perfect in each of our stays!

Rebecca Bowler, USA

My husband and I stayed for a week at the St Germain Dreams apartment. It was exactly as described on the website, and we absolutely loved it. We are frequent travelers, and have been to Paris many times - and this was our favorite vacation there. It was so nice to go to the market and pick up cheese and other prepared items to have a few meals/snacks "at home" -- we really felt like we were living in Paris for the week. It was great to have a living room, dining area and kitchen instead of simply returning to a hotel room each day. The apartment is attractively decorated, and the location is FANTASTIC. The building was very quiet too. Highly recommended! There are a lot of stairs so not for anyone who has trouble navigating steps.

Voshte Gustafson, USA

What a find! We searched and searched hotels & apartments and were so excited when we found this apartment! It was in the location we were hoping for and everything! All the reviews were accurate, as well as the photos. This is perfect for a couple. The place is clean, nicely furnished and has a great modern bathroom. There are travel guides and a book of restaurant recommendations, however the travel books are a little dated. We walked everywhere and cute bistros, wine bars, bakeries and tiny store. Cecile was easy to work with although we never met her, directions and check in/ out a breeze. I would go back in a heart beat!

Robyn SMith, USA

After a two week stay we can only say that this is a great apartment with all the amenities, in a perfect location to experience the best of Paris. We found the Parisians to be very friendly, courteous and helpful. Cecile was absolutely prompt in answering our few questions and even had the apartment cleaned for us halfway through our stay. Dreams Apartment is THE company to rent from if you are staying in Paris.

Chris Smith, USA

The apartment is amazing as you can see from the picture and description, but the experience and service were even better. The area around the apartment is by far the best in Paris. It is extremely safe, quiet, and conveniently located a short metro ride to every popular area in the city. We constantly found ourselves returning early from day long excursions elsewhere to spend time walking the streets near the apartment. There are countless great markets, shops, and restaurants all a short walk from the front door of the apartment. Cecille is incredibly easy to work with and has done all of the work for you so you do not have to worry about the little things when you arrive.

Lori Troyer, Canada

This is the second time in 2 years we have stayed at this beautiful apartment in St. Germain and it is absolutely lovely. The location is perfect (close to many shops, restaurants, Metro, etc.). The photos are exactly as posted and it is extremely well equipped and clean. The owner was very helpful and the booking process and checking in and out was very easy. A few outstanding restaurants within walking distance are: L'epigramme, Le Timbre and Fish La Boissonnerie Bistro. Two fun neighbourhood bars - le Schmuck and Playtime Cocktail Bar. The neighbourhood is vibrant, safe and easy to walk around. We would most definitely recommend this apartment as well as stay here again ourselves.

Ann Partington, Canada

We just arrived back from a wonderful week in Paris at the St Germain apartment. My 2 adults sons and I like the accessibility to the city, as we were able to walk to main tourist areas within 10 - 15 minutes. I am glad someone had previously mentioned the 88 steps to the apt, so I was prepared for the "exercise" The apartment was cozy and a cross between modern and rustic looking. We loved the ambiance of the apartment and have already recommended to others thinking of travelling to Paris. It is close to the subway for longer treks out to other tourist areas. We did use Dreams apartments' recommendation of a driver who could speak english, to take us to the airport Friday morning. Thank you for the wonderful experience!

Brenda Gervais, Canada

The St Germain Elegance is in a wonderful Paris neighbourhood and a location that is easy walking distance to many attractions including Luxembourg Gardens (don't miss this on a Sunday), Musee D'Orsay, Musee Orangerie, The Rodin and too many more to name. Cecile was excellent to deal with, both before and during our stay...when we had a minor challenge at the beginning of our stay she was very responsive. The apartment is as adverttised and meets all one's needs...it is clean, the bed is comfortable, with good quality linens, kitchen has all one could need during their stay, and the living room is a good place to read or relax in the evening. We would not hesitate to recommend this apartment or any of the Dreams properties (which we suspect would be of similar quality) and on our next trip to Paris we will certainly be staying in one of these apartments. There are 88 steps up to the apartment...so anyone with any mobility issues would find this a challenge.

Jacqui Unwin, Australia

Well, what can I say, Paris was an amazing place to stay and our time was certainly made all the better by our time in St Germain Elegance. It was exactly as pictured, beautifully appointed and lovely and clean. We felt completely safe even in the middle of such a big city. We would certainly use one of the Dreams apartments again as dealing with her was smooth and easy even from Australia! Thanks again, we loved your city!

Britta Kocak, USA

Our stay in the St Germain apartment was perfect! My husband and I were planning a 1 week honeymoon to Paris and the location of this 1 BR in the 6th was everything we could have hoped for; one block from the Luxembourg gardens where we would relax on a daily basis, and a 2 minute walk up to the bustling avenue filled with famous cafes and shopping. Some of the best boulangeries, chocolate shops, and markets were right in the neighborhood. The apartment itself was exactly as pictured; clean and very chic. We felt like Parisians for a week. The large windows offer plenty of light and a great breeze to cool down the 4th floor space and the apartment offers all of the amenities needed; washer/dryer, modern bathroom, a large, comfortable bed, and plenty of closet space. The toiletries were a nice touch, and we really utilized all of the guide books left from past tenants, as well as the book of restaurant recommendations. Would definitely stay here again on a return trip!

Lee McKerracher, Sydney, Australia

This was the second time I had rented an apartment from Dreams Apartments, the first time was in 2010 and I stayed in the Marais apartment which was brilliant. I thought I would try the St Germain Elegance apartment and I was not disappointed. The apartment is in an excellent location, close to some really good restaurants and of course the beautiful gardens. I had eveything I needed and being so close to the markets I could take advantage of fresh produce to make some great home cooked meals. They always offer the best in service and I have no hesitation in recommending Them (in fact I have given their details to many of my friends) and I will definately be staying at one of the Dreams properties the next time I am in Paris. Thanks for again making my time in this wonderful city so fabulous!!

Mr Ruckenstein, USA

A wonderfully cozy apartment, tastefully decorated, spotless and ideally situated. Both arrival and departure were well organized and the owner was helpful and gracious. I am looking forward to renting this or another one of the Dreams apartments on my next trip to Paris.

Andrea Reinhardt, USA

This was an absolutely wonderful apartment. It was our first experience with VRBO and set a very high bar for future rentals. The location is one of the best parts. We walked 7-10 miles each day and were always happy at how central the location was. Yes, 4 flights of stairs were a lot, but didn't change our opinion of the apartment. The size and amenities were perfect for us. We did use the washer, dryer and dishwasher and they did great. The bed was comfortable and shower luxurious. All in all, we recommend it very highly!

Sally Anne Brown, USA

My husband and I lived in Paris about a decade ago so when planning this trip wanted to stay in a comfortable place in our favorite part of town - we could not have asked for more! The space is very quiet yet in the middle of some of the best shopping in Paris. Everything was absolutely perfect and the space was very comfortable for two people. The photos/descriptions online were very accurate and the space was clean and well-maintained. We now want to plan an annual visit - but only if we can stay here! For those travellers who do not know the city well, the owner leaves very detailed information about how to get around the city. She goes above and beyond to make sure you enjoy your stay and feel comfortable.

Robb Gray, USA

It was my first trip to Paris. The location couldn't have been better, and there was no better way to feel emersed in a true Parisian experience. The apartment was comfortable and well-appointed. The location was great - steps from the Luxembourg Gardens, Metro, and numerous really, really great boutique restaurants, grocery stores, and restaurants. I travel a lot, and this was one of my favorite places I have rented. Dreams Apartments couldn't have been more accomodating. LOVED IT.

Kelley Clampitt, USA

From the moment we arrived, we felt right at home. The location was so convenient to many major sights and close to the Metro. There was a market right down the street, which made it so convenient. Great location. The apartment is very clean and well maintained. It is on the 4th floor, so there are stairs to climb. Your first climb with luggage is an experience, however, by the end of the trip you are climbing the stairs without even getting winded. Great exercise to help keep the pounds off while you are indulging in the exceptional pastries Paris has to offer. The Dreams team does a great job of furnishing everything you need. The check in and reservation process was a breeze. They also leave you with a guide which we found very helpful when we had questions from how to turn on the stove to how to navigate around the city. This guide was very comprehensive and informative and really helped us enjoy our stay. I would highly recommend this apartment to you.

Miguel Torreblanca, Mexico

We stayed 9 nights at this apartment and the complete experience was excellent!!! All you need for a great vacation in Paris is included in the apartment and the small details make all the difference. Details such as well written instructions for every single appliance, detailed information of services nearby, and even umbrella, guides of Paris in English, etc, etc, etc. Overall my best experience staying in Europe!

Vicki W, USA

A friend and I stayed at the St. Germain Elegance this summer and everything was as represented. It was clean, modern and air conditioned. 4 flights are challenging, but I'm in my 60s and was able to do it. Merie responds immediately if you have any concerns. I'd stay there again in a minute - loved the area, But might try the Marais area the next time - hope there is a next time!

Evelyn Pener, USA

The apartment in Paris was very comfortable, clean and had all the amenities necessary that made our stay like at home. The location is perfect. We walked everywhere, only once we took the train to go to Versailles. We recommend very highly this apartment in the St. Germain district, it even was a good exercise to climb the four floors, there is no elevator. Hope to return one day to Paris and rent one of your apartments.
We will definitely recommend them to our friends,
Best regards

Rene Wong

We stayed at the St Germain Elegance 1-bedroom apartment in mid-May. We would not hesitate to stay there again, or recommend it to friends. The location can not be beat. The apartment was clean with all the amenities you need. We were steps away from tons of nice restaurants and bars, and within walking distance to almost everything we wanted to see. The Metro was only a block away. We found a nice booklet in the apartment that provided information on anything you would need during a stay in Paris, from taxi companies that speak English, to recommendations for gyms/pools, to nearby markets.
We are looking forward to our next trip back to Paris, and will almost certainly book again with Dreams Aparmtents.

Justin and Adrienne

We just want to tell you how much we loved staying at your apartment in St. Germain. From the moment we arrived, we felt like we were living in Paris! The apartment was so beautifully decorated (as seen on your website) and impeccably clean. We loved that the location was in the heart of St. Germain! We certainly plan on returning to Paris and staying at this beautiful apartment!
Best,

Kim Sakosky

Our trip to Paris was amazing! We loved the apartment, it was in a great neighborhood and perfectly located walking distance to most attractions; However if we didn't feel like walking the metro was RIGHT there.
The apartment was exactly as advertised...it was simply perfect. What a great place to relax and get rejuvinated before walking the city or before dinner. I have no idea why anyone would want to cook dinner in the apartment (We had so MANY wonderful dining experiences in the neighborhood) with the many restaraunt choices, but one night we did pick up dinner at the market and a bottle of wine which was perfect after a long day of site seeing. I do plan to make a reservation in the future with you -- next time it will be a girls trip with shopping!
Thank you!

Warren & Robin Adams

Our second stay (January 2011) at the St. Germain Elegance apartment was wonderful. Everyting was again perfect. The location and amenities at this apartment are superb. We cannot image visiting Paris without staying at one of your apartments.
We cannot wait to come back!

Rachel T.

My husband and I stayed in the 1 Bedroom St. Germain for our visit to Paris. The apartment was perfect! The location was ideal for using the metro and to travel around the city or to remain in the lovely neighborhood and explore the shops and cafes. The apartment was beautifully appointed with everything we could need. Additionally, the guide to local sights, bike rentals, and other resources was most helpful. The Dream apartments team made our visit quite wonderful. Hopefully we will return to Paris soon and stay in of your lovely apartments again!

Leticia Paredes, USA

The apartment was tastefully appointed, and just as it appeared on the website. The street the apartment was located on in the St. Germain was ideal since there were some wonderful shops,and the not to miss Gerard Mulot for pastries. Cecile was easily acessible, and accomodating for last minue requests. I would gladly return to a Dreams apartment for future visits.

Kerry Ross

We arrived in Paris later than expected on our wedding anniversary. We were tired and ready to relax. The apartment was perfect. It was exactly like the photographs. Cecile had also left us a surprise bottle of champaign to celebrate, making it a perfect end to a long day. The location of the apartment was wonderful. There are wonderful places to eat, shop, and go for a walk near by. We loved strolling along the side streets, as well as the proximity to everything. We could walk to most of the big sites, and take the Metro to those a little farther out. One thing to take note of is the 84 narrow steps to the apartment. It was fine for us, but would make sure to keep that in mind when packing so you don't have to carry a heavy suitcase up to the top. I can't imagine staying anywhere else in Paris. We are already looking forward to our next visit.