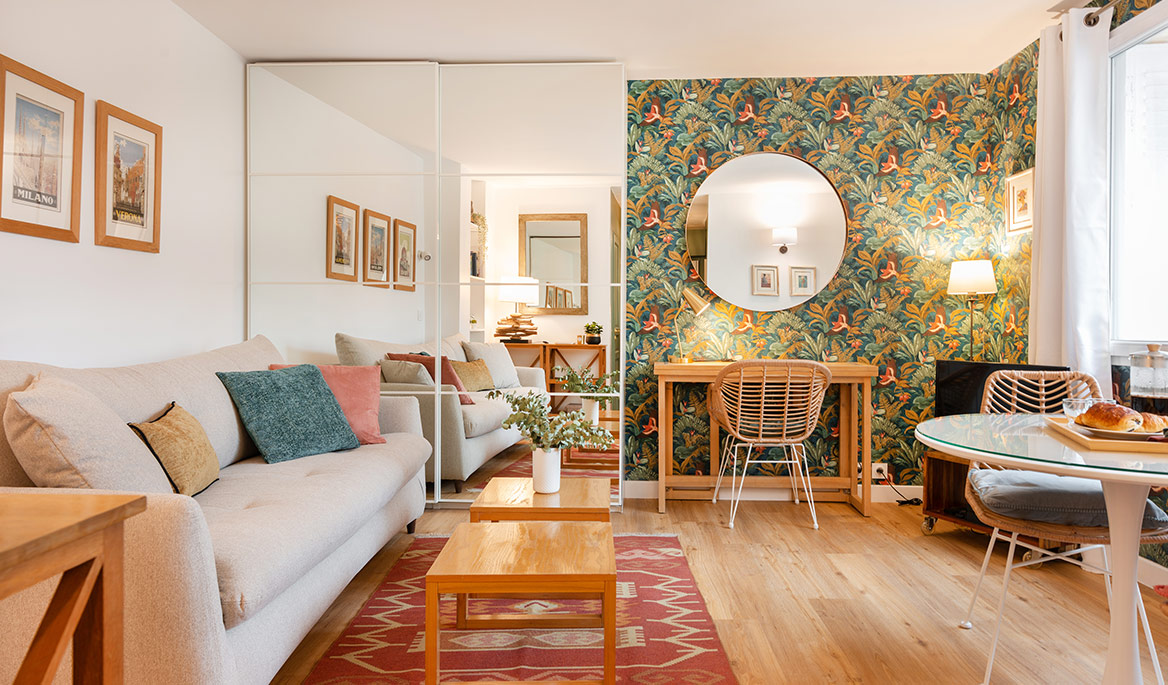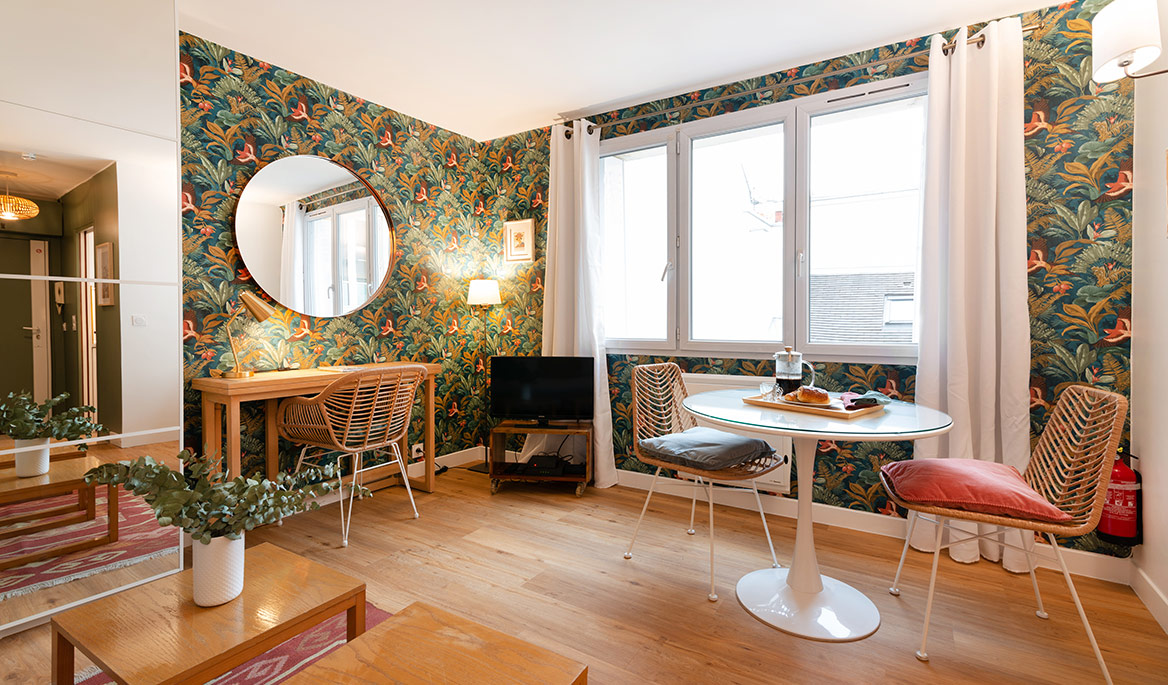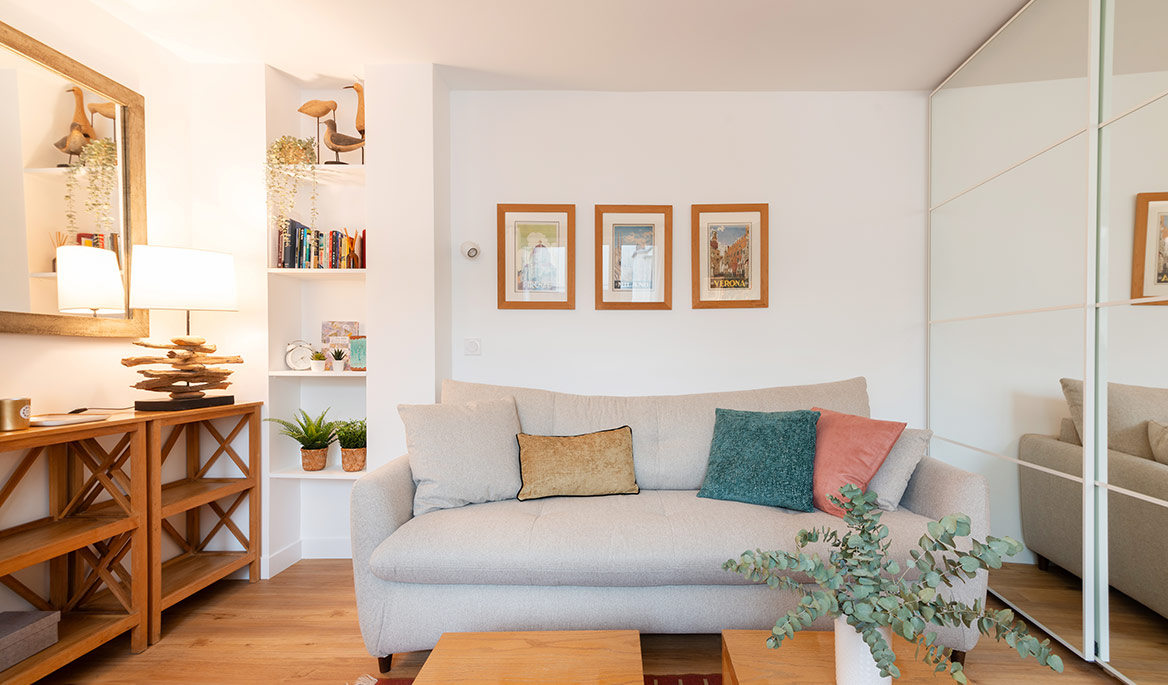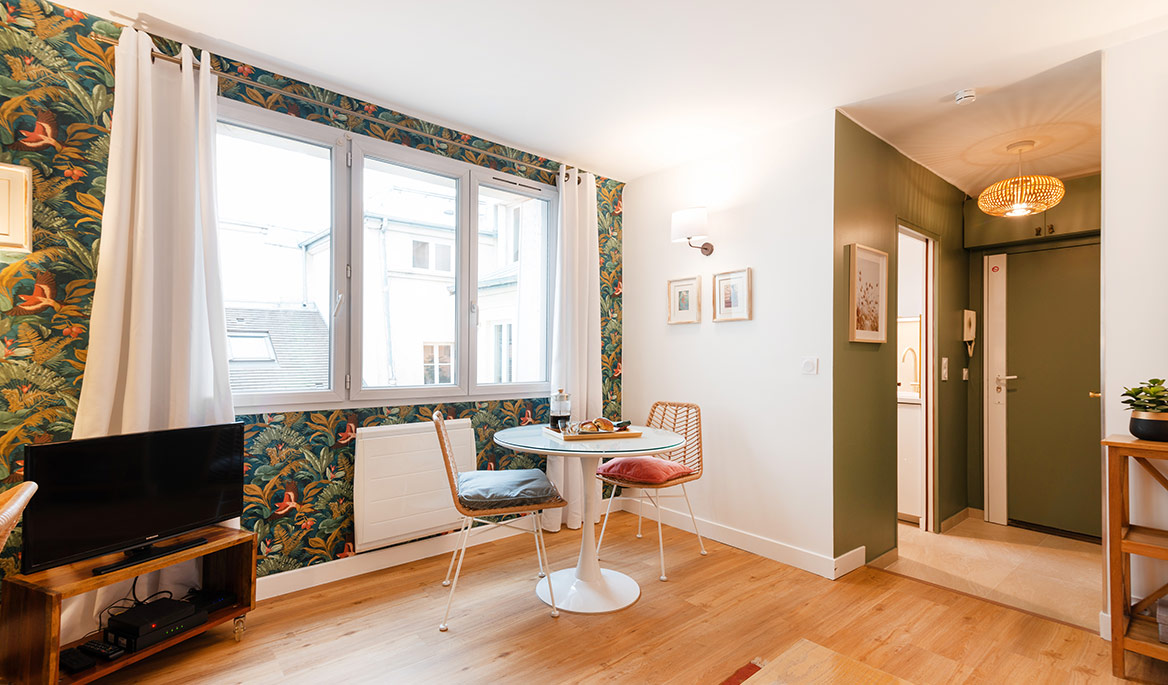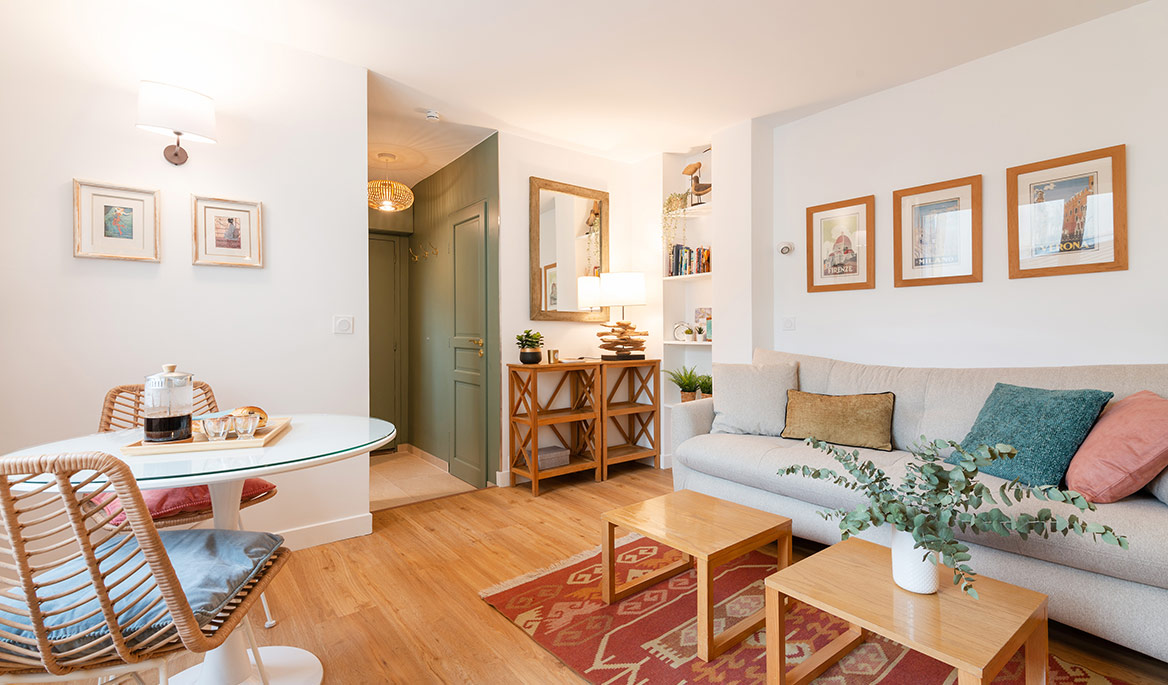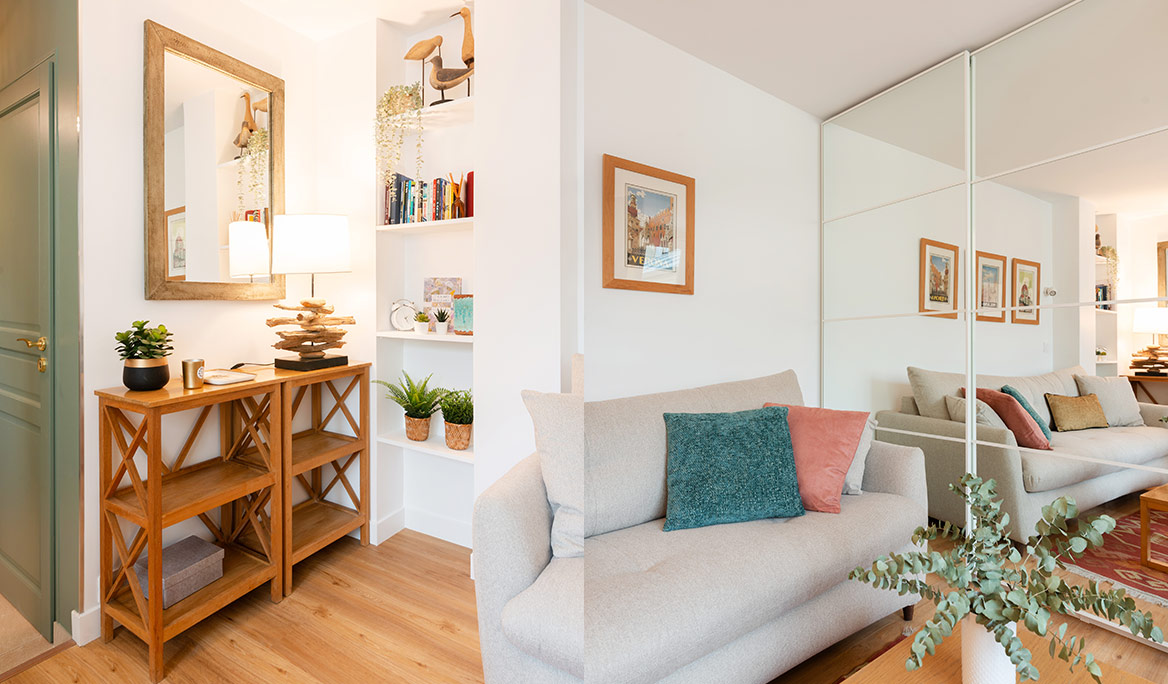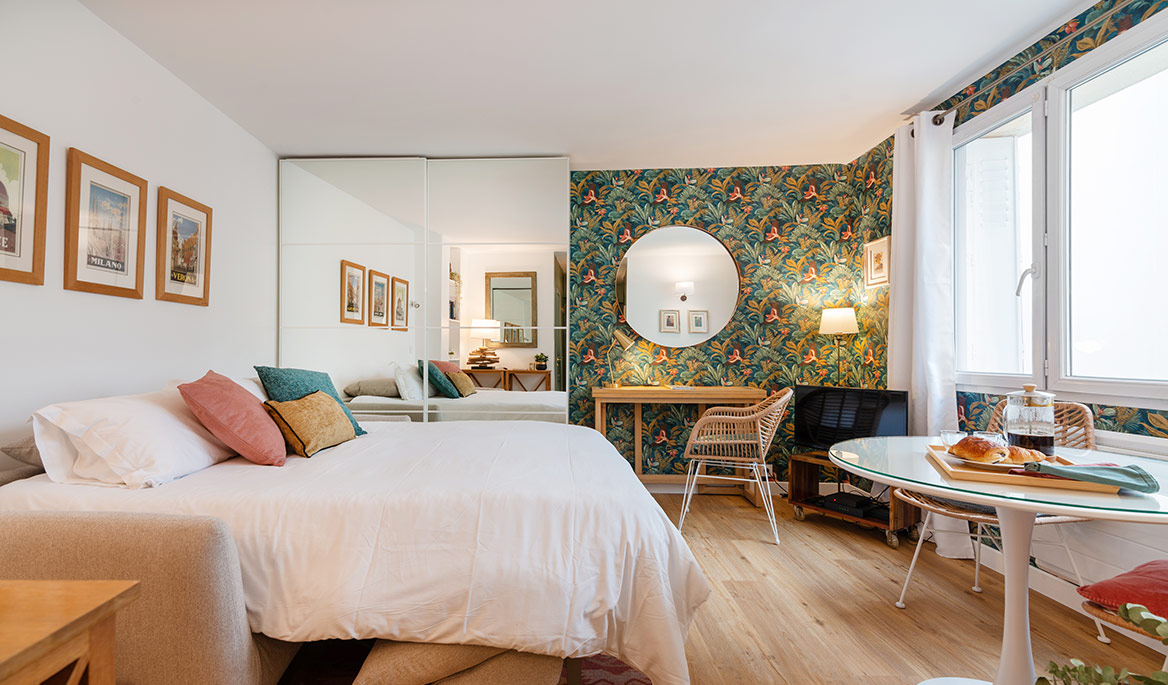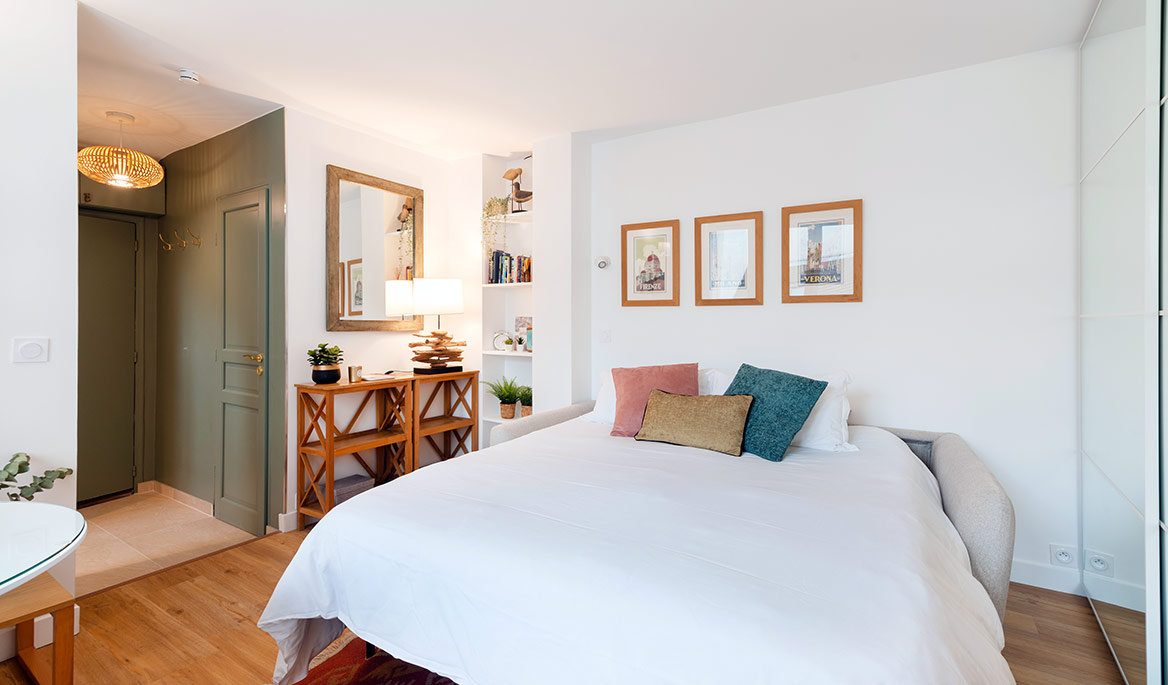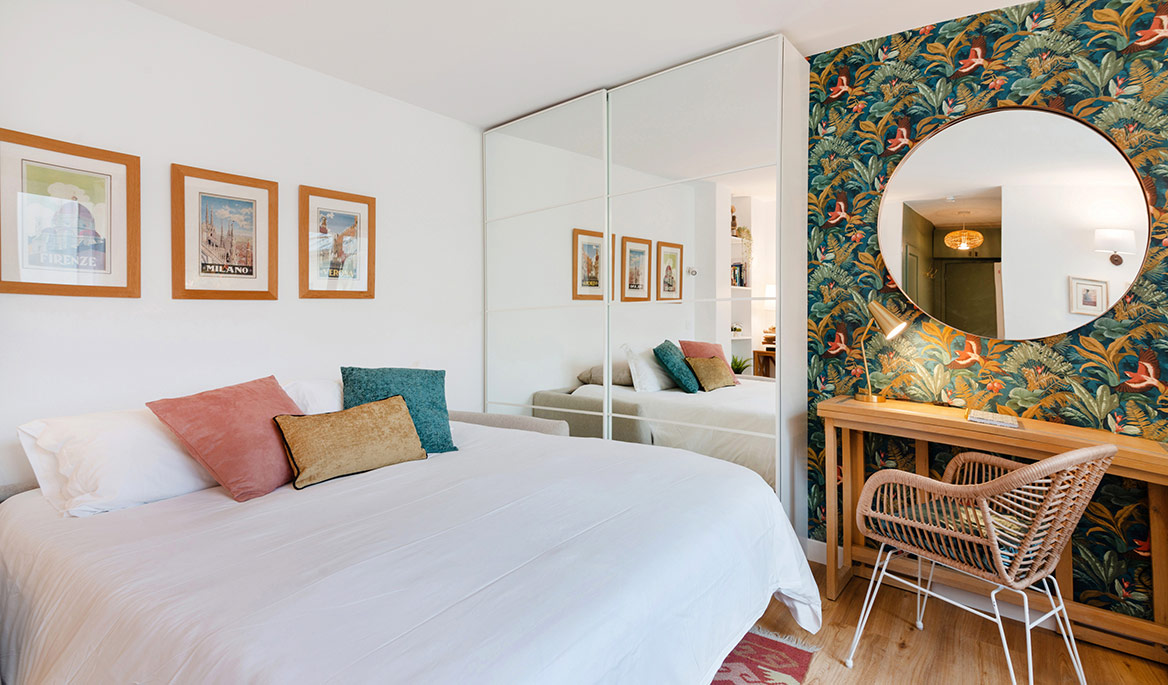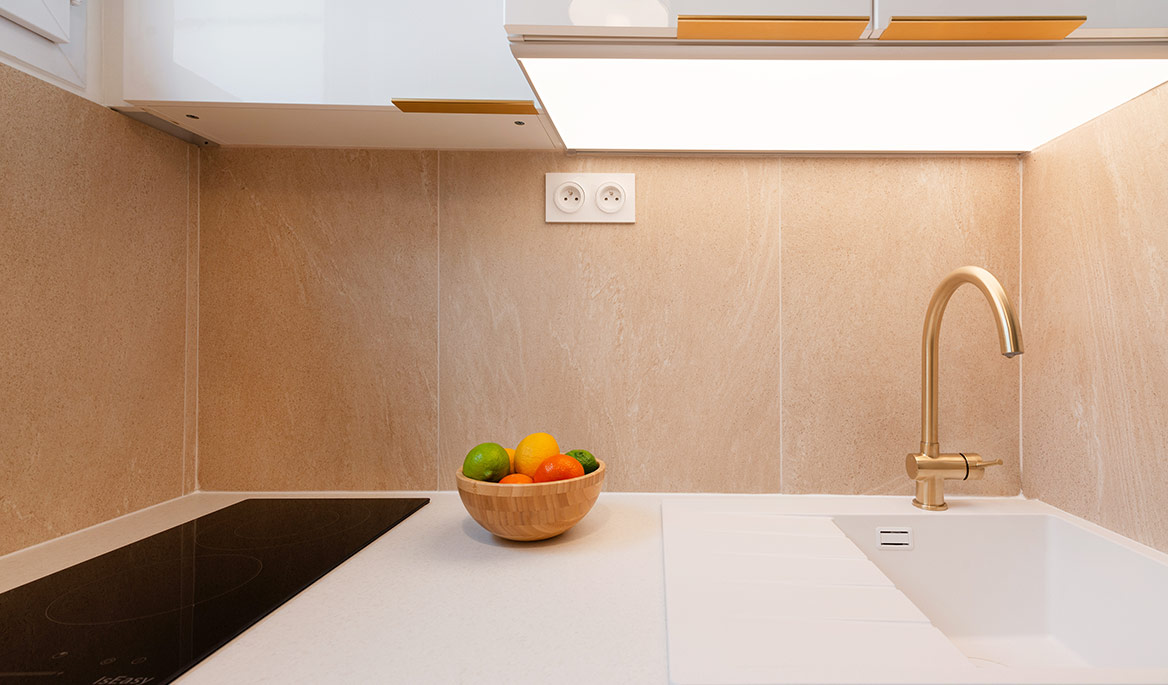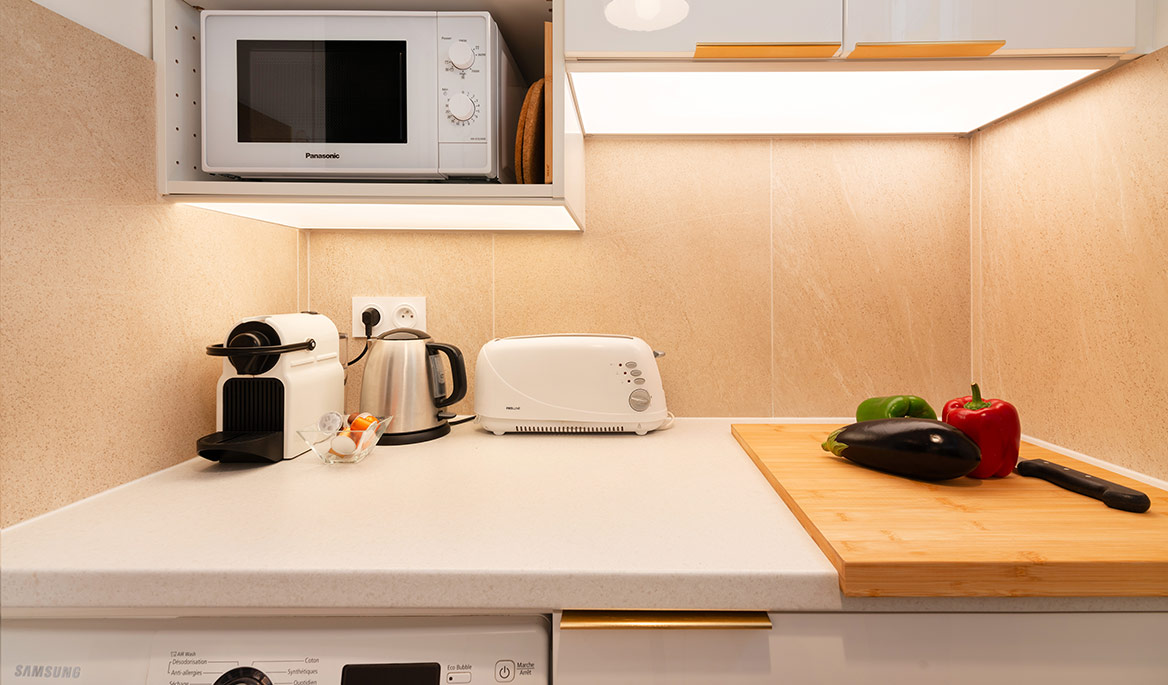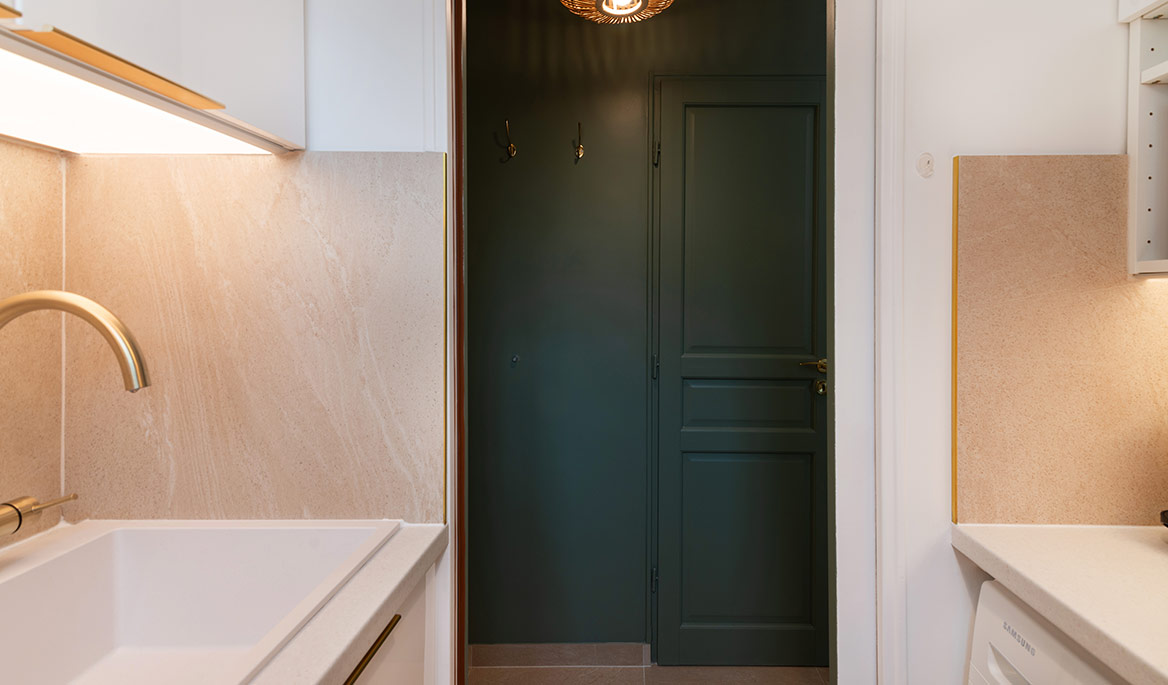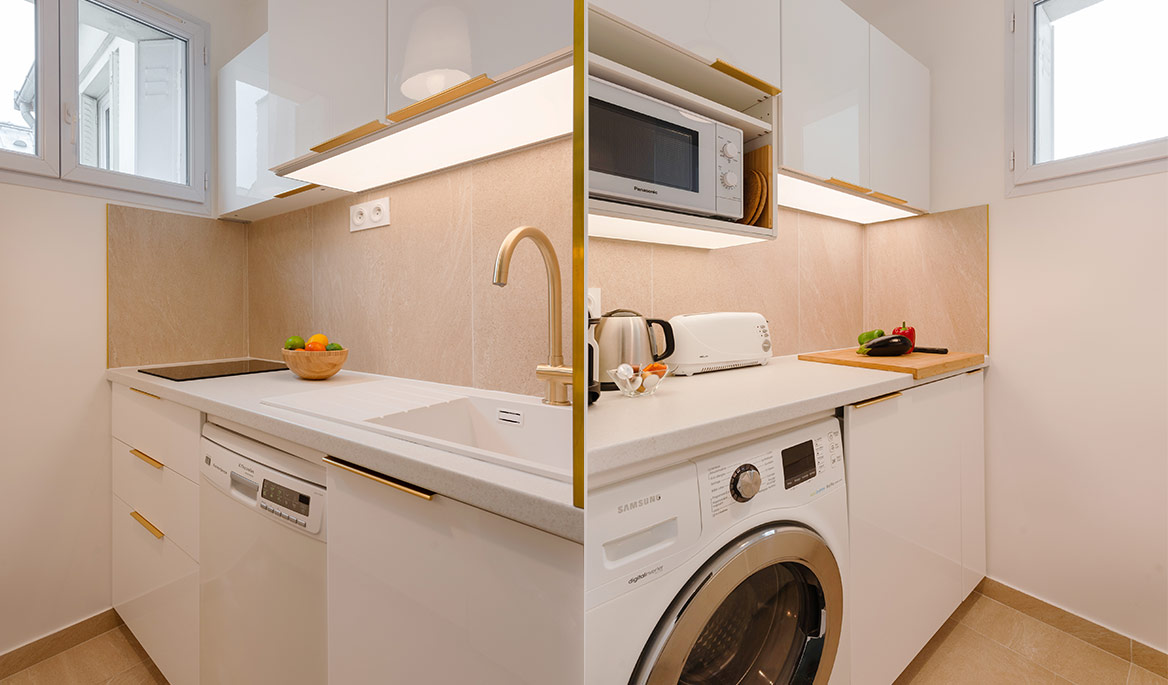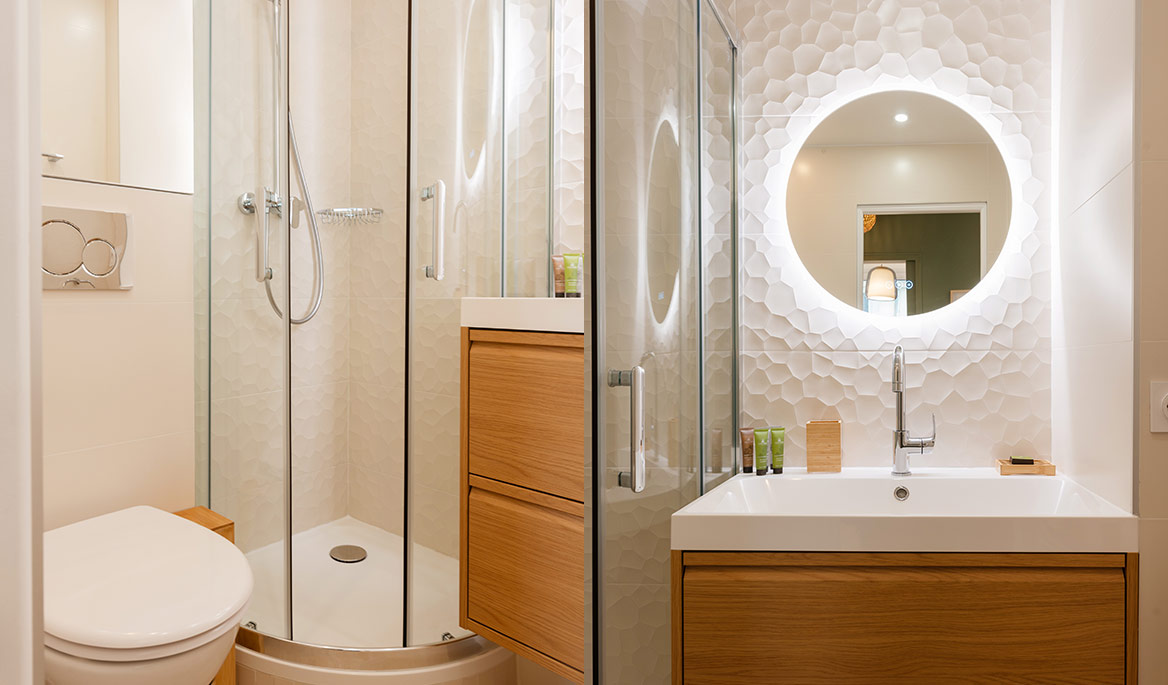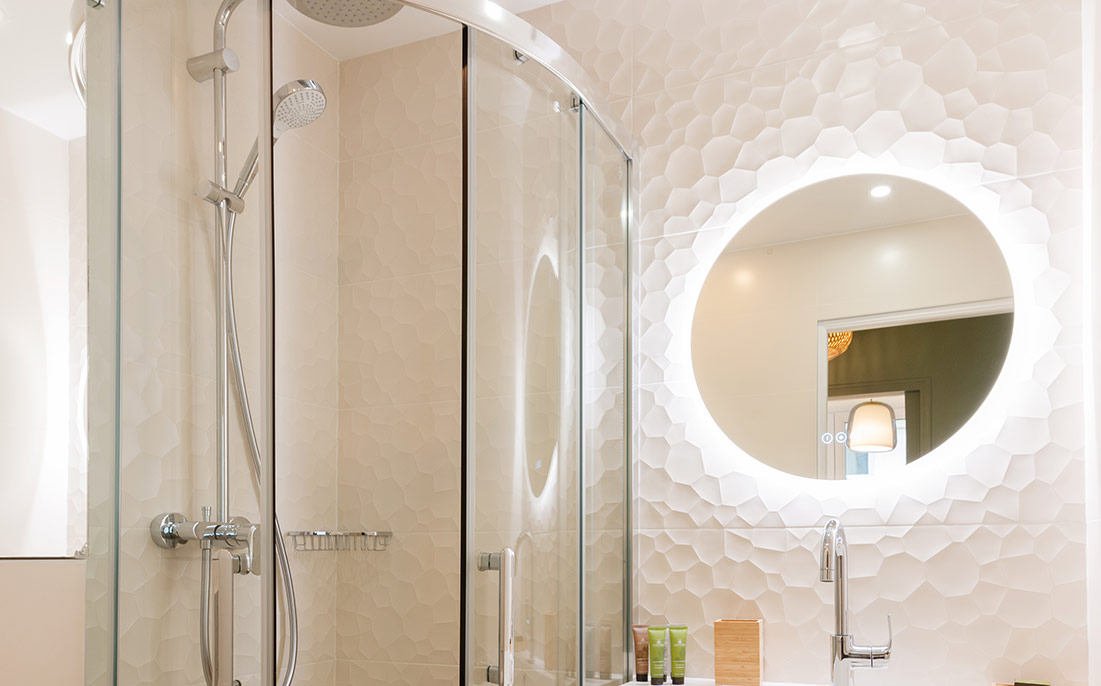 A few steps form the famous Place des Vosges, the Marais Studio is located in the heart of trendy district of the Marais, very close to the metro and convenient shopping. You couldn't ask for a better location. The studio is on the 4th floor walkup of an 18th century building. It is very comfortable, decorated with sophisticated, warm earth tones. It is bright and well appointed.
The layout of the apartment is great with no lost space. The fully equipped kitchen is separate form the living room. It has everything you need to cook and eat. The bathroom is modern and equipped with a sink, a large shower and lavatories. Facing south, the living room is bright and quiet. You can see the steeple of the Saint Paul Church from there. The comfortable sofa bed opens to a real double bed with a thick mattress. It is easy to use daily. There are several cupboards with plenty of storage space.
General

Check in time : 14:00
Check out time : 10:00
On Floor 4 (walk-up)
Driver on request

Amenities
High-speed Fiber Internet

Dish washer

Fridge

Stove

Microwave / Oven

Toaster, Coffee pot, Kettle

Washing machine

Clothes Dryer

Sheets, towels

TV with English speaking channels

Phone with free calls to many countries including USA, UK, Australia, Canada, and more.

Iron & ironing board

Hair dryer

Sleeping arrangements
Full double thick matressed sleeper sofa
Reviews
Lorraine Ryan, Australia

We had a fantastic stay at St Germain and would not hesitate to rebook if we are lucky enough to return to Paris. The apartment was in the best area for shopping, restaurants, walking, in fact it was just perfect. Miss it already!

David Cunagin, USA

Cecile has a knack for providing all the high-end creature comforts in a charming Parisian flat. Grocery, bakery, coffee shop all within a block or two. Having stayed at other locations in Paris, this flat is ideally located within easy walking distance to the heart of the Latin Quarter and just a bit further just across the Seine is the Marais. Size is ample compared to other flats that barely allow you to turn around. May not be suitable for elderly or non-able bodied individuals as flat is on the top floor and there is no elevator. No car needed as Metro station is a couple blocks away. If you want the total Parisian experience with amenities similar to home, look no further.

Laura Johnson, USA

I stayed at the Marais studio for one week while I visited my daughter who is studying in Paris. The location was ideal, just one block from the metro, loads of restaurants within walking distance and the best chocolate crousants just down the street. The apartment is on a quiet street with a window facing the courtyard so it is very quiet. The four flights of stairs was only difficult on the first day with our suitcases otherwise it was welcomed exercise after a local meal. I was able to easily shop each morning for breakfast items and supplies which we cooked in the cute, well stocked kitchen. The apartment, though small, was clean, modern. The pull-out couch was very comfortable. Having a phone to call home to the US was quite convenient as well as the washing machine. The owner left lots of references for us on how to use the appliances, local tips, etc. I would definitely stay in this apartment again. It is the perfect neighborhood and roomy enough for two.

Kristalyn Loson, USA

We had a lovely stay at the Marais Studio. Cecile was extremely easy to communicate with and answered all of our questions before we even thought to ask. The apartment was beautifully decorated and had everything we needed. It is up quite a few stairs without an elevator, but those who are active and looking for an attractive place to stay in the best part of Paris will love the studio. I would definitely return to one of the Dreams apartments for another Paris trip.

Stefan Winter, USA

We just finished staying at the Marais studio for nine days and had a wonderful time. It was my second time renting an apartment in Paris and Cecile has made the process seamless. The apartment is very clean and has been newly renovated with high-end fixtures and appliances and even has a clothes washer & dryer. Wi-Fi and long distance phone service is included in the price of your stay as well! The studio is in a convenient part of the Marais with cafes, grocery shopping and restaurants galore. There is a Metro station (St. Paul) a short walk away. I highly recommend this apartment to anybody looking for a great value and excellent location. You will not be disappointed! I will be sure to recommend Dreams Apartments to my friends and family and look forward to doing business with Them again.

Christine Chiou, USA

My husband and I loved staying at Dreams Marais studio during our stay in Paris! This charming apartment was so well-appointed, with thoughtful touches such as starter toiletries, fluffy towels, soft linens, extra laundry detergent, and a well-organized "orientation" folder with plenty of helpful information about the area. Everything was neat and meticulously clean. The bathroom was very stylish and shiny - nothing that you'd find in a typical hotel. I wish we could have stayed longer and taken advantage of cooking in the little kitchen or shopping in the surrounding boutiques. The pull-out sofabed was surprisingly firm and comfortable. There are quite a few stairs to ascend/descend, but it helps work off the calories from all those croissants! Would definitely stay here again.

Judy Bauer, USA

We loved our stay in Studio Marais. The location is the best in Paris because you are in Le Marais with its abundance of great restaurants and trendy shops. You are steps away from the metro, and close walking distance to Notre Dame, Latin Quarter, rue de Rivoli, Louvre and Pompidou Center. The apartment has everything you need including a very comfortable bed, modern bathroom, fully equipped kitchen in case you feel like cooking a meal or eating breakfast at home. It is bright and airy with super large closets to store your belongings. Wifi and free phone calls home! Perfect for two people.

M. Coyle, Minneapolis, USA

The apartment was exactly as advertised, well equipped and the bed really was comfortable, despite being close to a lot of cafes etc it was also very quiet. From a location point of view it was excellent, a very short walk to the number 1 metro that services the Louvre area, the Louvre itself is a very managable walk. St Germain and Ile St louis are also within easy reach. Many restaurants and cafes close buy plus good grocery shopping if you want to eat in. As another reviewer commented it is at the end of three and a half flights of a spiral staricase so I wouldn't recommend it to anyone who had trouble with stairs. When we return to Paris this would be top of our list in terms of paces to rent

David and JoAnn Blomgren, California

We stayed in the studio in the Marais for five nights. Perfect location. Cecile was easy to work with, and the apartment met all of our needs and was very quiet. The free wi-fi was especially good for us. The stairs to the fourth floor certainly kept us in shape.

Maxine Wright

The studio apartment in Marais is perfectly situated - the Metro, restaurants, supermarkets and shopping strip literally at your front door. Iconic tourist attractions, such as the Louvre, are walking distance or 5 minutes on the Metro.
The apartment is convenient, stylish, well organised and very comfortable. The kitchen has quality appliances, the bathroom fittings, linen and towels are hotel standard and the bed is comfortable and easy to convert each day.
We felt secure, the neighbours were quiet, the apartment was light and airy and we would be happy to stay there again. The checking in and checking out procedures ran like clockwork.
Thanks again.
Kind regards,

Burke Kappler

I just wanted to write and tell you how much we enjoyed staying in your Marais studio apartment. My wife and I traveled to Paris in May for a getaway for two, and we found the apartment to be a perfect spot for us to explore the city. We really enjoyed being in the heart of the Marais, a neighborhood we have never explored before, while being close to transportation and walking distance from many other sights. We would definitely recommend the studio to other couple looking for a cozy, chic place to stay while exploring Paris.
Thanks again,

Catherine Amoroso, USA

Just a short note to say that our recent stay in the Marais Studio was great!! We were very comfortable and right in the middle of all that we wanted!! The apartment is tiny but well appointed. I would definetly stay again. Thanks again.

Monika and Rick, Vancouver, B.C. Canada

Our stay at the Marais Studio apartment was all and more than we could have hoped for . For our last minute booking all details including, enquiries, reservation and payment went very smoothly. With its perfect location within walking distance to sights, shops, restaurants and Metro getting around was ideal. Just walk out the front door and begin. The apartment is bright, well appointed and equipped, very quiet and comfortable. The one point that doesn't make this the perfect choice for everyone, is the four flights of stairs. For us this was no problem and gave us a real feel for living in Paris. We could not recommend the Marais studio more highly and look forward to our next stay.