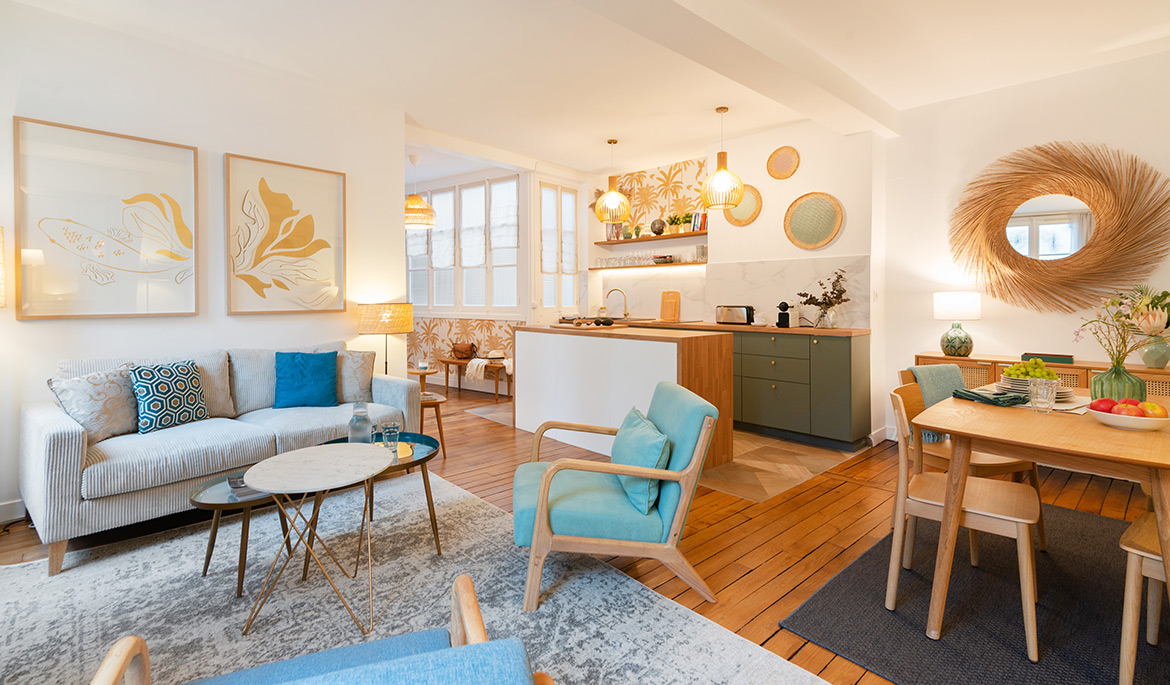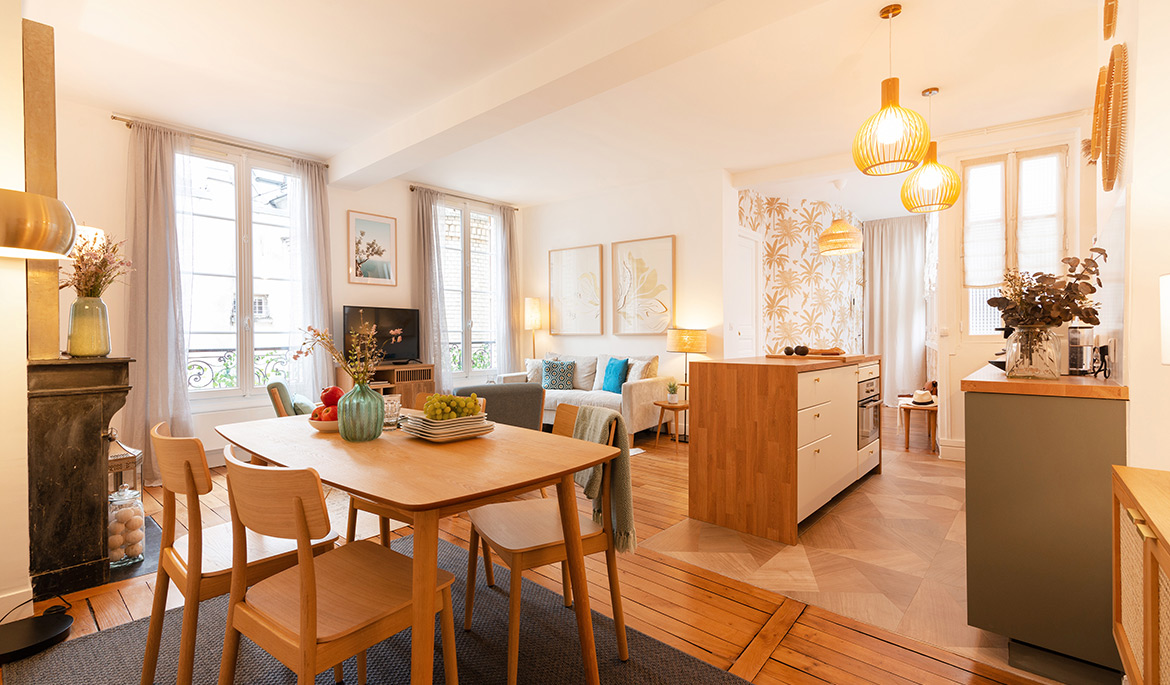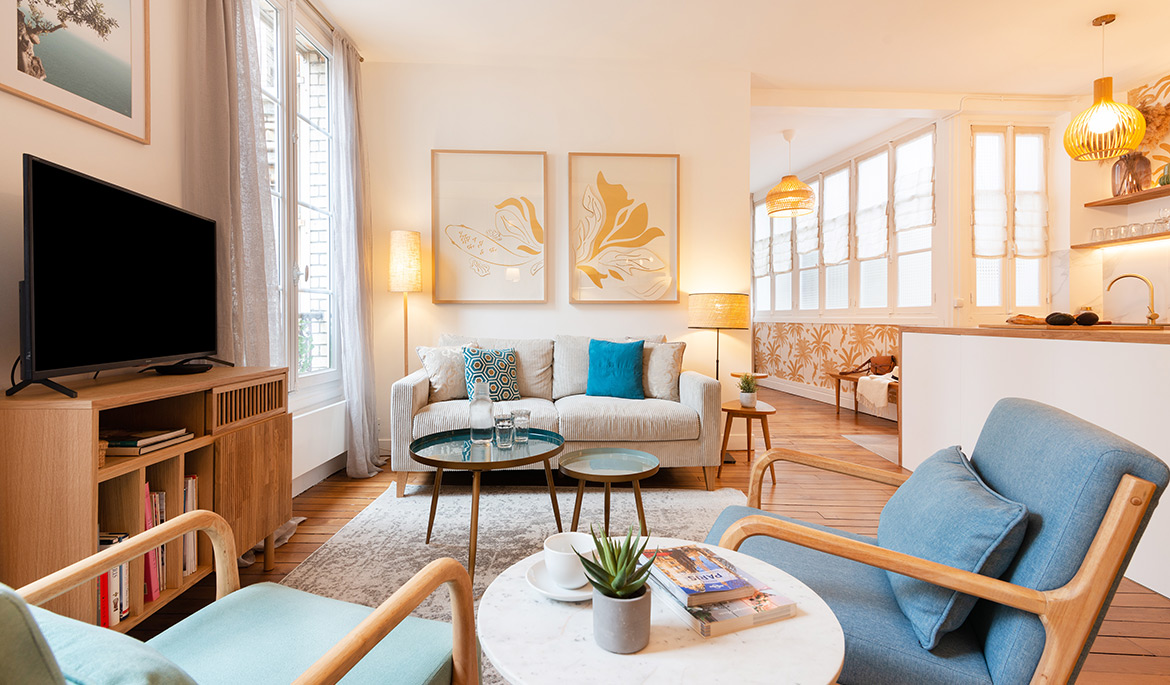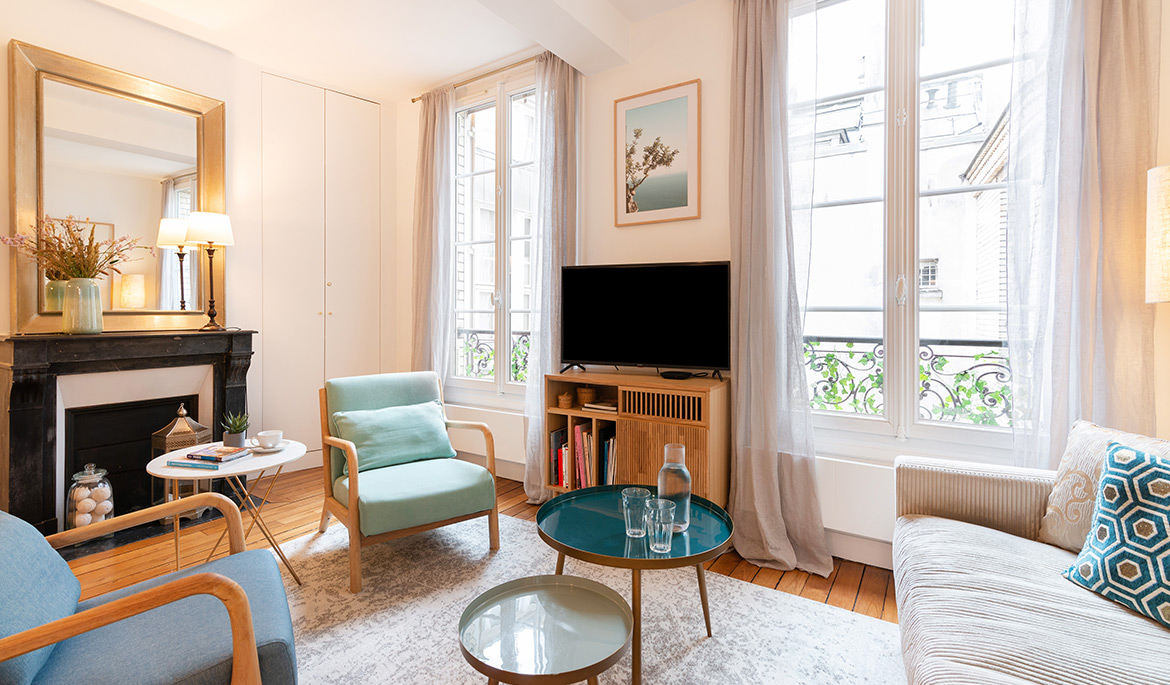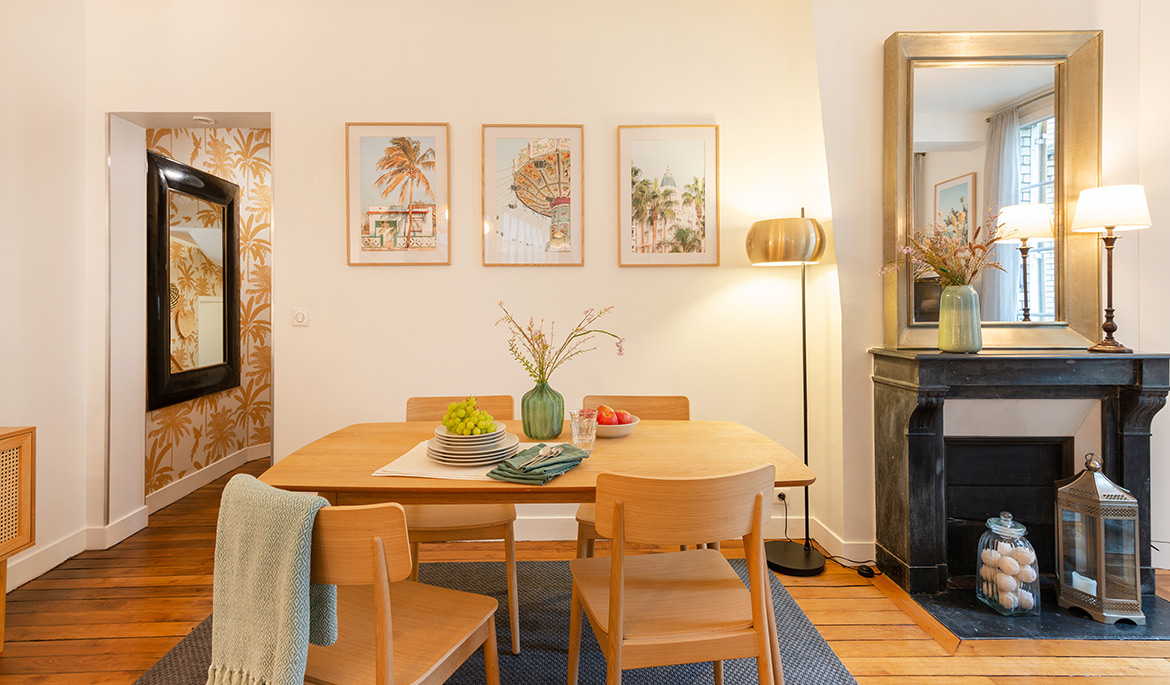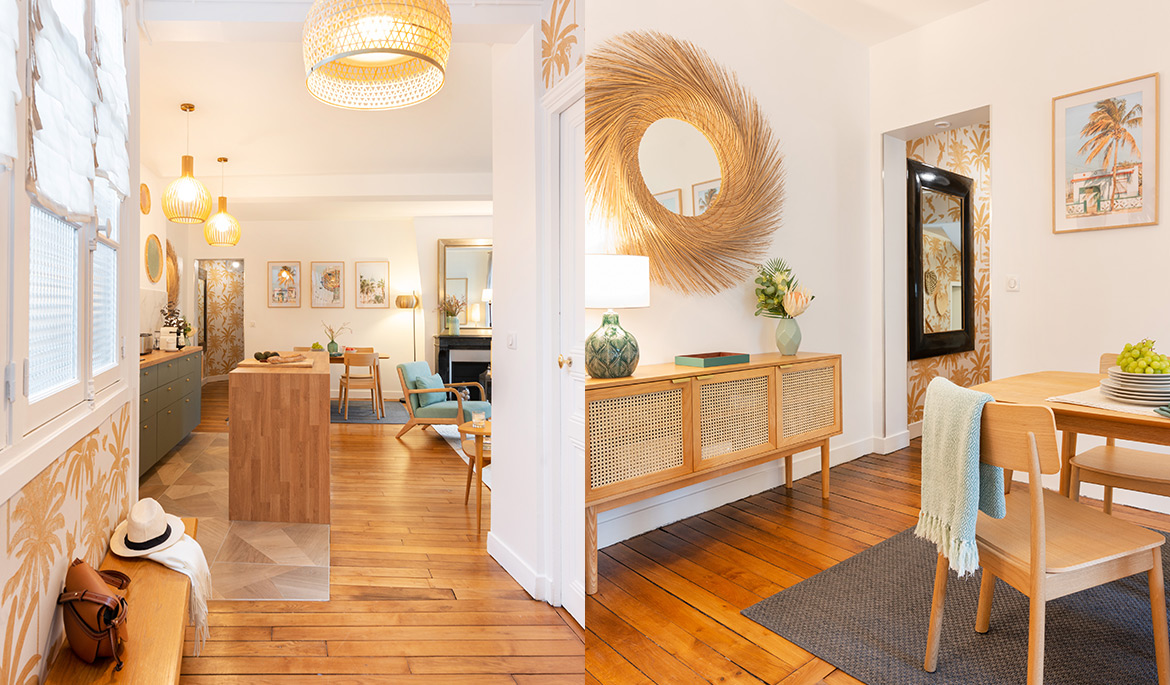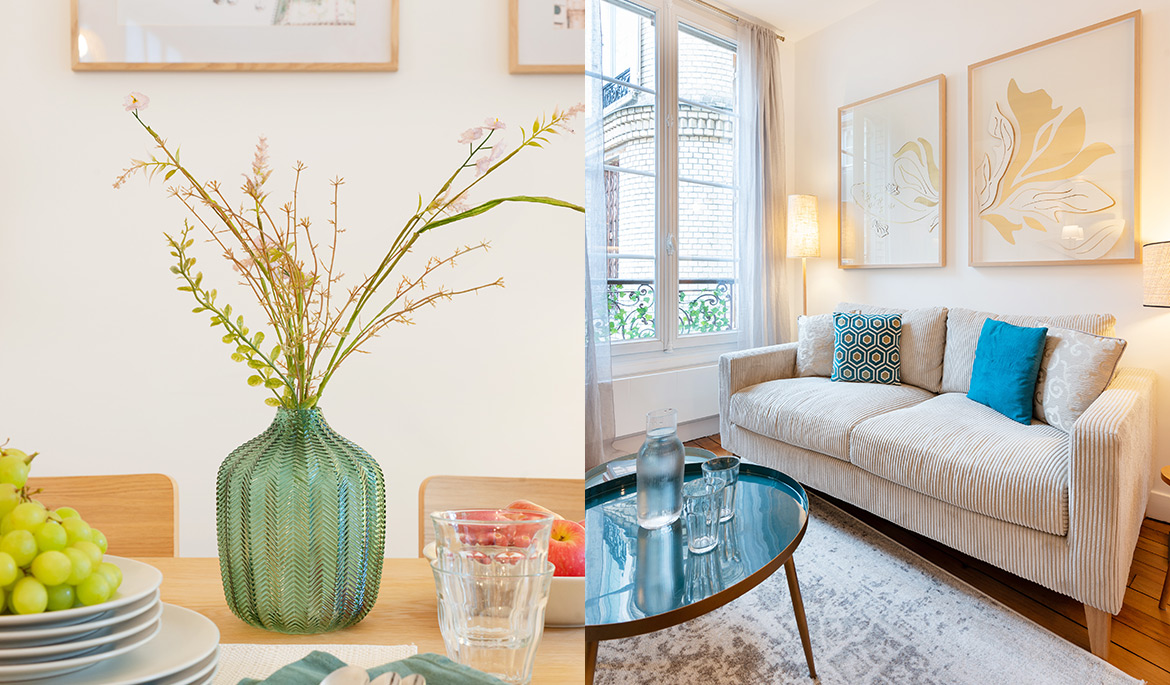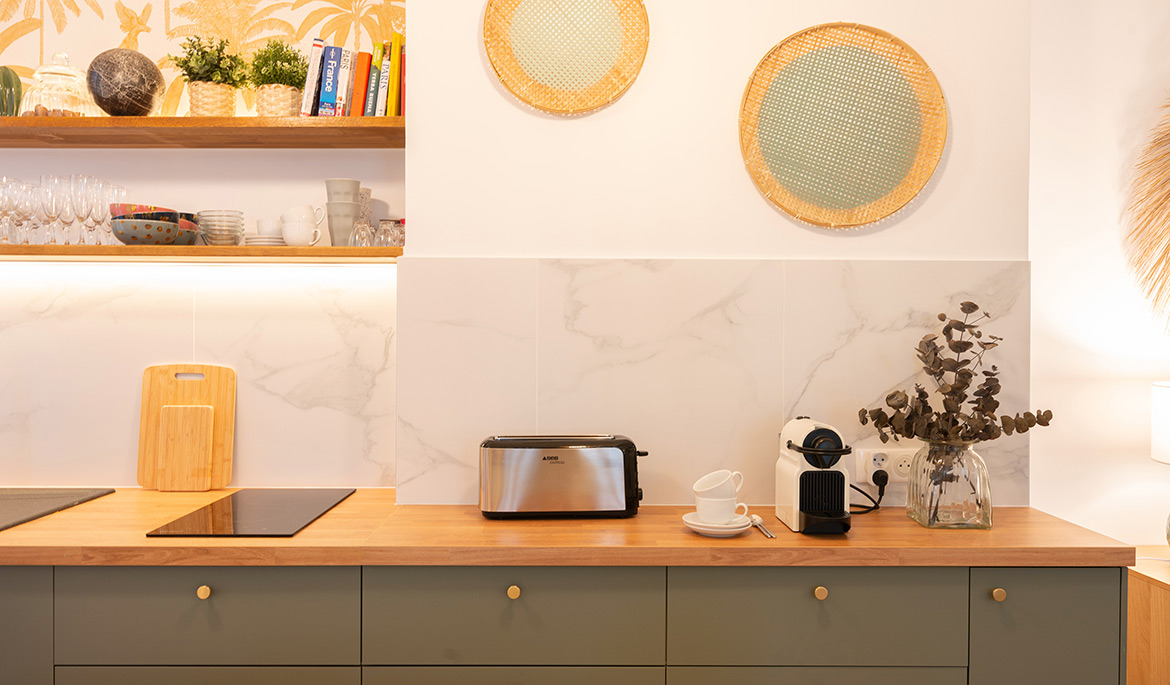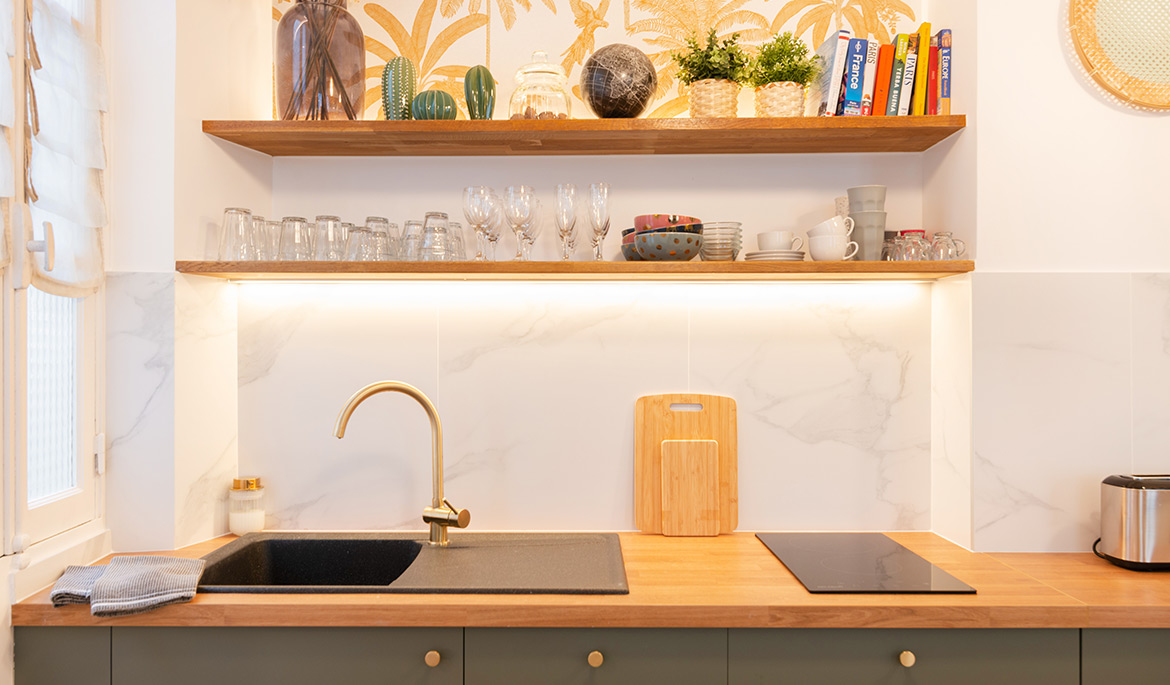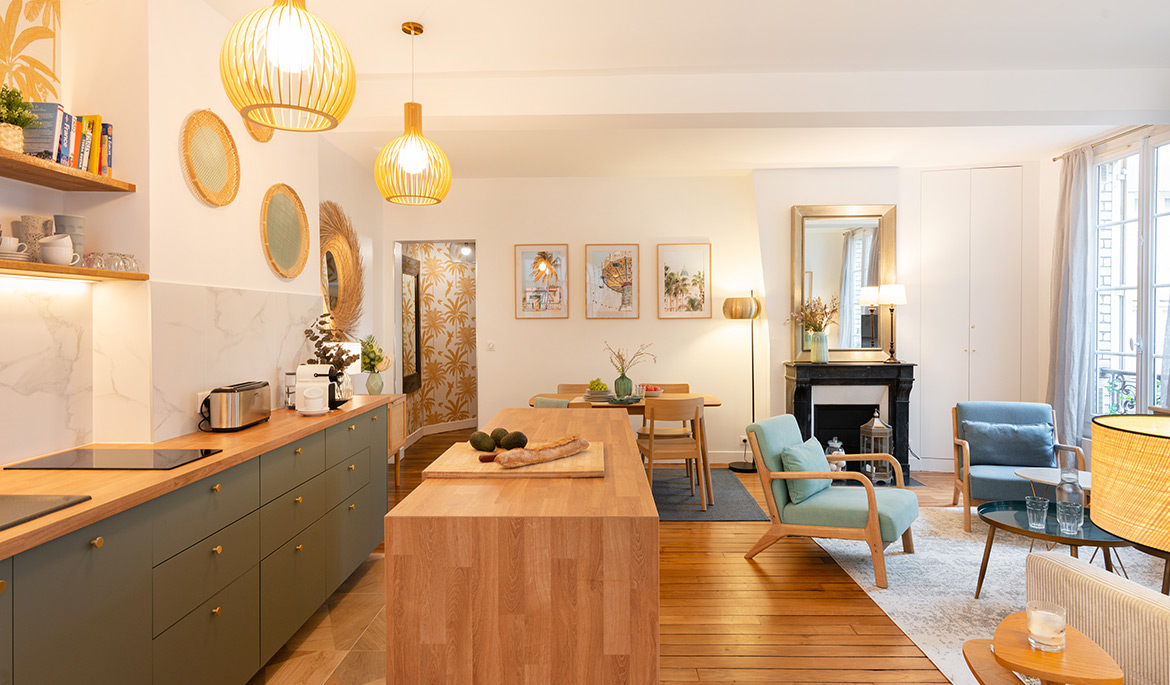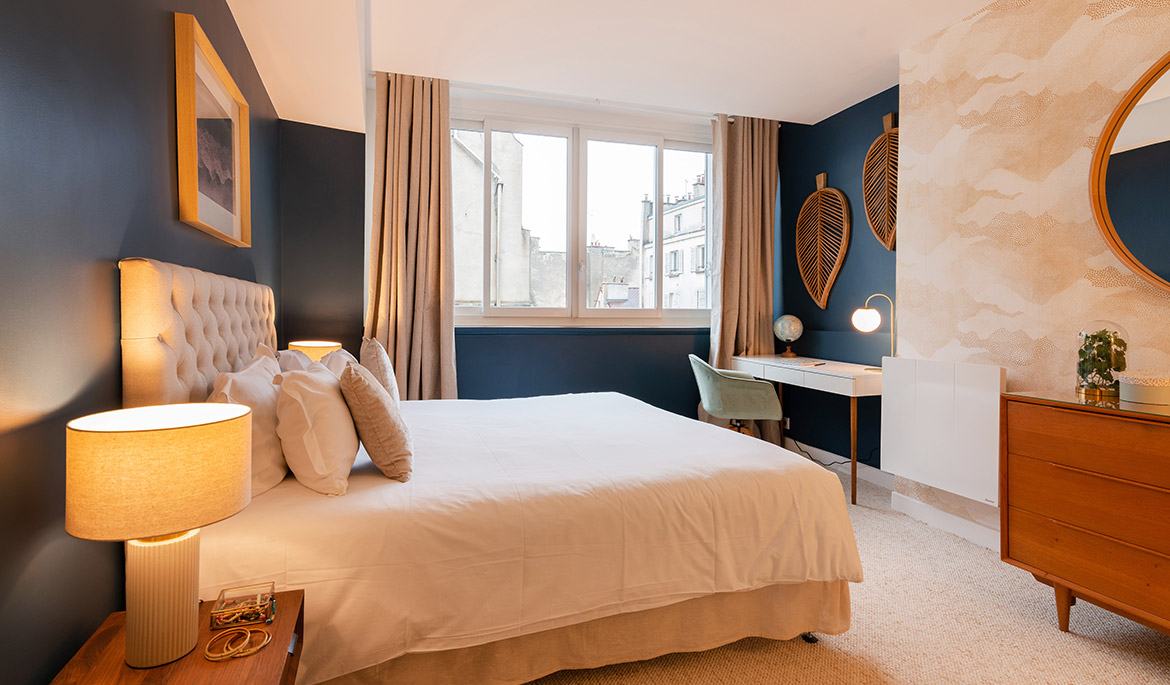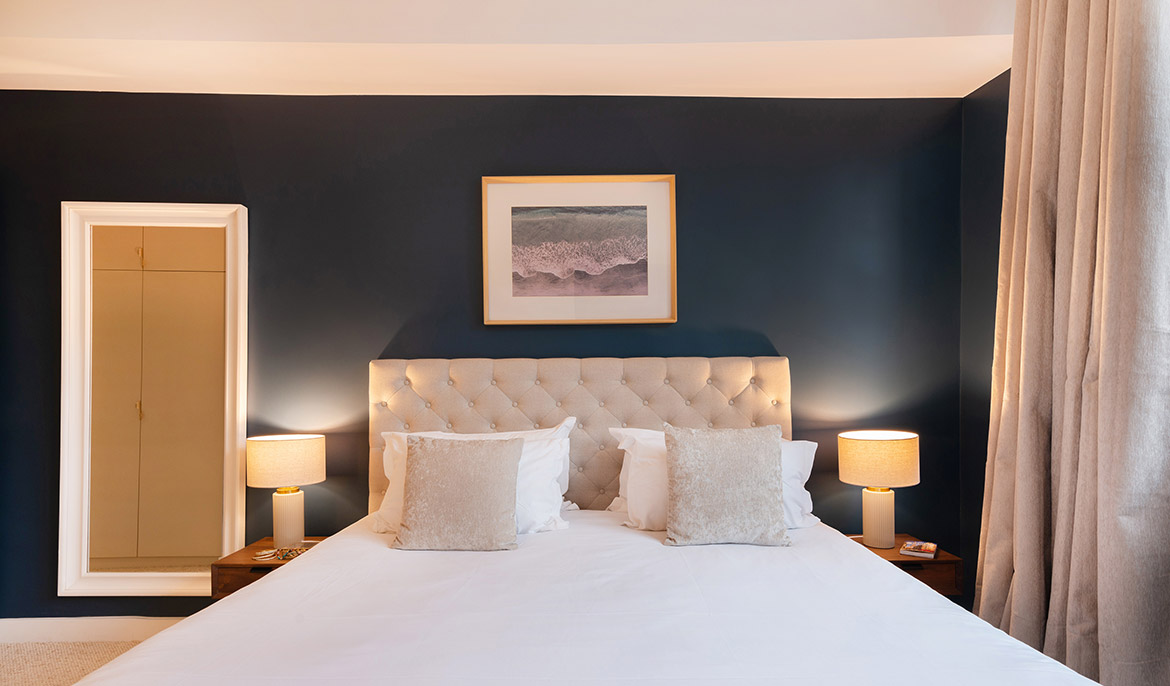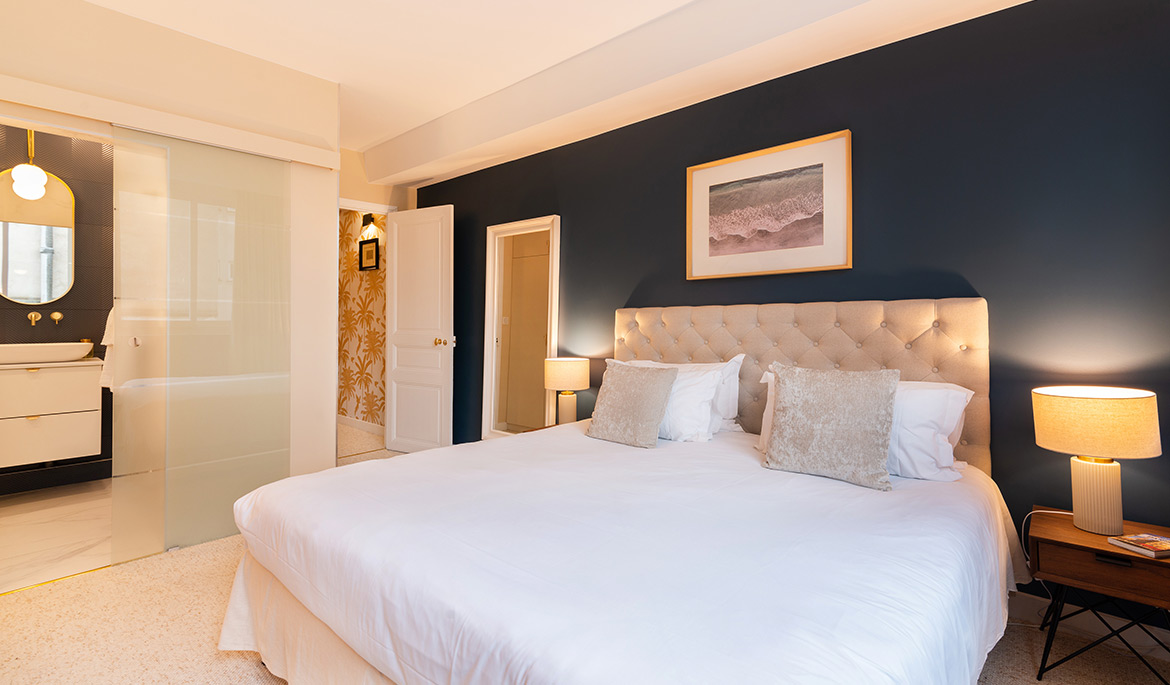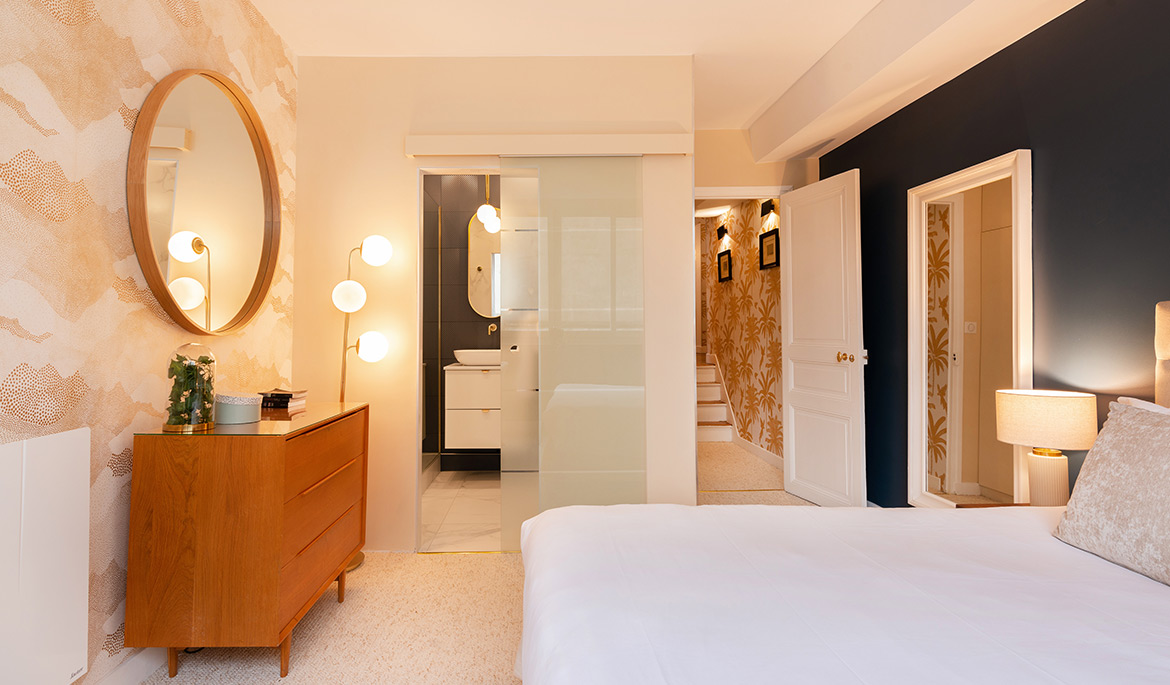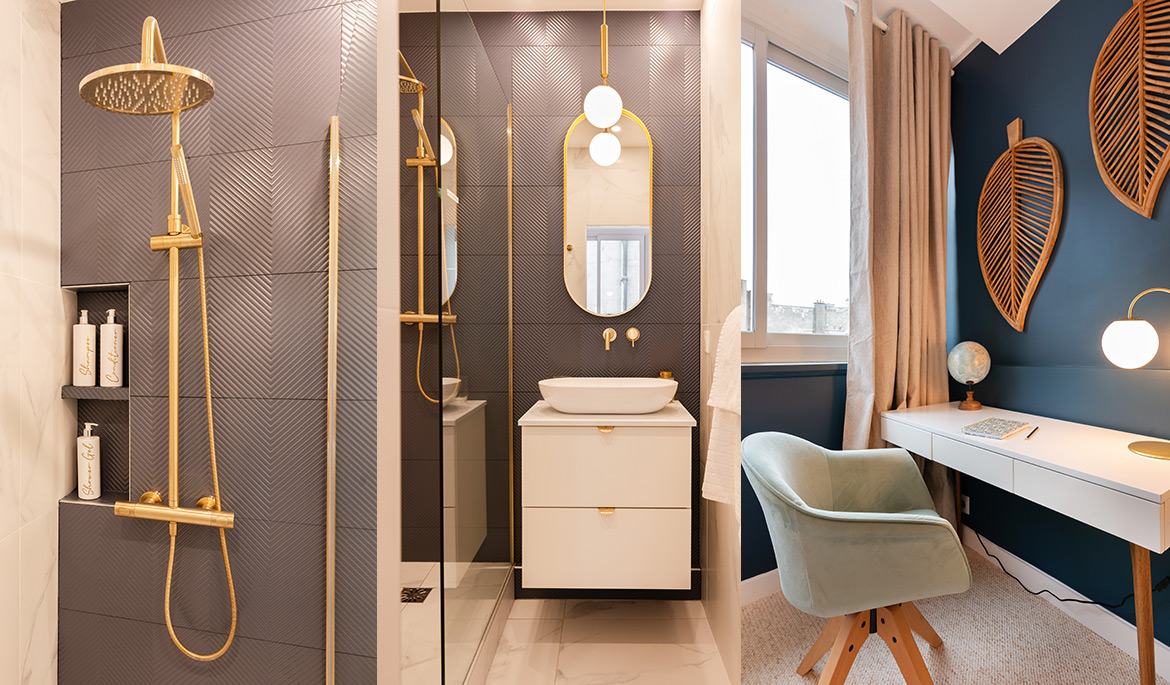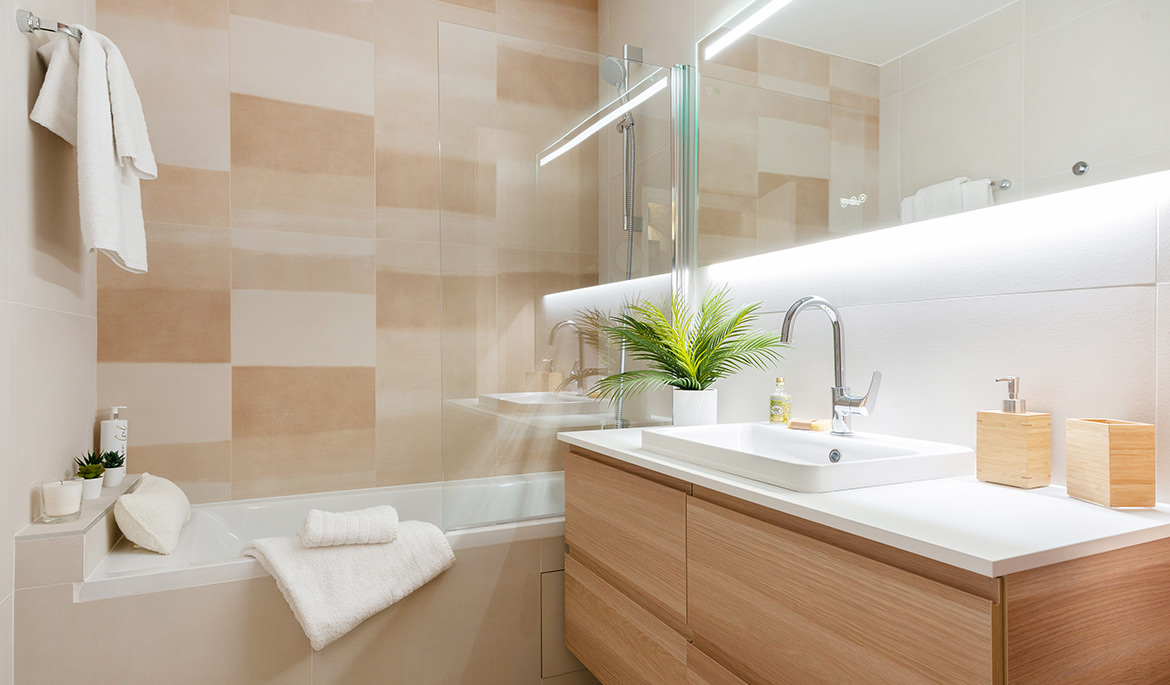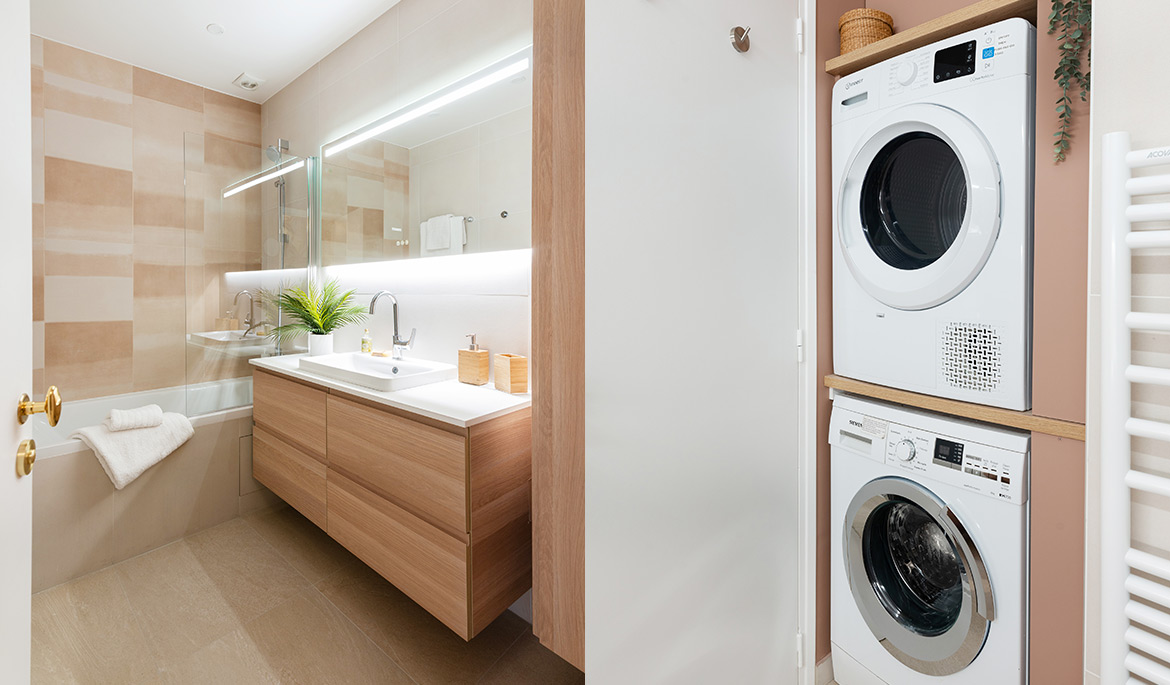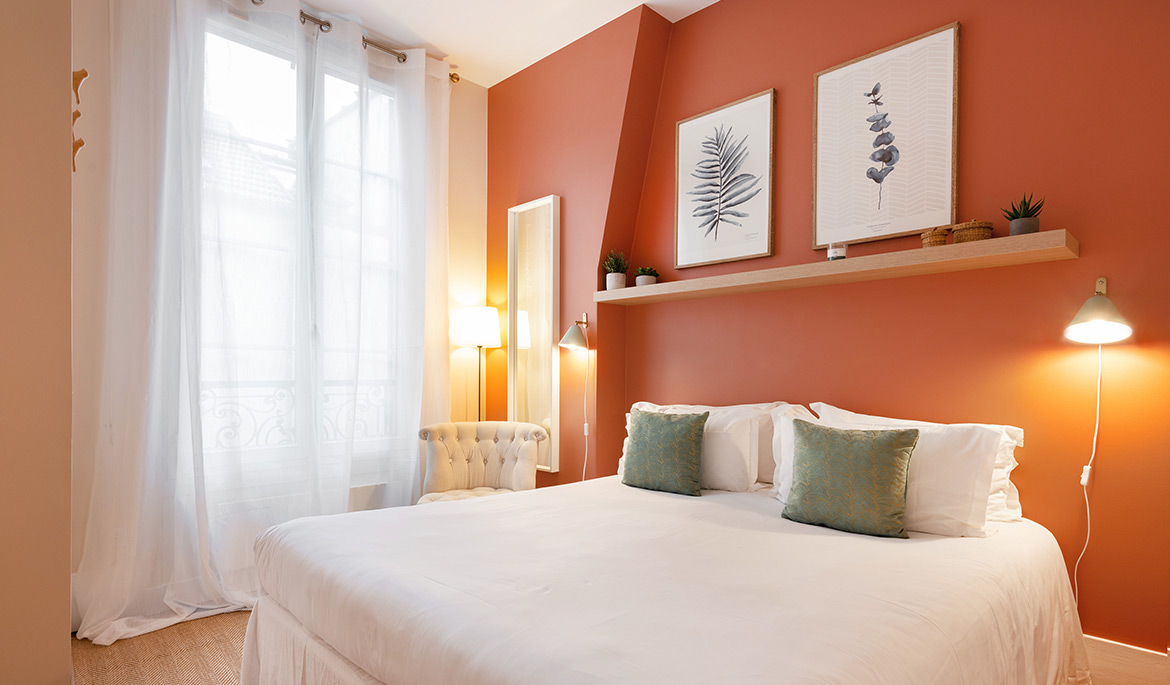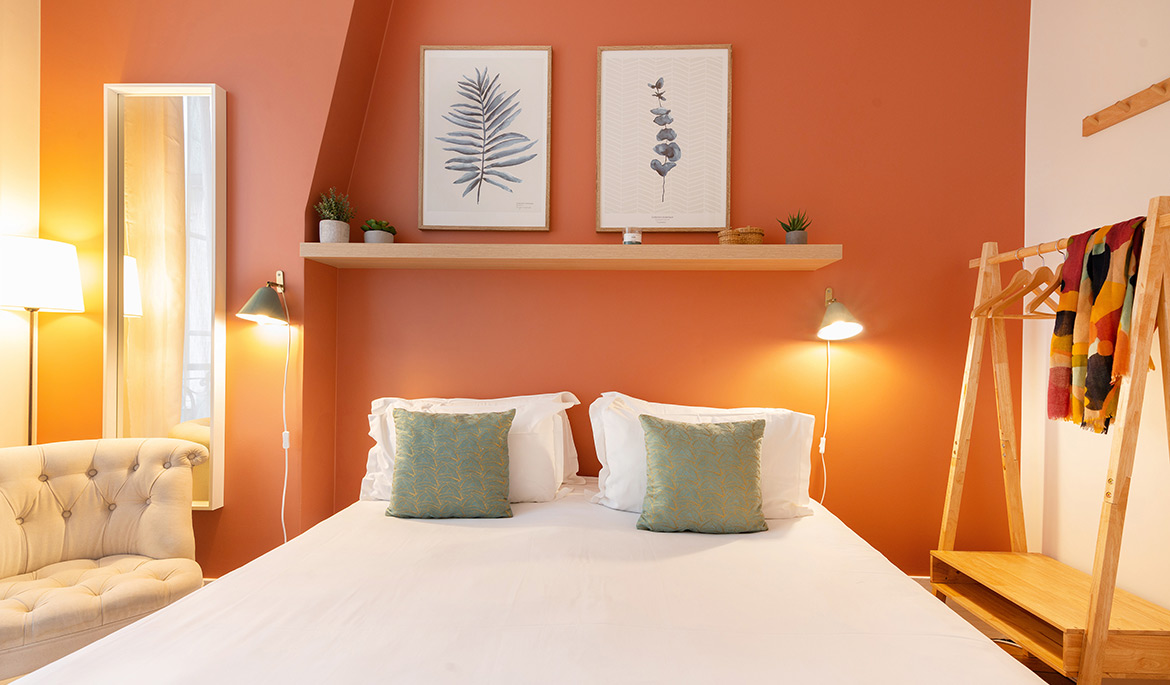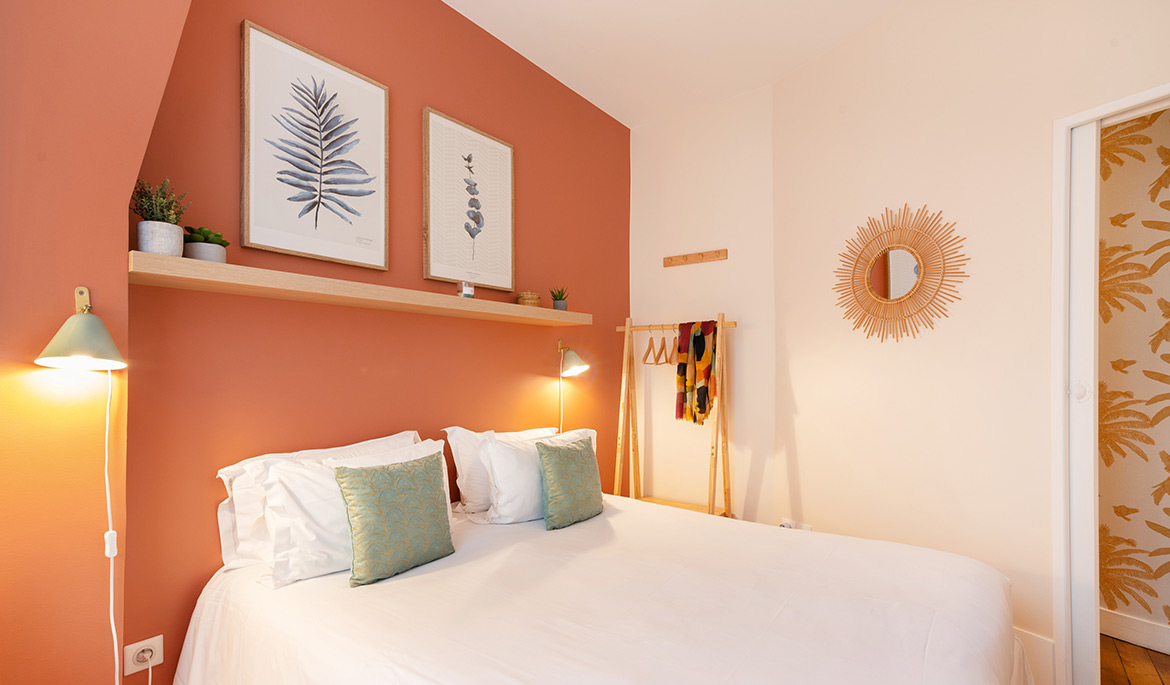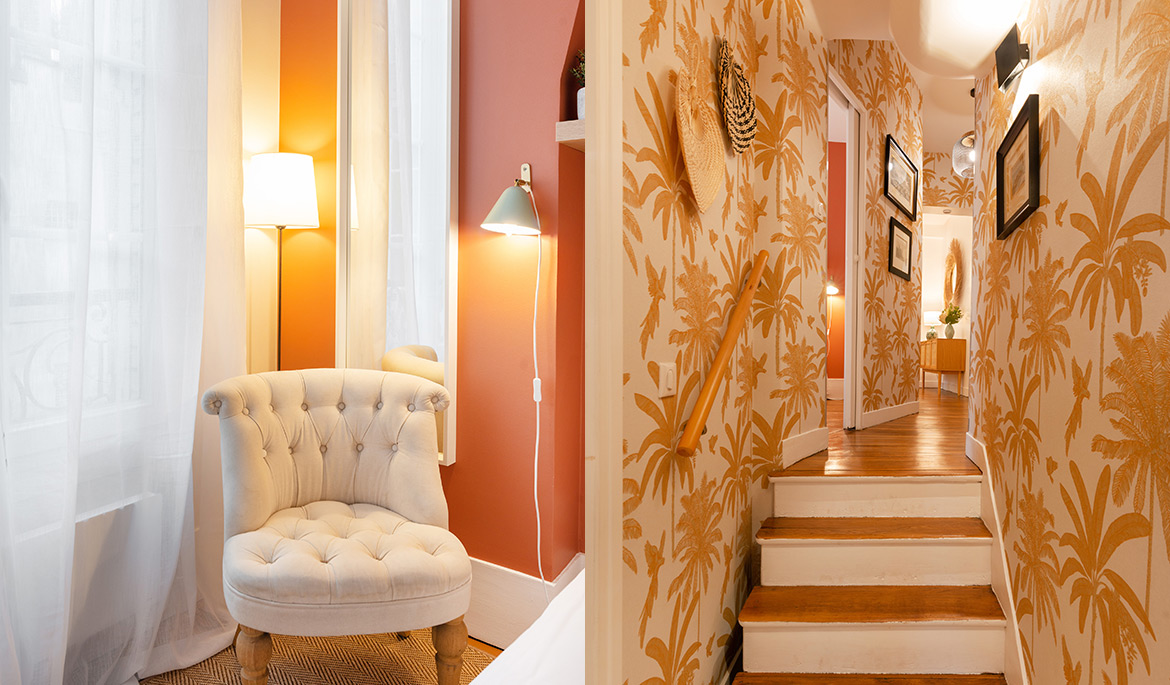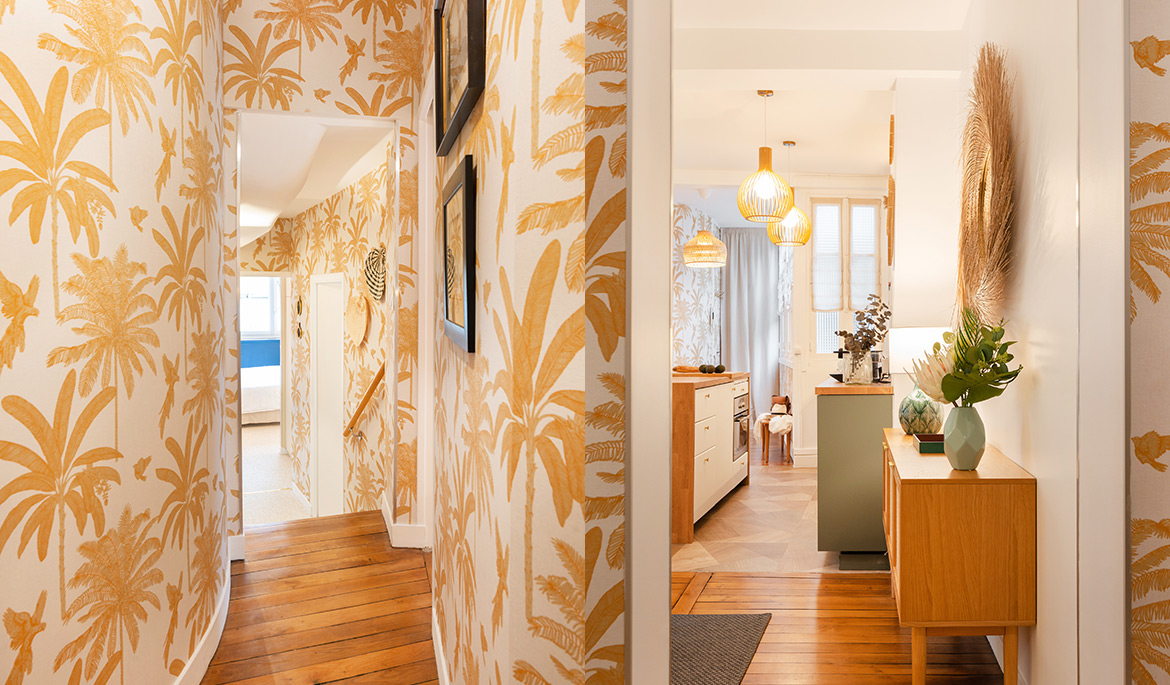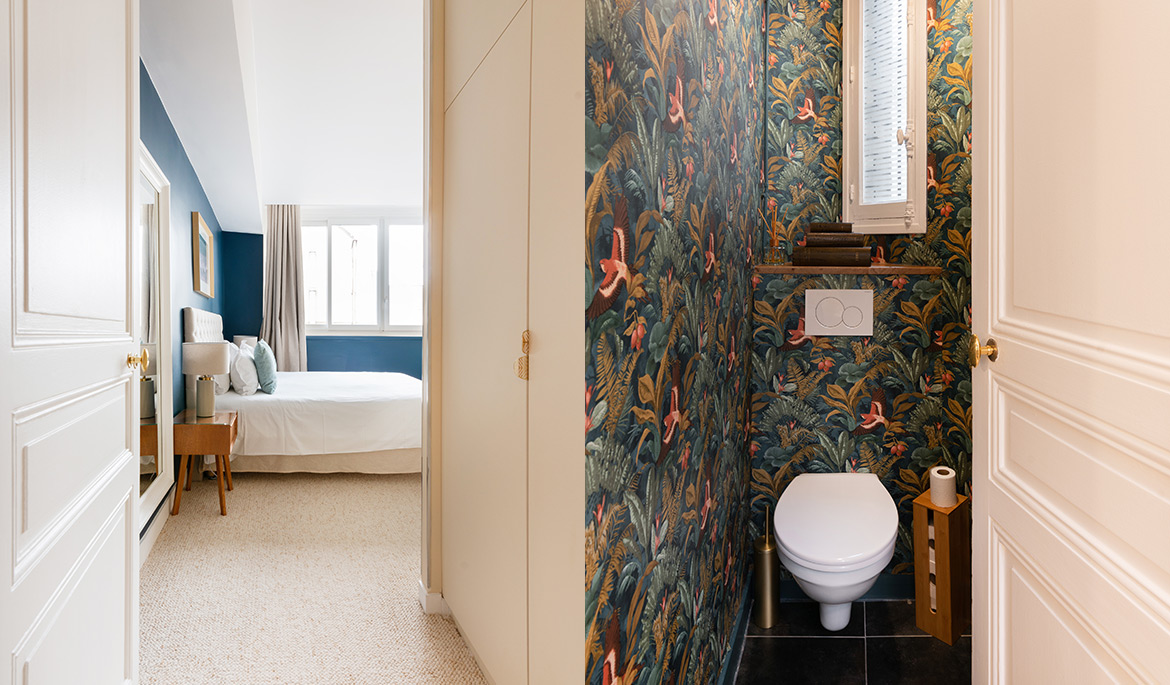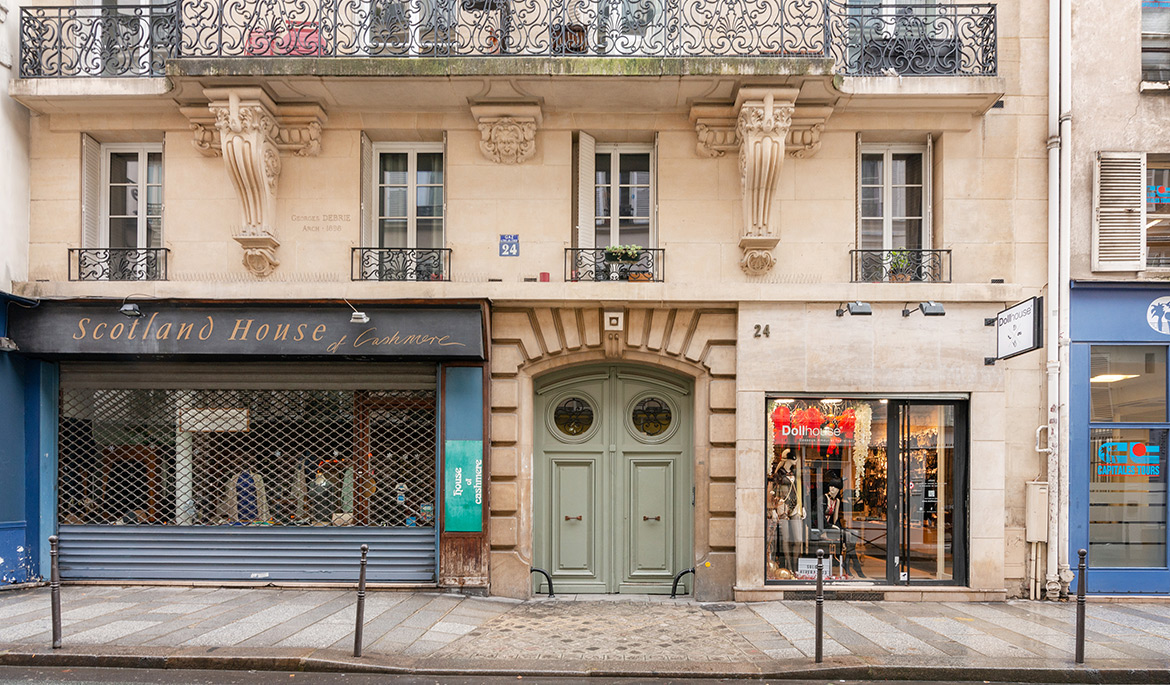 The Marais Elegance apartment is located in a charming 19th century building in the trendy Marais neighborhood. This quiet and bright apartment has all the charm and authenticity of Paris with antique furniture, beautiful parquet floors, and fireplace. It's fully equipped, providing comfort, space and practicality while still remaining cosy and welcoming.
The two bedrooms have AC, king sized beds, and closets. The two bathrooms are spacious and modern. The kitchen is open on the spacious living room, it is fully equipped to allow you to cook delicious french meals.
The second bedroom can also be set with twin beds. Anti bed bug mattress protector in each bed.
The apartment is in accordance with the regulations of the city of Paris regarding short term rentals. Registration Number: 7510400117662
General

Check in time : 14:00
Check out time : 10:00
On Floor 4 (has lift)
Driver on request

Amenities
Air conditioning (in the bedrooms)

High speed Wifi

Dishwasher

Fridge

Stove

Microwave / Oven

Toaster, Coffee pot, Kettle, Nespresso machine

Washing machine

Clothes Dryer

Sheets, towels, toiletries provided

TV with English speaking channels

Bluetooth speaker

Phone with free calls to many countries including USA, UK, Australia, Canada, and more.

Iron & ironing board

Umbrellas

HairDryers

Safe

Sleeping arrangements
Master bedroomKing Bed
Bedroom 2Two single bed or one queen sized bed
Reviews
Barbara Campbell, USA

Great apartment. Perfect for our family of 4. Fun neighborhood with lots of shopping and dining around. Also recommend the driver she suggests as he was great!

Stefan Geubel, USA

We had a great stay in Paris. A super location in the midst of the Marais! Very clean appartment with a homy feel. Kitchen with everything you need, very nice beds to relax in after a day of walking the streets of Paris. Strongly recommend it!!

Simon Frenkel, Australia

We absolutely loved staying in this apartment with our 2 children. It is very well located and just a short walk to Saint Paul metro station. It is situated in a lovely part of Paris, surrounded by countless restaurants and bars. There is also the convenience of a supermarket just a few doors away. The apartment was very clean, spacious and is exactly as it is portrayed in the pictures. Despite its central location, it was very quiet. There are 2 bathrooms with just one toilet. Cecile, the owner, was very helpful and was very prompt with her replies - either by email or text message. There is a very useful manual explaining how various things in the apartment work, where to find local amenities and even suggestions of good places to eat (including suggestions from previous guests). The provision of wi-fi, bathroom amenities, small amts of dishwashing and washing machine powder were added bonuses. We would happily stay at this apartment again.

Angela Heistein, USA

We really enjoyed our stay at Marais Elegance. The location was perfect - right in the heart of the Marais and near a Metro station, but set back off the street and quiet. The beds were some of the most comfortable of our 3+ month trip travels through Europe and having two bathrooms was nice for our family of four. The well-stocked kitchen plus washer/dryer gave us everything we needed for an extended stay in Paris.

Kerry Bakewell, Canada

We had a wonderful stay at Marais Elegance. Cecile was a pleasure to work with. We had our 21 year old daughter with us. The location was safe and central. Lots of restaurants, shopping and great places for site seeing. I would stay at designer Marais again. Thank you Cecile!

Don Cutshall, USA

We were in Paris for one week with good friends (both over 65) and our stay was perfect. We were walking distance to good food, wine, and attractions. We would highly recommend.

Tejas Shah, USA

My sister and I rented this apartment over Thanksgiving. The apartment was beautiful. Large apartment given traditional European standards. Good kitchen and modern showers. There are 2 showers but only one toilet. Not a problem for us. Secure building. Has an elevator but it is very small (2 people max without luggage). Perfect location in the Marais. Close to Notre Dame. Excellent restaurants in the area and two wonderful patisseries (Pain du Sucre and Pierre Herme) within a few minutes walk of you are craving Macarons.

Stephanie Misltead, USA

Cecile was amazing to work with and paid attention to every last detail. Booking was easy, the driver waiting for us on the train platform was a bonus with all of our luggage! It was a short ride to the apartment, which was located in the beautiful Marais district. The apartment was very well appointed, very clean, and fabulous location. It was an easy walk to the market, bakery, metro, and wonderful restaurants very close, not to mention, great shopping! We will definitely book again and recommend to all of our friends!

Joanna Brazier, Australia

Now back home and already missing "my" lovely Marais apartment ! Thanks Dreams Apartments for your professional service and attention to detail. I have now stayed in 3 of your apartments and can recommend them all. Your photos are true to life and the presentation is excellent. Hope to be back next year !

Suzanne Roberston, USA

My family and I really enjoyed our stay at your apartment. The apartment was just like it appeared in the photos. We enjoyed the well stocked kitchen. Cecile was very helpful in contacting a doctor for our son who became ill while in Paris. She had a doctor make a house call to the apartment. This was much appreciated as we didnt speak french and didnt know where to turn for help. The apartment was safe and secure. The area was also safe, my daughter and I went out most evenings until the nighttime and felt very safe walking around. The location was very nearby everything you might need including a Starbucks for a little taste of home. The sops were really cute with everything from vintage to lingerie shops. Also, we were able to hire a driver to drive us around paris and the next day to the train station. Thanks for helping us celebrate our 25th weedding anniversdary and my teenagers birthdays in Paris!!

Ray Bayley, USA

Thank you very much for providing me with such a lovely accommodation. Everything was perfect and I thoroughly enjoyed my stay in your apartment. I will be sure to contact you the next time I'm in my favorite city in the world. Warm regards.

Gilda R., USA

This apartment was exactly as pictured, only better! What you can't see is that its on a wonderful street with cute shops downstairs, and two blocks from the Rue Rivoli which is the feeder street for the Louvre, Notre Dame and anywhere else you want to be in Paris. Yet, it is so QUIET! We slept like logs and really felt like we had a respite from the city. It was plenty big for 2 and worked well for 3 when a friend slept on the pull out couch for a night. (She said it was super comfortable). As far as decor, the building is old and charming but the furnishings are new which is a really nice contrast. It was well lit and bright in the evening and had great natural light from the windows during the day. We will definitely stay in any Dreams apartments in the future!

Tess Nicholls, Australia

The perfect Marais oasis, the apartment was well appointed, spacious,quiet, clean and comfortable. Plenty of towels, linen, cosy duvet, great showers. Kitchen had all the facilities you need on vacation with a double fridge big enough to store all the fabulous cheese available in the many nearby fromagers and of course wine to go with!! Le Marias has always been our favourite neighbour in Paris, never disappoints! Central, great food and boutique shopping with loads of atmosphere.....missing it already! Minutes from the metro and about a 10 minute walk to Notre Dame.... Cecile was a pleasure to deal with, both check in and check out procedure were a breeze... Highly recommend this apartment...

David Kanter, USA

This flat is clean, comfortable and well-provided for with respect to appliances and other amenities. Perfect for a small family. It's in a beautiful building, a few blocks from the Village of St. Paul, the Place Des Vosges, The Bastille, The Seine, etc. Convenient access to shopping for food, boutiques, galleries, etc. Cecile (the manager of this and several other flats) was helpful in every way, and provided us with excellent references for driver, child sitter, etc. One drawback/advantage (depending how you see it) is that there are no windows out to the street or with lovely views so while there is virtually no street noise, you won't find yourself staring out the windows. But there is plenty to do out on the streets, so that shouldn't be a problem. This is a practical, clean, well stocked flat in an ideal location with a very helpful manager.

John Savage

Wow! This was our first international apartment rental experience and it was excellent! The apartment is beautiful, comfortable and in a wonderful location in the 4th Arrt. A new grocery is ½ a block away and everything else; metro stops, shops for wine, formage, patisseries, and restaurants populate the entire Marias neighborhood. Cecile was very prompt and thorough in her responses. The check-in and check-out processes were convenient as well. We used a car service to/from CDG which added to the convenience. Thank you, we highly recommend renting in Paris from you! It was our most memorial trip to Paris so far!

Melissa Wang

My husband and I stayed here with our one year old son and enjoyed our stay immensely, we only wish we could have stayed longer. The apartment is conveniently located to shops and restaurants, there's also a supermarket less than a block away. The place was very clean and comfortable and it is also very nicely decorated. We slept very well at night since the place is very quiet and the bedding comfortable. We will definitely come back!

Georgianne R., Sydney Australia

My husband and myself stayed one month, with daughters visiting for a couple of nights at various times. The apartment was beautiful -- tastefully decorated and furnished and very comfortable. The apartment had everything that we needed. We LOVED the location -- and the apartment was quiet. Booking and checkin smooth and courteous. The only design fault was the distance of the toilet, which had no hand basin - to the bathrooms. We would recommend this apartment.

Carl

We stayed in the Marais Elegance apartments for a week in July 2011. A beautiful modern clean apartment with excellent facilities in a great location close to metro, supermarket, cafe, bakeries and restaurants. We would highly recommend this apartment to anyone looking for rental accommodation in Paris. The location provided easy access to the city and all of its attractions. The team provided an excellent portfolio of information on the services and restaurants in the local area. We had a fantastic time.

Andrea D.

We had a fabulous stay in Paris. Your apartment was exactly how you presented it on VRBO. You definitely have a flair for decorating and we loved Le Marais neighborhood. This was my third time to Paris but I think it was the best primarily because your apartment made us feel like real Parisians!
Thank you also for arranging the driver to the airport. He was very professional and even early for the pickup. We will definitely recommend your properties to our friends and hopefully visit ourselves again soon.
Merci beaucoup!

Lance

We had a terrific stay in your apartment, and I cannot wait to take another--It will unfortunately be not before next year, however. The whole experience was great, and as I told you in Paris, I very much appreciated how prompt you were with your responses. Have just given your info to a friend of mine in New Jersey who is planning on a trip in November. Glad that you found the apartment to be in good shape upon our departure. Many thanks again for providing such nice accommodations.
Best regards

Kathy Gordon

Our late March stay at your Marais Elegance apartment was perfect for our 4 cousin reunion. Beautifully updated comfortable apartment with a great central location. We were able to feel and experience the Parisian life. The photos are truly accurate. I can't wait for my next visit to another of your wonderful Paris apartments!