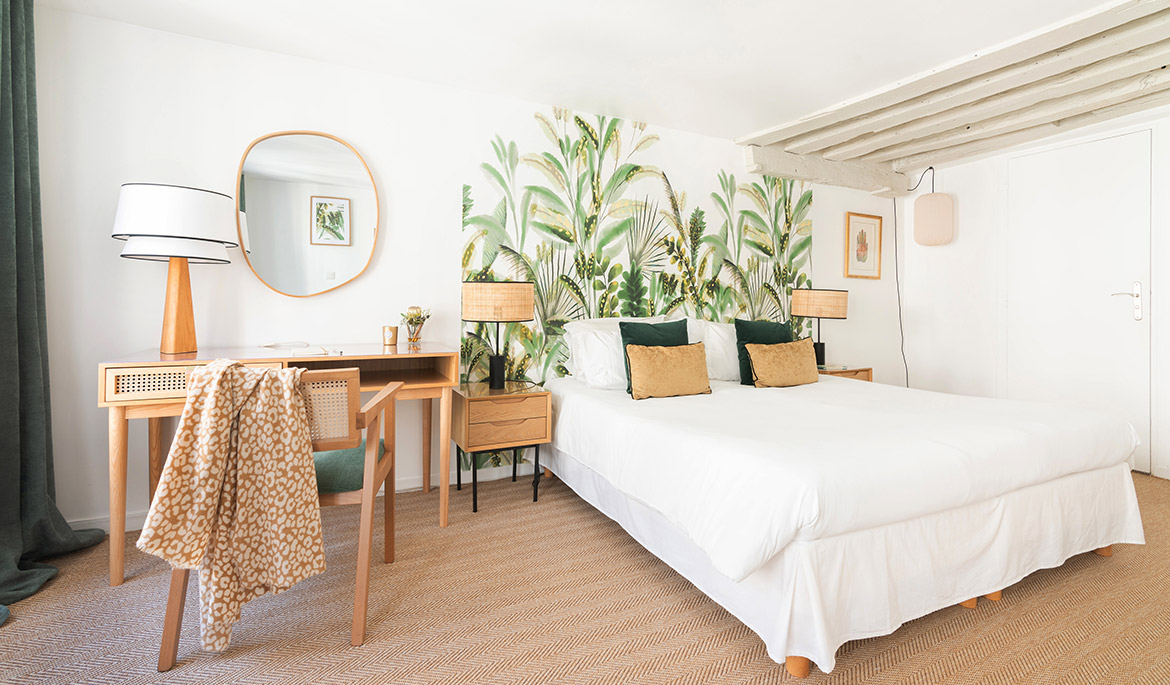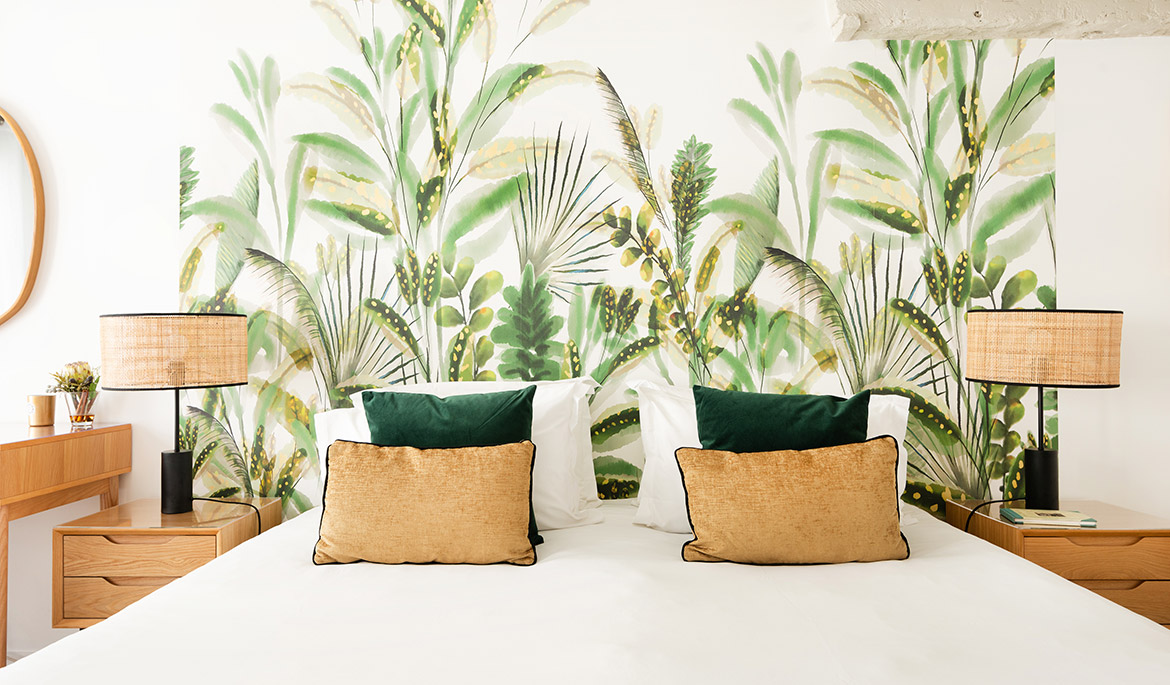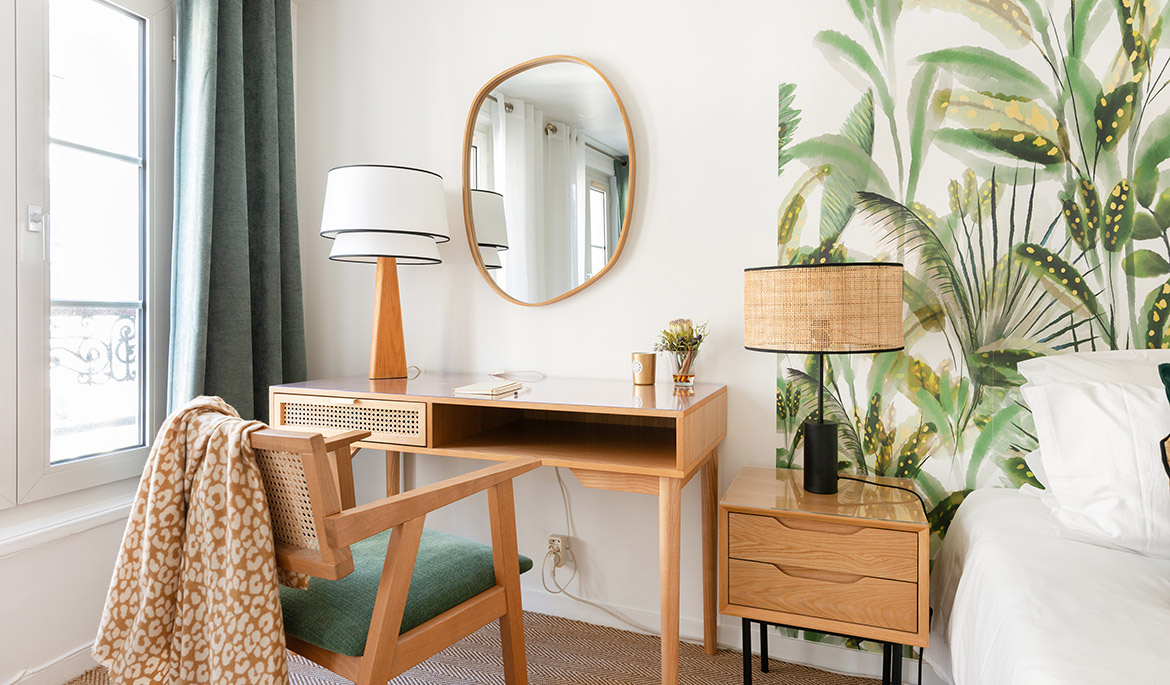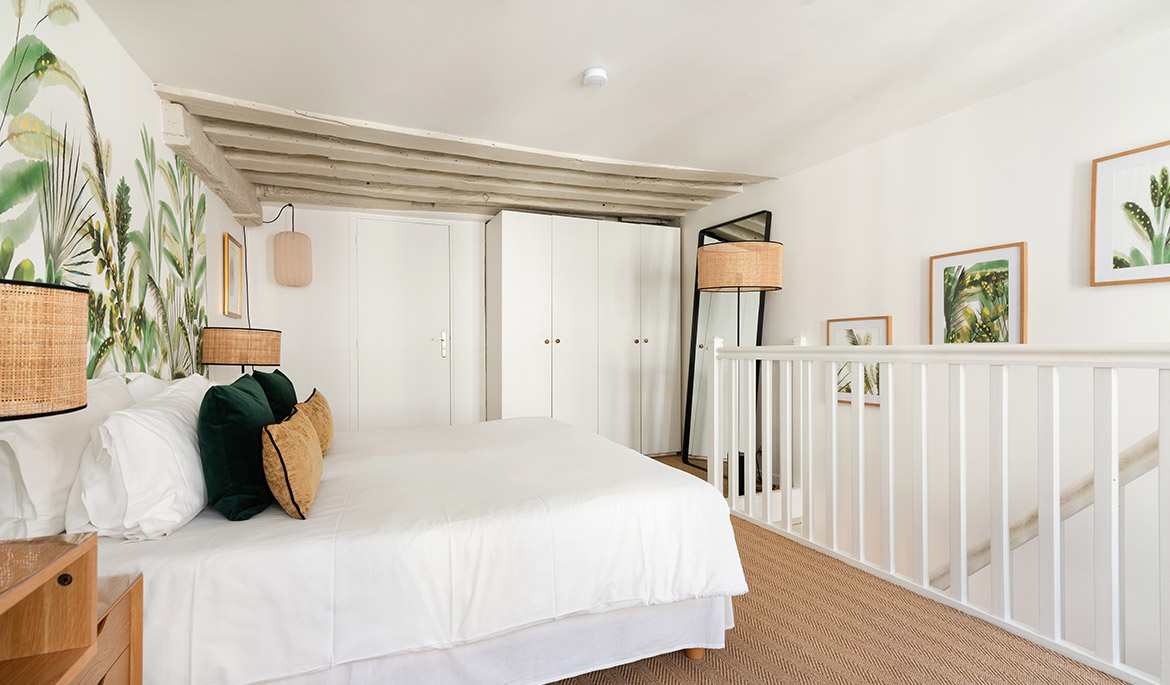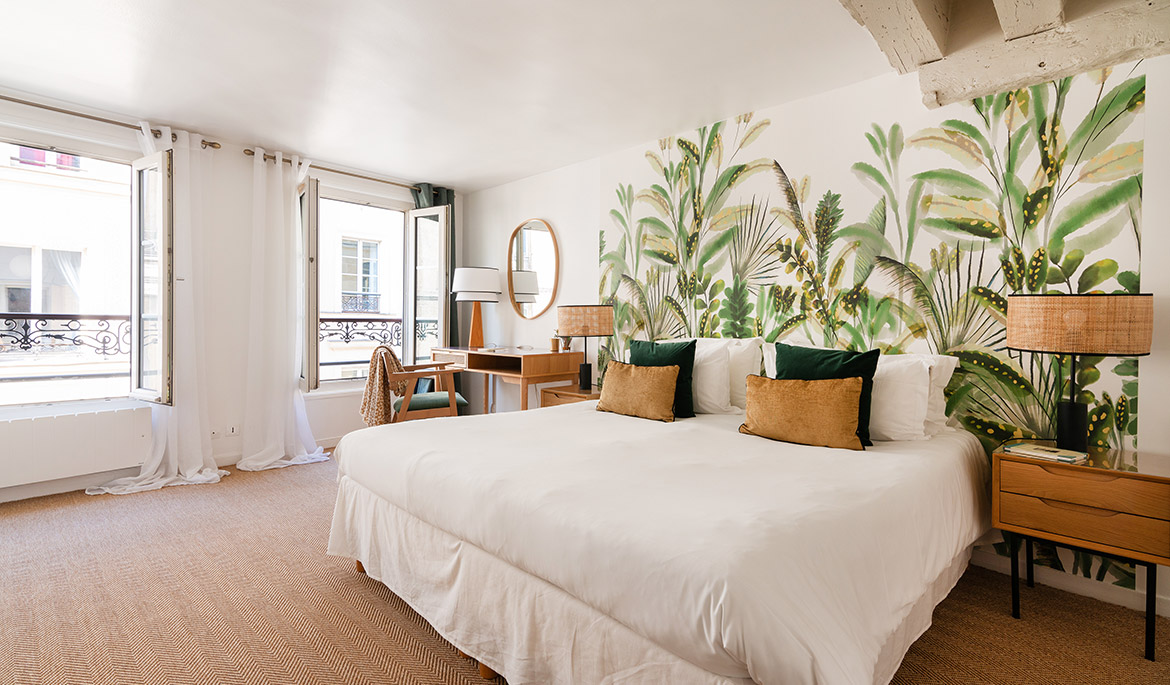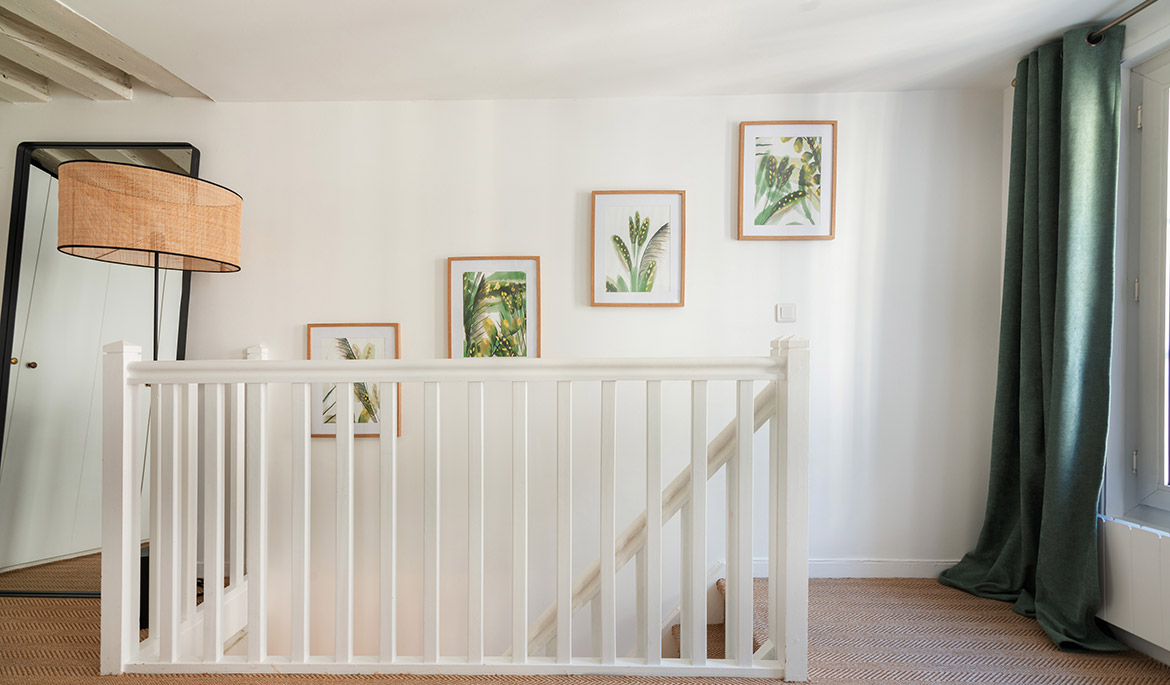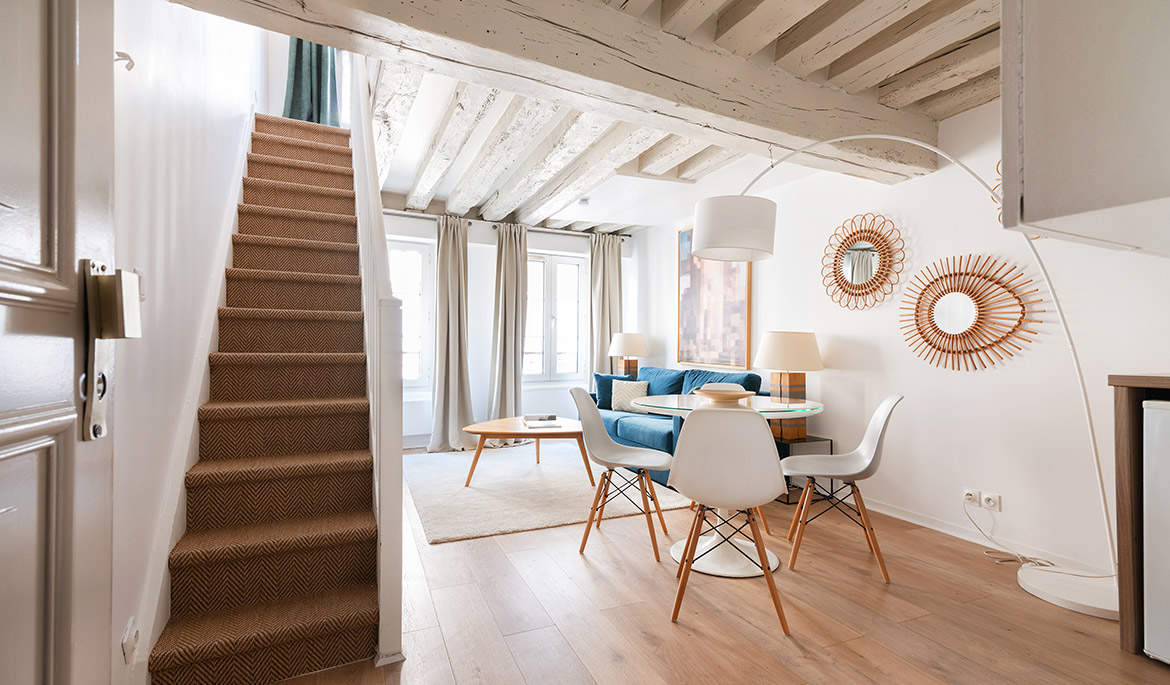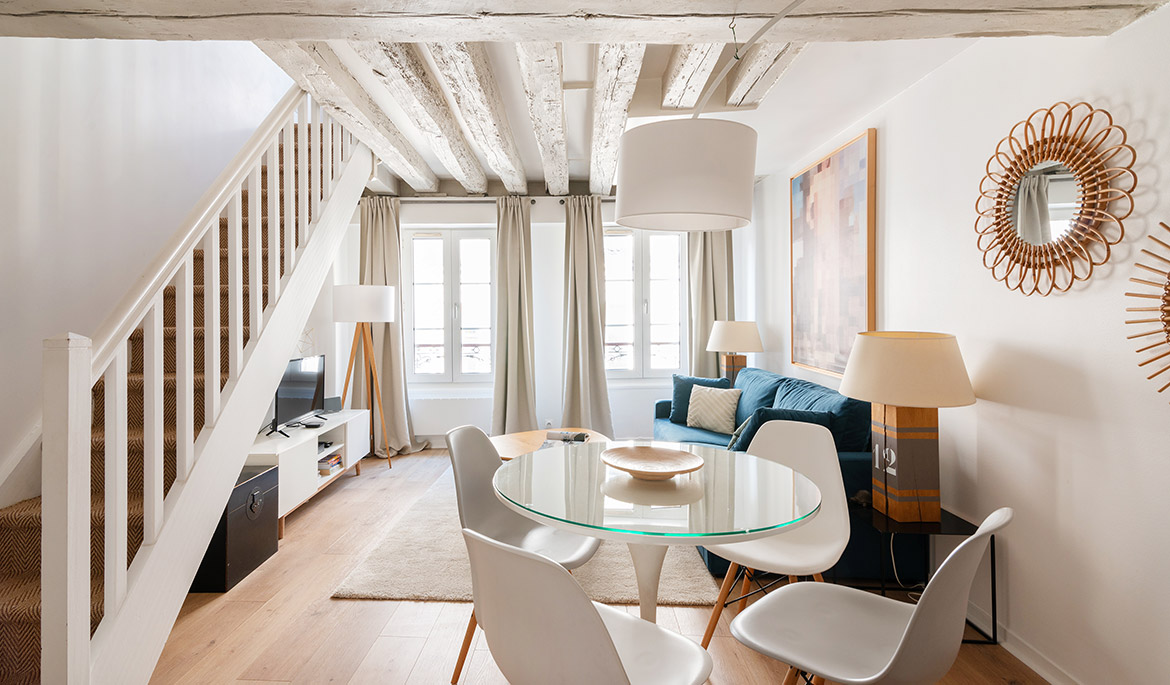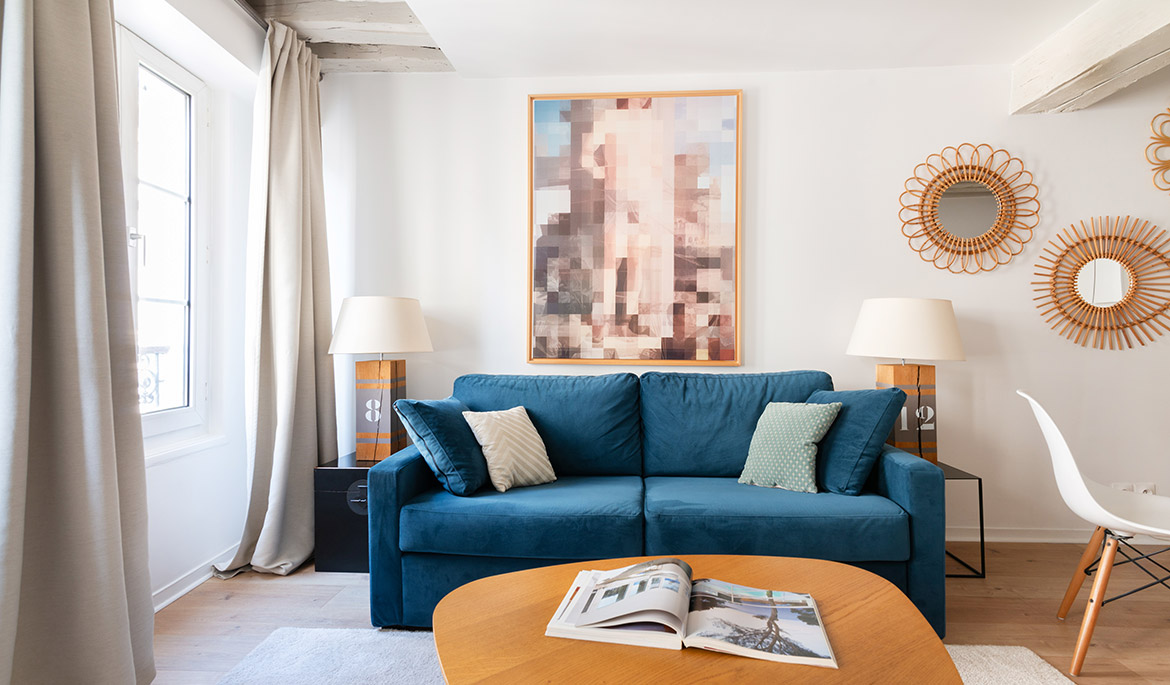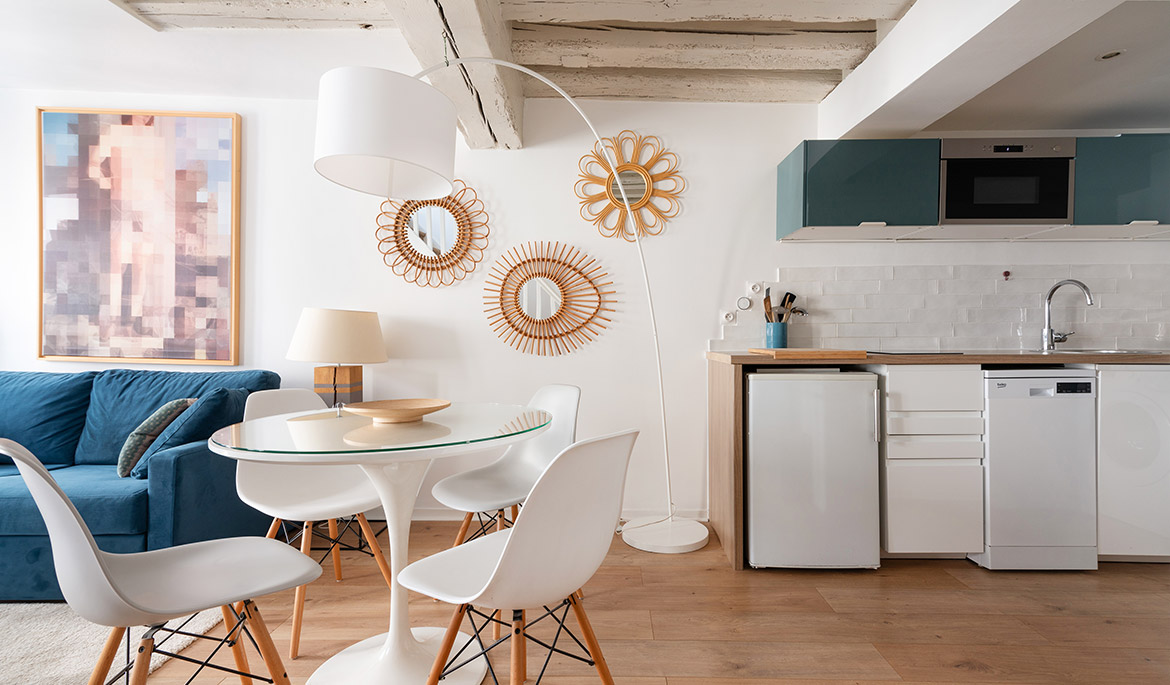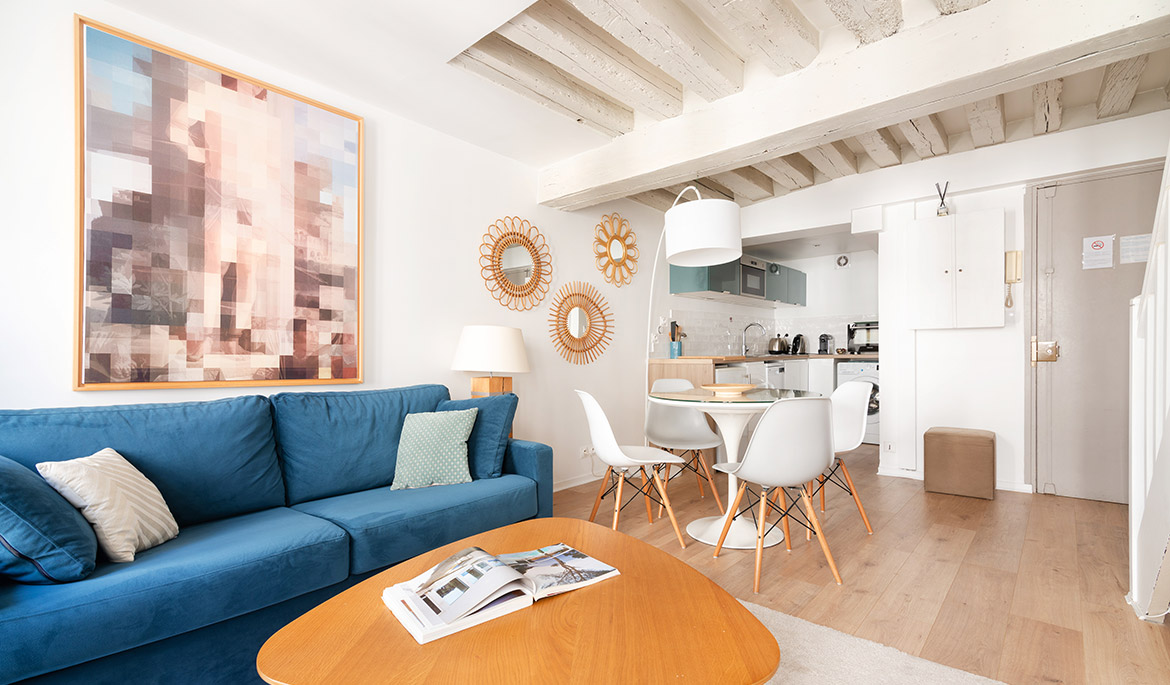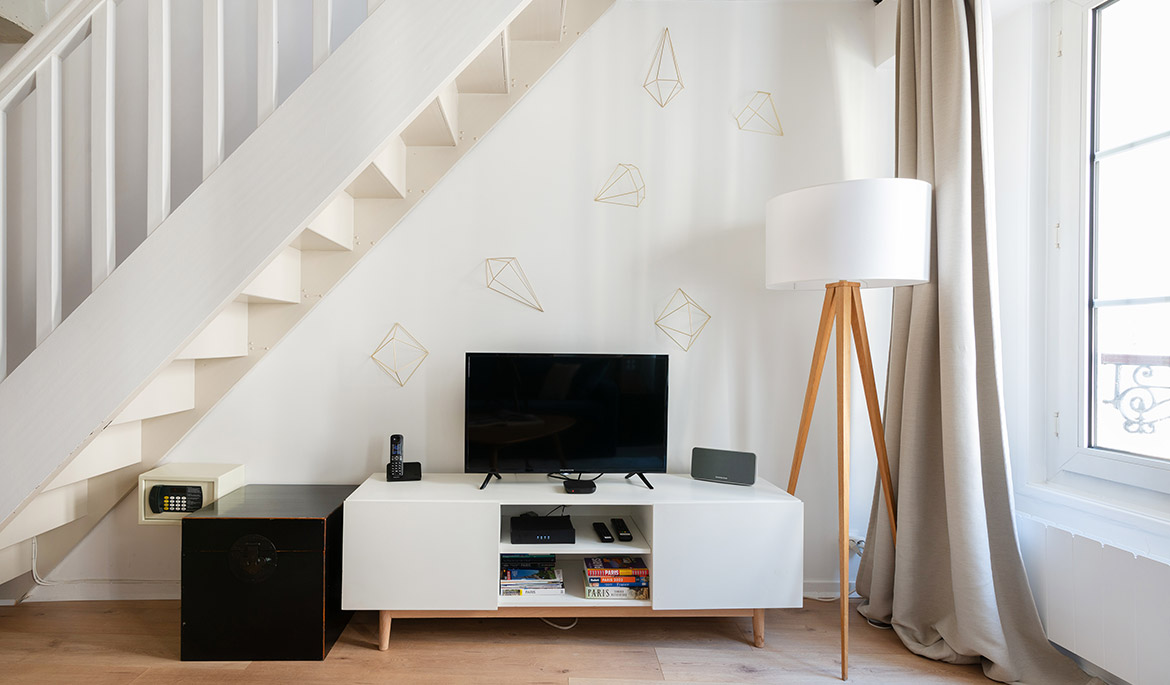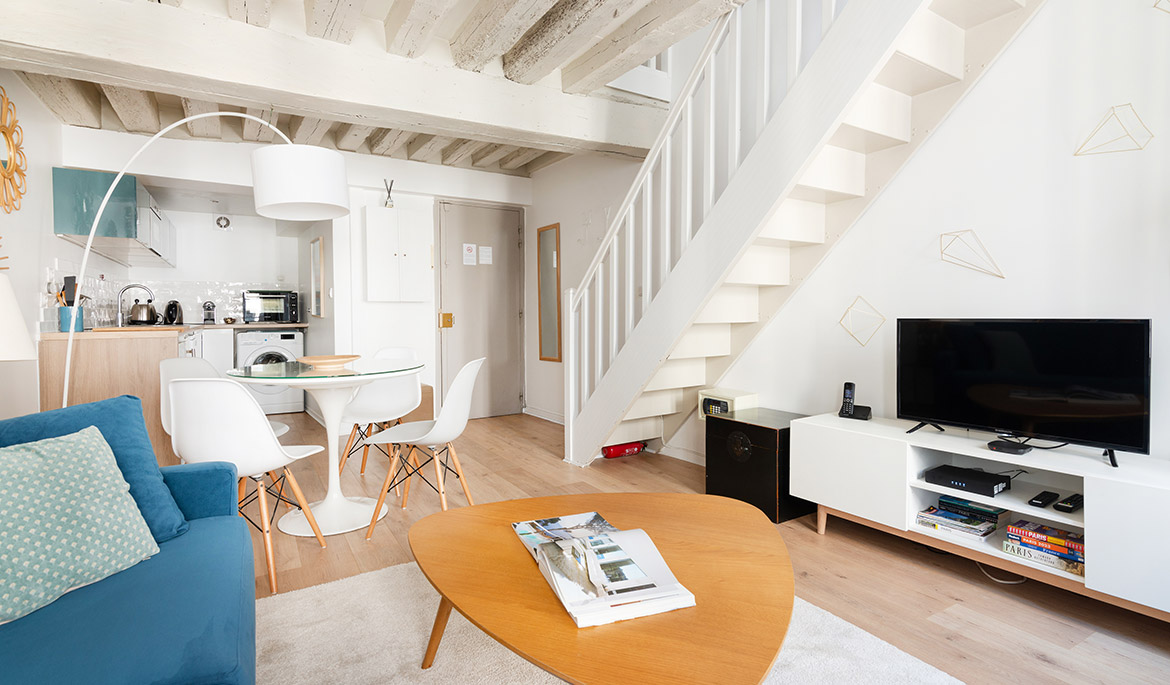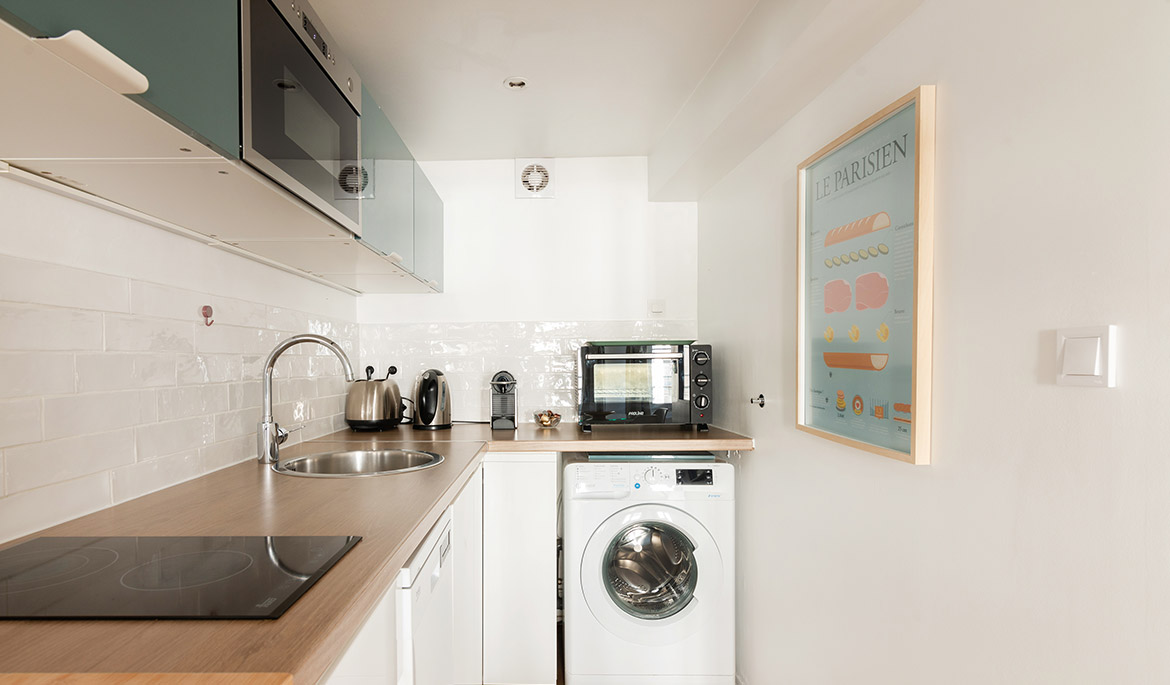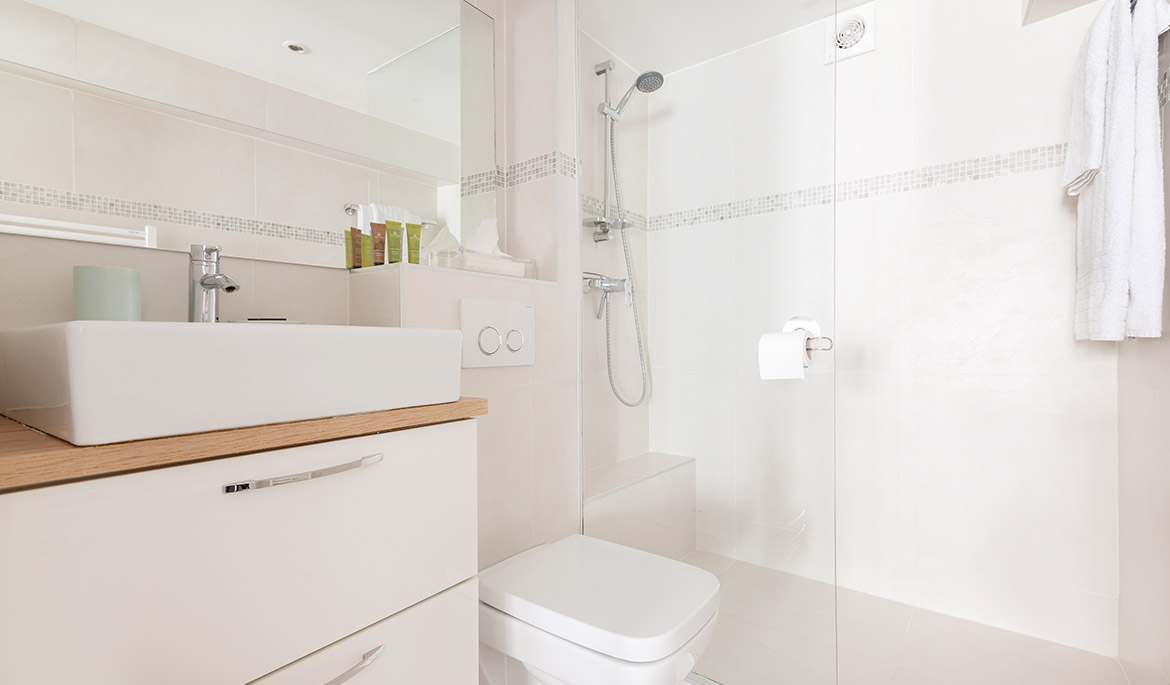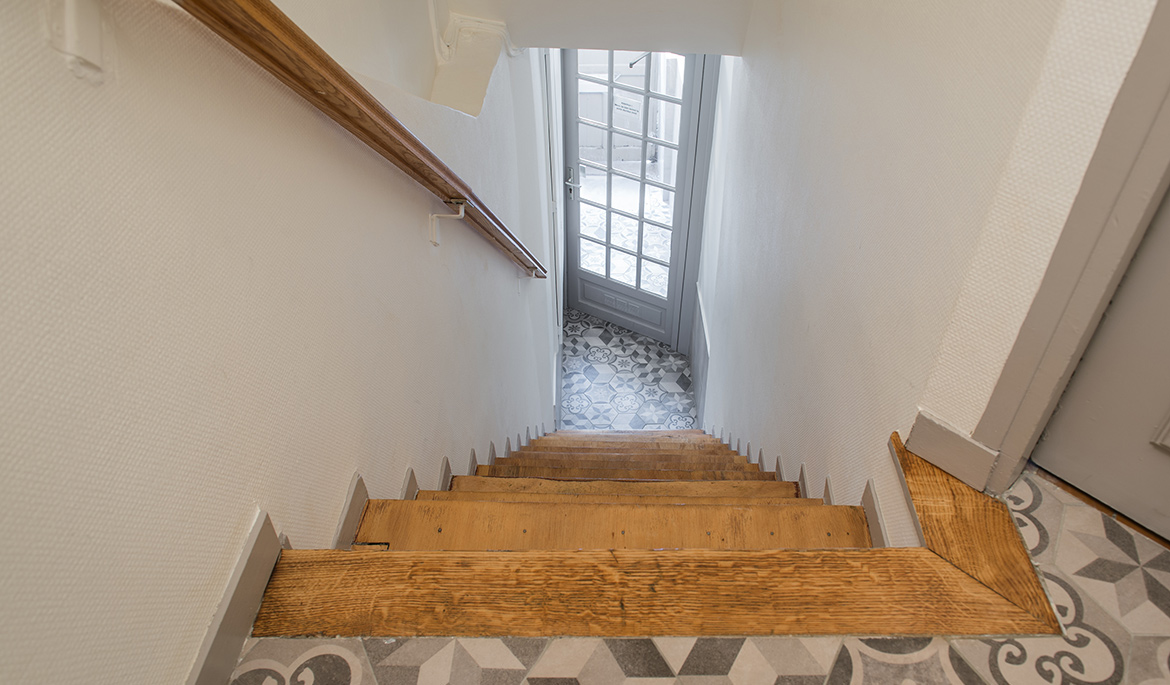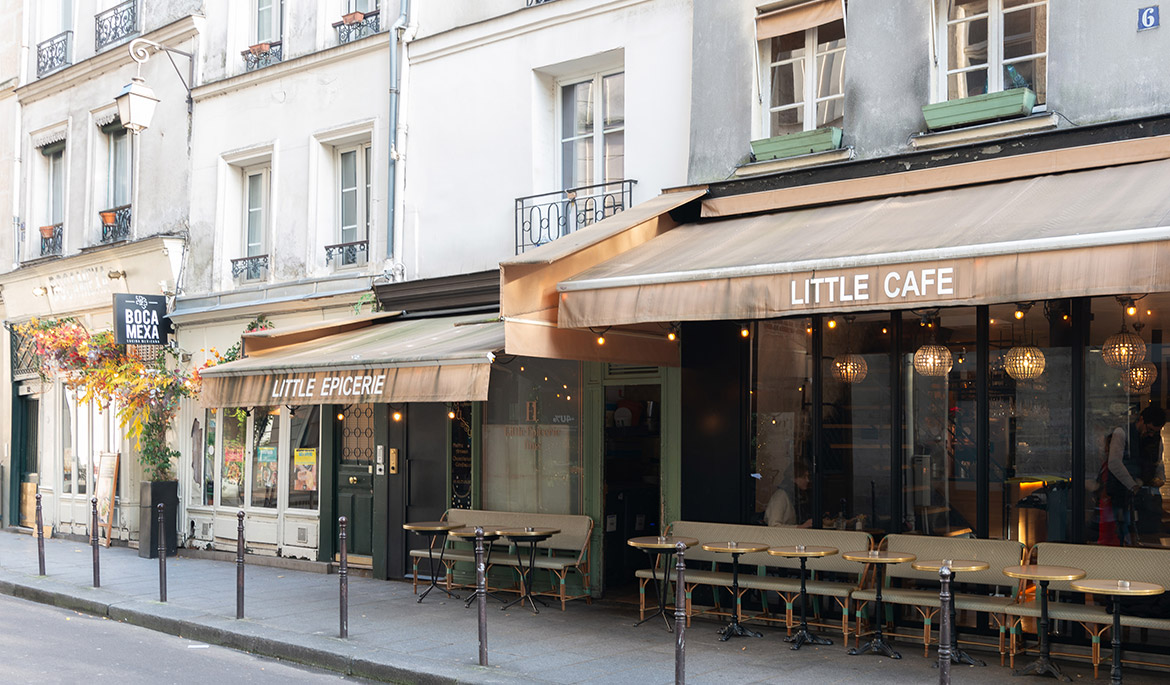 Located on a charming side street of the historic Marais neighborhood, the Marais Delight apartment combines the classic Parisian charm of exposed beam architecture with the comfort and style of modern furnishings and amenities. This is the ideal location to explore the best areas of central Paris by foot.
The apartment includes two levels. The first level is warm and spacious, with beams and wood floors. It includes the living room, the dining room, and the fully equipped open kitchen, perfect to cook and have great meals at home.
The second level is very comfy thanks to the soft carpet and the beamed ceilings. It hosts a large bedroom with king size bed, desk, and large closets. The en-suite bathroom with a toilet and italian shower is modern and stylish.
The apartment overlooks the rue du Bourg Tibourg. All windows are double glazed very efficiently. Anti bed bug mattress protector in each bed.
General

Check in time : 14:00
Check out time : 10:00
On Floor 3(walk up)
Driver on request

Amenities
Air conditioning (in the bedroom)

High speed Wifi

Dishwasher

Fridge

Stove

Microwave / Oven

Toaster, Coffee pot, Kettle

Washing machine

Sheets, towels, toiletries provided

TV with English speaking channels

Bluetooth speaker

Phone with free calls to many countries including USA, UK, Australia, Canada, and more.

Iron & ironing board

Umbrellas

HairDryer

Safe

Sleeping arrangements
BedroomKing sized Bed
Full double thick-matressed sleeper sofa
Reviews
Carmen Suro, USA

We had an extraordinary time in Cecile's Marais apartment. The outstanding reviews of the apartment, Cecile as a host, the driver Philippe are all true and almost understated. Five of us (including one adult who praised the sofa bed) spent a delightful Christmas vacation in the Marais apartment. The food shopping in the area made cooking unnecessary; we were able to assemble a sumptuous xmas meal from the traiteurs nearby. Thank you Cecile for the many kindnesses that made staying in your apartment such a joy!

Laurie Jago, Canada

I stayed in Marais Delight for three months in the spring of 2019. It was the perfect location that was close to all sights and amenities like groceries, restaurants, entertainment and shopping. Its size was ideal for me with or without guests and both beds were extremely comfortable. Cecile was very quick to respond to any text and any minor issues that arose during my stay. She took care of everything extremely promptly and professionally. Philippe, the private driver, was lovely and provided great service and travel information to me and my guests. Rolly, who cleaned the apartment, was very accommodating with his schedule and did a good job. I very much enjoyed my sojourn in Paris, primarily because of Cecile and Marais Delight. I would definitely return there and would recommend it to all friends as a great place to live while in Paris.

Ron Pessner, USA

This is a very nice place, and well maintained. The location is also outstanding. Easy walk to major sites and public transportation options. Bakery across street excellent too. Cecile very responsive and helpful.

Julia Confer, USA

Extraordinary - beautiful apartment, amazing host, perfect location. Would come again for sure!

Dan Petis, USA

Overall, this was an exceptional stay in Paris. The apartment was perfect for a couple with a small child, everything was clean, well taken care of and the apartment was in an excellent location. The apartment is in fantastic condition and well taken care of. Modern with a vintage twist. It is a definite repeat!

Donna Cordova, USA

I have stayed in this apartment once before. It is very comfortable. I like that the bedroom is upstairs. After enjoying our days out and about it Paris, it was lovely to come home to the huge windows opening to a beautiful street, the very comfortable Living Room. We had our breakfast and went over our purchases at the dining table, which was our spot to spend time going over our days. A simple table became filled with lovely memories. The location is perfect. I find it to be the best location in Paris. So close to St Paul metro and Hotel de Ville metro. You have to like stairs, it is 3 floors up and the bedroom is upstairs. The corner bakery was perfect for coffee. The famous Tea Shop is up the street. The corner cafe is great for dinners and the best Pizza is at San Antonio across the street!

Meri McArdle, USA

My husband and I rented this lovely apartment for a week at the end of May. The location is great - easy walk to Siene, Notre Dame, Louvre, and many other sights, as well as the Hotel De Ville metro stop. The street the apartment is on has a true neighborhood feel - apartments, shops, bistros, etc. we enjoyed having the windows open and listening to the sounds of the neighborhood but with the windows closed all was quiet. Cecile was very responsive both in the booking process and during our stay. When we are back in Paris, we will call on her again!!

Kolinda S.

This was our first trip to Paris and we really wanted to get an authentic feel for the city. The Marias Delight was exactly what we were looking for. The apt. was well-appointed and mirrored the pictures on line beautifully. The location was ideal for sight-seeing and Cecile was an excellent resource for our stay. Hope to return and stay longer next time!

Susan Trimingham, Australia

This is a Paris apartment in a building and area with character and everything nearby. It makes a very good central location for a short stay when you are trying to pack a lot in. The apartment was nice to come back to at the end of the day and the beds were comfortable.

Lia Mondavi, Italy

The Marais Delight was ideally located. We loved being in the Marais district and being able to eat at cute, small restaurants and shop at lovely boutiques. Also, the nearest metro stop was only a few minute walk away. We walked to the Louvre and Notre Dame easily. We used the kitchen for making dinner one night. It is a bit small but served our needs just fine. The beds were very comfortable and the rooms and bathroom were very clean when we arrived. Everything was arranged very smoothly and there were no issues during our stay. I definitely recommend staying here and would want to stay here again if I travel to Paris again in the future.

Jane Sahmel, USA

We stayed in this apartment for a week in October. It is in a perfect location, close to restaurants, bakeries, the Metro, the Seine River, and many attractions. We loved coming home here at the end of sightseeing days. It was nice to prepare our own breakfasts, and sometimes a light supper after a big lunch. The whole arrangement is spacious and comfortable. I had been worried about the stairs before our arrival, but they turned out not to be a problem for me, as they are not too far up. We used drivers that Cecile recommended, and they helped with our luggage. I would definitely return here.

Barry Pipella, Australia

We had a wonderful time in Paris, and staying in this apartment was one of the reasons. It is a great location, close to every thing and easy to get to and from. The apartment itself was delightful in appearance and had everything we needed. It was warm decor, comfortable furniture and very comfortable bed. ..... and the host was exceptionally helpful. I would highly recommend this and would stay here again when we next come back to Paris.

Margaret Chellingworth, Australia

We stayed for 8 nights and thoroughly enjoyed Cecile's apartment. Excellent location. Amenities were great, although we never used the kitchen. If staying for a long period, we'd recommend the dry cleaner Cecile suggests, as it takes quite a long time to launder with the washer/dryer combo unit. The stairs are a bit of a challenge for a woman or perhaps the elderly, trying to carry luggage up and down. The stair steps are very narrow in depth and you can easily get thrown off balance when carrying luggage up and down. Once you get into the apartment, you will be more than delighted. Making arrangements with Cecile was easy. Very pleasant to deal with. I would also highly recommend having a car pick you up and deliver you to the airport - worth the cost. We will definitely book with Cecile again upon our return to Paris!!!

Barbara Leblanc, USA

We had a wonderful stay at Marais Delight for our 6 days in Paris. The location was ideal, close to everything including the Louvre, Notre Dame and an easy Metro ride to the Eiffel tour. There was a very complete manual in the apartment to ensure that our stay was comfortable. We would definitely stay there again.

Ralph, Blair, USA

Very convenient location to 3rd/4th as well as only a short walk to the 5th and 6th. Clean and well appointed apartment; great sleeping accommodations. Cecile and her staff were very responsive to our inquiries/requests. Short walk to Hotel de Ville Metro stop; ready access from there to rest of the city. If we return to Paris we'd definitely stay here again.

Michael Blomberg, Canada

The Dreams apartment in the Marais was absolutely marvellous, such a convenient location for travel throughout Paris, cafe's and shopping right outside your door, the owner and staff of Dreams Apartments were absolutely great, very accommodating and caring, thank you so much for such a lovely holiday in your apartments, we definitely will return to Paris and definitely return to Dreams apartments.

Maureen Quigley, USA

We spent a long weekend getaway at this lovely flat. The apartment is well appointed and maintained, and close to markets, shopping, and metro. Great neighborhood. Being in the middle of a bustling area also meant a fair amount of street noise which we mitigated through using the fan provided. Overall a nice little spot, thank you Cecile!

Robb Gray, USA

The apartment was in a fantastic location, close to shopping, restaurants, metro, sightseeing, and markets. The apartment had all the conveniences for any traveler and then some. Staying at this property makes you feel like you are a local living in the city. Finally, the owner was so great to work with and delivered on all fronts. This is my second stay at the owner's properties, and I will definitely come back. If the dates are open and you will be in Paris, book this place!

Charlie Johnstone, USA

Stayed here for a week in November. Great location on a quiet side street in the Marais, yet only a 5 minute walk to metro. The apartment is super quiet. The bathroom and especially the shower were great, plenty of hot water. The apartment was very clean. It also gets plenty of light. There is a wonderful bakery across the street and many charming restaurants in the area. The stairs are narrow but not a problem unless you are arriving with a steamer trunk, this is the second time I have stayed in one of Cecile's apartments, both were great. When in Paris this is my go to place, you will not be disappointed .

Trang Tran, Canada

I would like to thank Dreams apartment for a good week that we had in Paris. The apartment is exact as shown in pictures. The apartment is very clean, pretty and close to everything. Every morning, I just had to go downstairs to grab a hot baguette to enjoy my foie gras for breakfast and a mini market for other needs is right downstairs. I am very pleased with the location. I can walk within minutes to Notre Dame, to Louvre... basically everywhere. My teenager kids love the apartment since they have their own privacy. This is our third time in Paris and I think Dreams apartment is my best choice for a place to stay in Paris. Thank you

Anna Boardman, USA

The apartment was perfectly located and appointed for our needs. It was nice to have the bedroom and bath on another level as we were traveling with our 2 daughters and it gave us privacy from the living area. The apartment is tastefully decorated as shown in the photos and was relaxing to come back to after a day of sightseeing. We had a hard time leaving the neighborhood as there are many sights, shopping and restaurants nearby. We would not hesitate to rent one of the Dreams apartments, again. The check in and out was very easy and went smoothly. We can't wait to return!

Beverly Morrow, USA

I brought my two granddaughters (24 years old) to Paris to celebrate their college graduation. Our Dremas apartment was absolutely perfect....location....comfort....pleasant. I could not have been more pleased. Her recommendatio for a driver to pick us up and return us to the airport was the best. Of course, his helping us with our luggage up the four flights of stairs was most welcomed!!! Cecile was a delight to work with....everything was handled in a timely manner and she was available while we were there should we have needed anything. I would recommend ANY of her apartments...they are furnished beautifully and extremely clean. The photos shown on her website accurately depict the property. Thanks for all your help....I have recommended your website and apartments to several of my friends.

JJ Valen, USA

We were very impressed with the apartment and the experience of making arrangements with Dreams Apartments. Cecile was helpful and responsive to all our questions ahead of time. The reservation and payment process was quite simple and smooth. The apartment itself is great. Clean with very nice furnishings (looks exactly like the photos in the posting). There is a helpful and informative booklet describing procedures, instructions, and recommendations for things nearby. The neighborhood itself was terrific. The apartment is centrally located but on a smaller street. It is close to everything you need (boulangerie, restaurants, market, transportation, metro, etc.). I would definitely reserve an apartment with Dreams Apartments again and also refer friends and family.

Ms Donahue, USA

What a great apartment! I recently rented this apartment with two friends. It was even more beautiful than the pictures and the location was ideal. It is just one block from Rue de Rivoli and not more than three blocks from the Seine. The neighborhood is lively, interesting and completely safe. There are several wonderful cafes near by, a wonderful boulangerie across the street, the best gelato around the corner at Pizzeto and a market just a few doors down. There is also a wonderful open air market on Saturday and Thursdays just across Rue de Rivoli. The check- in process was easy. The owner left their local cell phone number (although we never needed it because everything was flawless). I will definitely be renting this apartment again and would recommend this as the perfect Paris address for any traveler.

Jamie Klickstein, USA

This flat was perfect in every way. The location was great - right in the Marais. I usually stay in the 6th but really enjoyed how alive the Marais is on the weekend. There were 4 of us in the flat (two children ages 12 and 15) the setup worked great and was a nice alternative to a hotel not to mentioned a *much* better value. The space is well decorated without being fussy and everything was very clean and in good order - overall all an excellent stay in every respect. Cecile is a profession - she is responsive to communications and everything was *exactly* as described. I am certain her other properties would also be up to similar standards.

Julie H. San Francisco, USA

My daughters (ages 4 & 7), husband and I stayed at the Marais Village 1 Br for three nights in June and we loved it. The flat was clean and comfortable. The location is surrounded by great restaurants and shops. The boulangerie on the corner is excellent. We spent a lot of time walking around and exploring this wonderful neighborhood. We would recommend this flat to friends.

Mark P. USA

I just wanted to take a moment to let you know how very please we were with the Marais Delight apartment we booked earlier this month. The apartment was perfect in every way from the location to the amenities. We could not have been more pleased with our decision.
The Metro, market, restaurants, cafes, bistros and nightlife were just steps away from our door. The apartment is comfortable and included everything we needed to feel at home.
The transportation you helped us secure to and from the airport was reliable, comfortable and professional as well. Many thanks to you for a wonderful and memorable trip. Please feel free to share my comments with anyone wanting a reference or post as a review.

Sarah Cooper, UK

The apartment was as photographed - we were not disappointed. It is a well decorated and laid out apartment, just a few floors' walk up. The building was quiet and well equipped and the location was ideal. It's easy to walk to most of Paris' main attractions and if you aren't inclined to walk, the nearest Metro station is just a couple of blocks away. You have the Marais on your doorstep, with its great shopping and restaurants. There is also a fabulous hotel across the road if you are travelling with others who prefer to be in a hotel. We traveled with two children aged 5 and 3 and the accommodation was perfect for us. There was space for them to play and draw and there are two nearby shops to get food and snacks if required. They were able to go to bed in a separate room when we stayed up. Much better than a hotel! We have already tried to re-book the apartment and would definitely recommend the apartment to anyone. Thank you for a memorable stay !

Jill Perris, USA, Florida

My husband and I stayed for a week at Marais Delight. It was an amazing location, the bed is very very comfortable as well as all her amenities. So centrally located, that you can literally step outside your door and sit at many cafes. Cecile makes it very easy, as she leaves you books, information on the area, and anything you would need and more! My husband and I use VRBO all the time, but we are definitely planning on going back to Paris again, and staying one of the Dreams Apartments. Highly recommend and so much better than staying at a hotel!

Mary W. California

My husband and I just spent 10 days in Paris to celebrate my 40th birthday. We stayed at Marais Delight apartment. It was the perfect place to call home during our stay. The bed was incredibly comfortable. The bathroom afforded long baths after long days walking the city streets. We loved the split level living - the comfort of the living space downstairs and the separate sleeping space upstairs. The owner has impeccable taste. Nothing is over the top, but everything is clean, beautifully stylized and well thought-out. Thank you for the best birthday ever! We will be back. No question!

Andy & Sue, Indianapolis, USA

We recently had a great stay in the Marais one bedroom. Location was the best. Only two blocks from Seine and Ile de St. Louis. Just a bit further to Notre Dame and Ile de la Cite. Great shopping all around. Farmer's Market Saturday's in Plaza. Bakery, gelato, grocery, and several cafes and restaurants all within same block. All the comforts of home in Paris. For the same money, book this apartment instead of a hotel, pack less, eat a meal or two in, and experience a great Paris neighborhood.

Cristina & Sebastian, Argentina

We had a wondeful stay at Cecile´s apartment in Paris. Reservation, check-in and check-out procedures were simple and straight-forward. The furnishing suited us perfectly and was like being comfortable at home. Every detail of convenience was considered, as the booklet with indications of boulangeries, restaurants and maps. We made good use of them. Extra touches like the plug adapters were much appreciated too. Everything worked perfectly including WIFI.
We particularly enjoyed the nieghbourhood which was unknown to us.

Kristen H. USA

My two children (11 and 9) and I stayed in the Marais Village in June 2011. We had previously rented other apartments from Dreams apartments in the past. As with the other apartments, the Marais Delight apartment was absolutely wonderful. The location was ideal - right in the heart of Marais Village, very close walk to the metro, with lots of upscale boutiques, restaurants and cafes nearby. The apartment is kept in immaculate shape. The modern furnishings and amenities suited us perfectly. Reservation, check-in and check-out procedures are simple and straight-forward. I highly recommend her car service as well. When we go to Paris each summer, we only contact Dreams apartments since they provide the most reliable and satisfactory rental experience anywhere!

Amy Yunis

We found this apartment to be perfect. For us, it was the ideal central location. Close to the metro, within walking distance of numerous sites and in the heart of the Marais where you are surrounded by wonderful cafes, bakeries and a bustling night life. The apartment itself is accuaretly represented by the photos. It has everything you need, a unique feel, good light, lovely tall windows that let in a nice breeze but also, when closed, keep out much of the street noise below. It was also immaculately clean, with every detail of convenience considered - it has everything from an electric tea kettle and coffee pot to an iron and drying rack. Cecile is very professional. She always responded promptly to my numerous emails, was very clear on directions, expectations and what would be provided and went out of her way to help me retrieve a book I accidentally left behind. We would absolutely stay in one of her apartments again.
Thanks Cecile!

Shirley Slater

We had a wonderful time in Paris and will return one day in the not too distant future. When we do, we would be more than happy to stay in one of your apartments. We have your card and would also have no hesitation in passing this on to our friends.


Dave Nelson

While I have had the opportunity to visit Paris numerous times over the years, I had always stayed before in a hotel, in some cases, among the best the city offers. Our experience with Dreams apartment has changed me, at least on this count, forever. The Marais Delight apartment was a joy. The apartment itself is fairly represented in its listing and in the warm reviews from former clients. Complete and comfortable. The location was accessible and lively. And, Cecile is a responsive, attentive person. You cannot beat this.

Lee McKerracher, Australia

Staying at the Marais Delight apartment was the true Parisian experience. From the wine shop and bakery downstairs, together with a myriad of cafes and a local market twice a week it is everything you could want. Location is fabulous with a metro station only minutes away and being close to rue de Rivoli, there are many boutiques to keep your shopping cravings satisfied. Also the rue des Rosiers is very close with some brilliant shopping opportunities. A visit to Mariage Freres on rue de Bourg Tibourg is a must just to experience the elegant teas and pastries available. Cecile has been one of the most professional and responsive people I have dealt with and I shall definitely be booking with her again for my next trip to Paris in 2011. Thank you Dreams apartments for making this such a wonderful experience.

The Ching Family

We had a fabulous time in Paris - so much so that we can't wait to go again! Not knowing anything about the various arrondissements, we were thrilled to find the Marais such a quaint area. The apartment was well furnished and very convenient. We walked to most of our destinations and really enjoyed being able to appreciate the beauty of Paris at our own pace. We were all disappointed when our week was up but hopefully, we will be contacting you again soon for one of your apartments.
Regards.

Bob, Bloomfield, NY

Great apartment to explore Paris from. Among the many positives are:
1-Information booklet that explains heating, washer/dryer operation, phone number for taxi,local shops, etc.
2-two floors to spread out in.
3- Quiet and pretty street.
4- close to Metro.
5-initial supply of detergents, etc.
6- Location, location, location!!!

Daniel and Sally jenshel, Australia

We arrived in Paris for the first time and from the moment our driver that Cecile arranged for us everything went to plan. The apartment was perfect, and romantic. It is close to great shops and every attraction you culd want. Paris is a walking city and from our beautiful apartment we walked for hours. We hope you enjoy Dreams apartments as much as we did. We will definately be back.

Stephen & Barbara Stillman, Chicago

I have read the comments left by other guests and completely agree with all of the nice things they say about you and the apartment. We found it to be everything you said it would be. It was beautifully decorated, extremely comfortable, very well equiped and the booklet you provided explained everything in easy to understand terms. Being very frequent visitors to Paris we found the location of the apartment to be our favorite. It was right in the heart of everything we wanted to do and everyplace we wanted to go. Dealing with you was also a real pleasure. You were not only helpful in all of the details, but honorable in all the business dealings as well. We hope this apartment will be available the next time we visit. If it is, we will certainly want to stay there. Thank you.

Linda C., Larkspur, California

The Marais Delight apartment lived up to its description; the photos on vrbo represented it well. The bed was very comfortable, the bathroom was nice, the main room/living room was great for Tom to plug in his computer and keep up with his office needs. Great to have a small kitchen. Can't beat the location. Thanks.