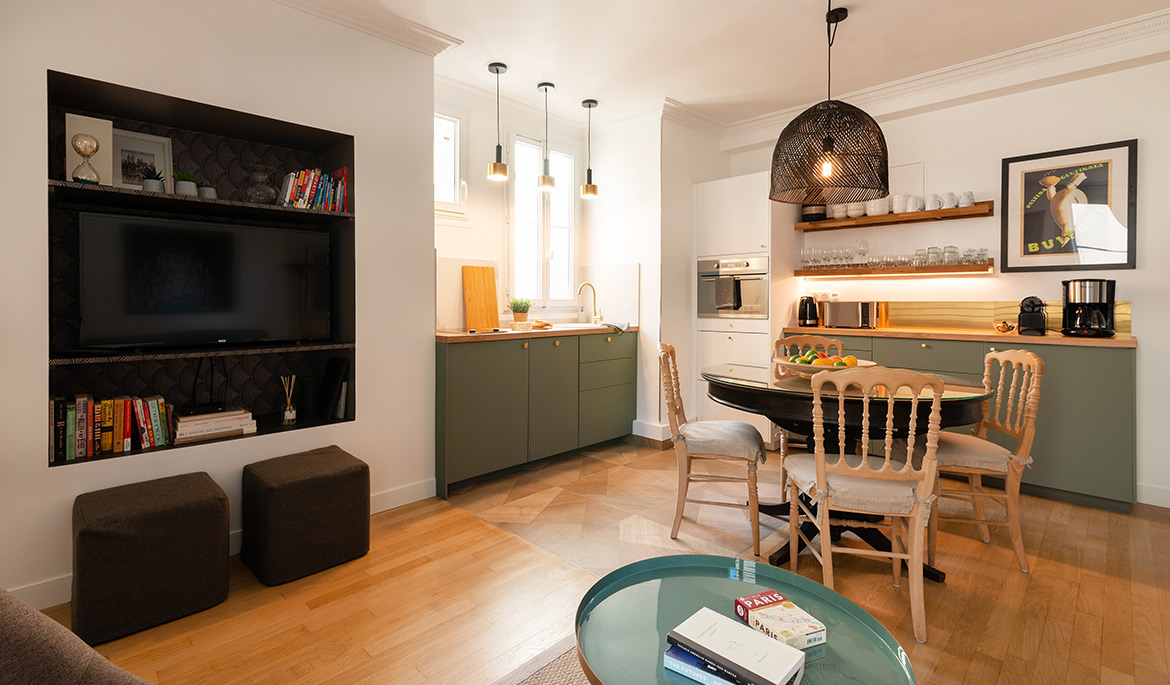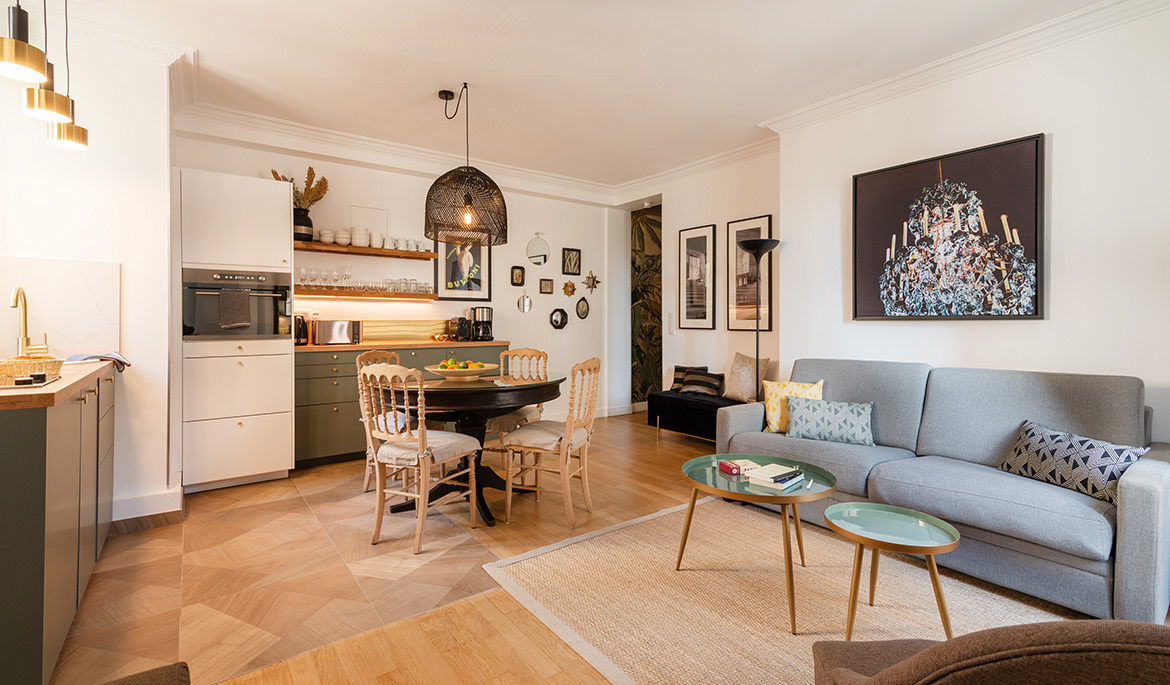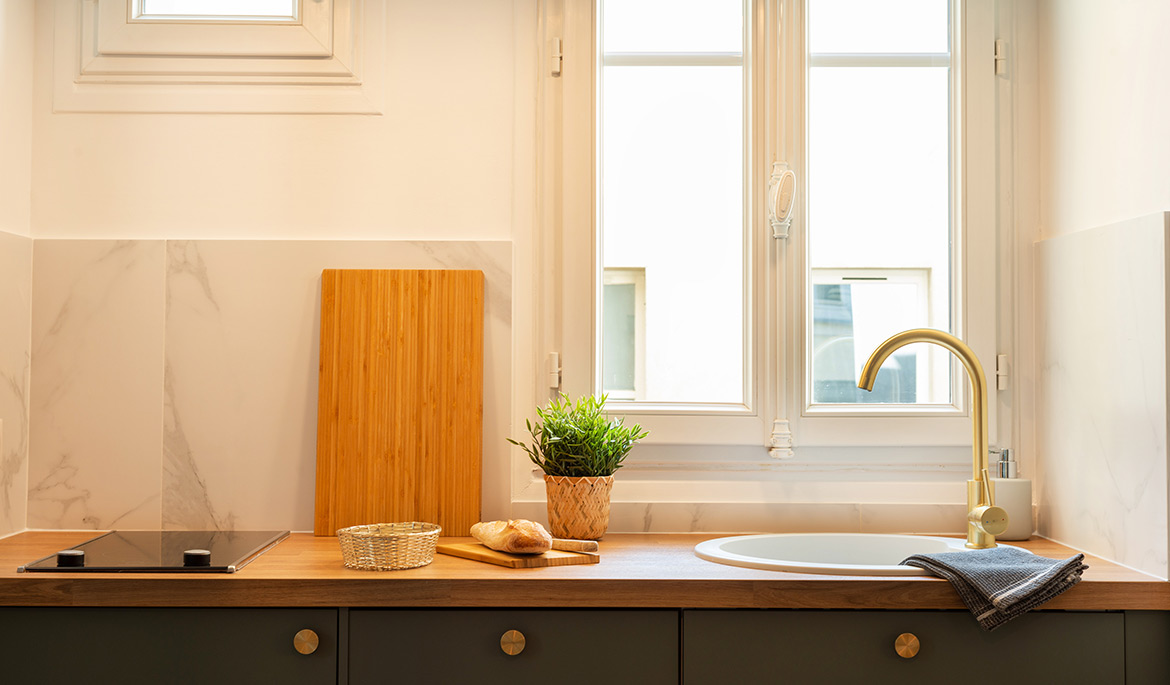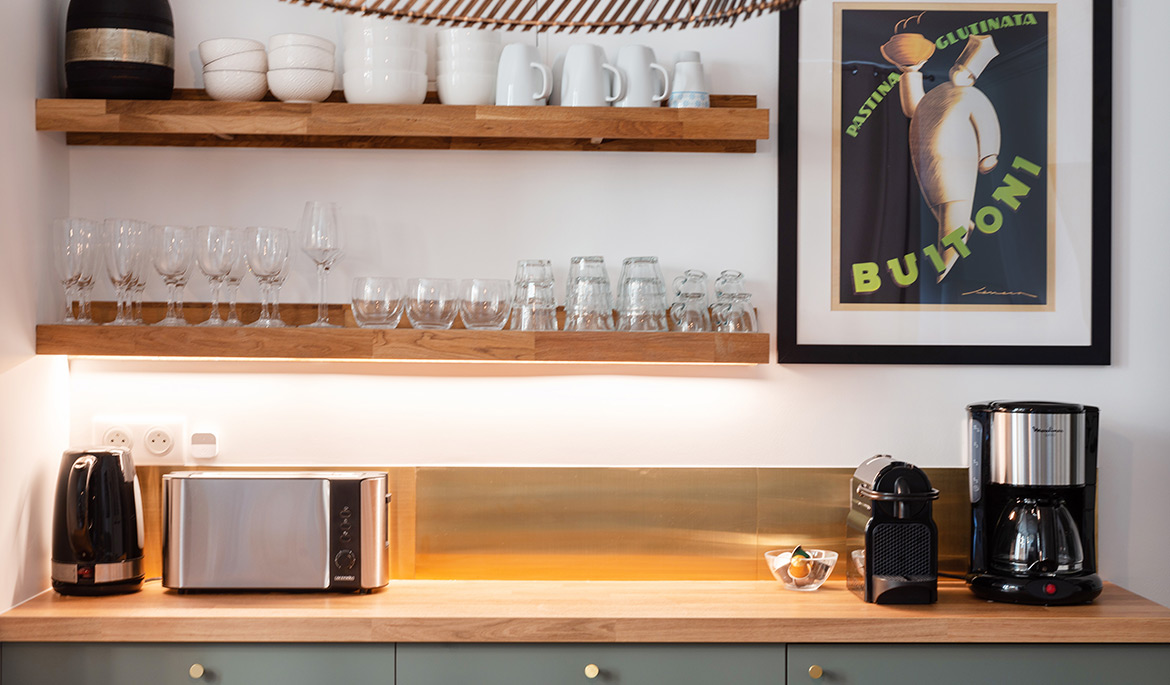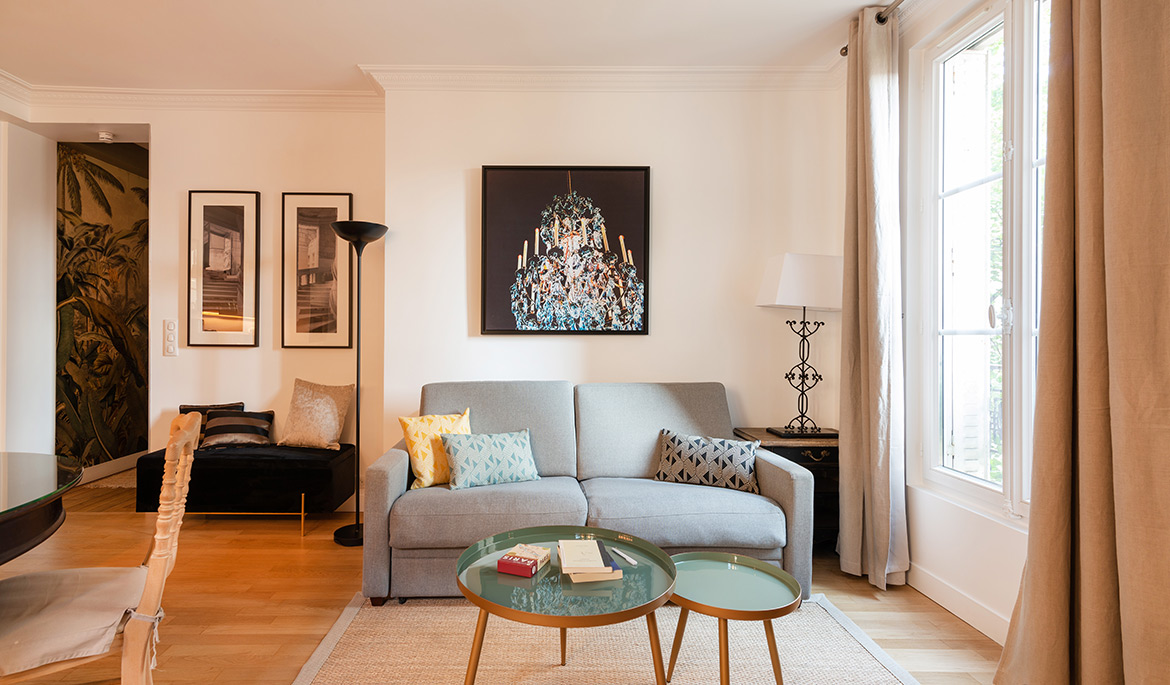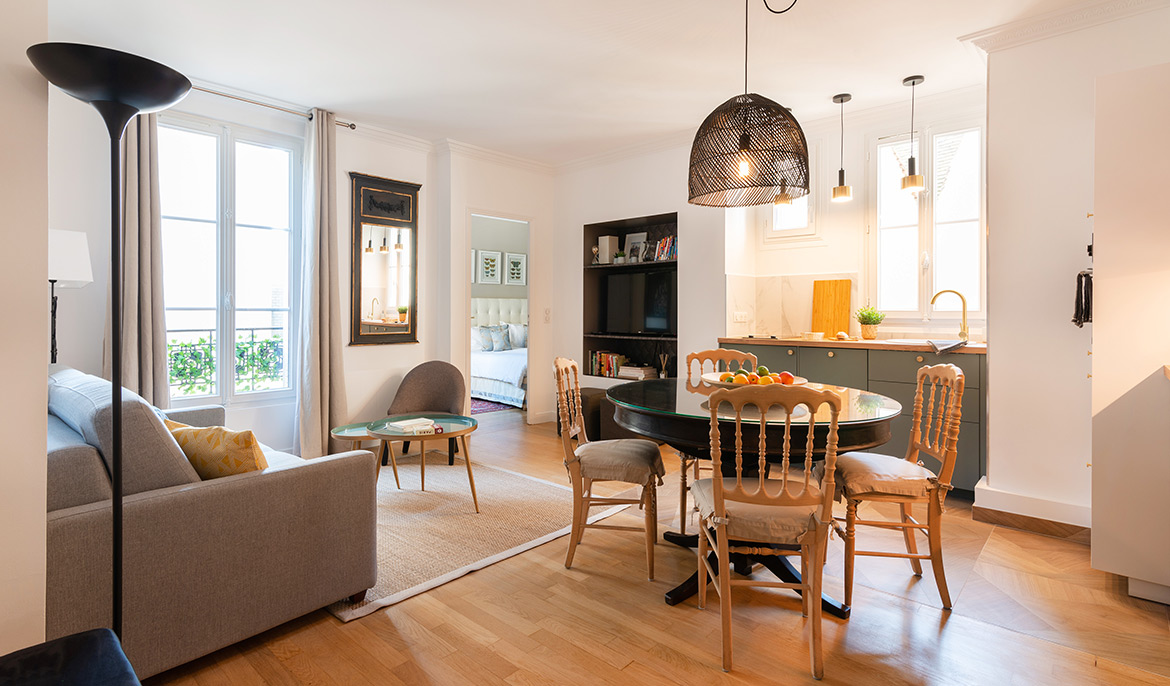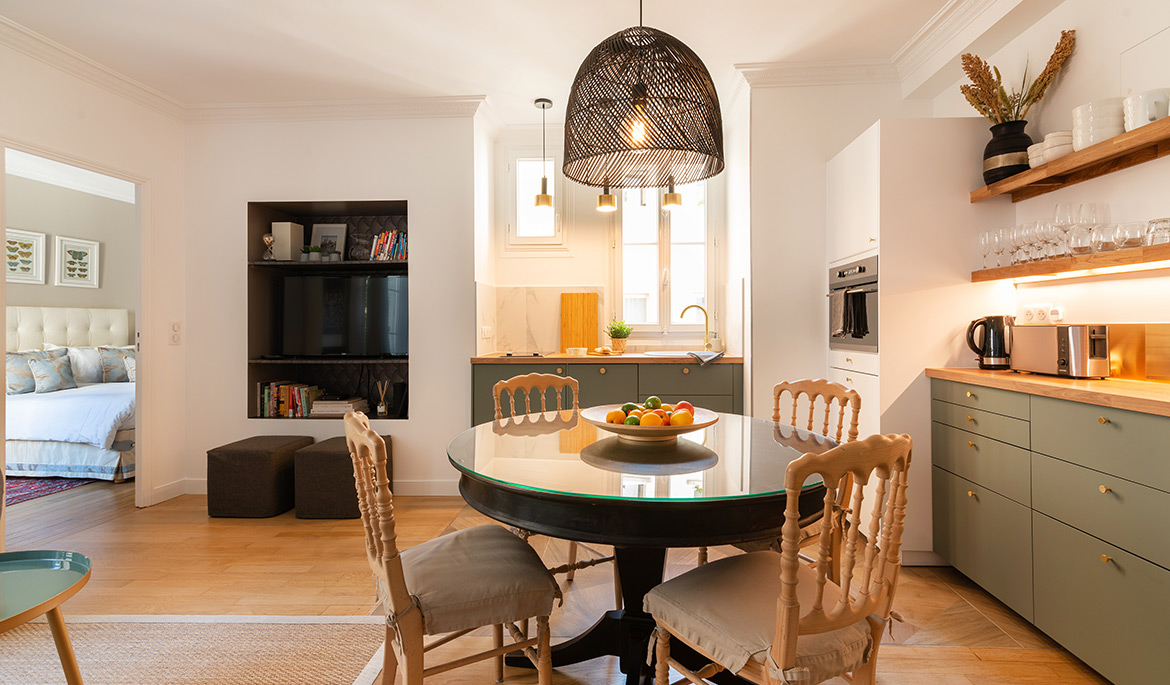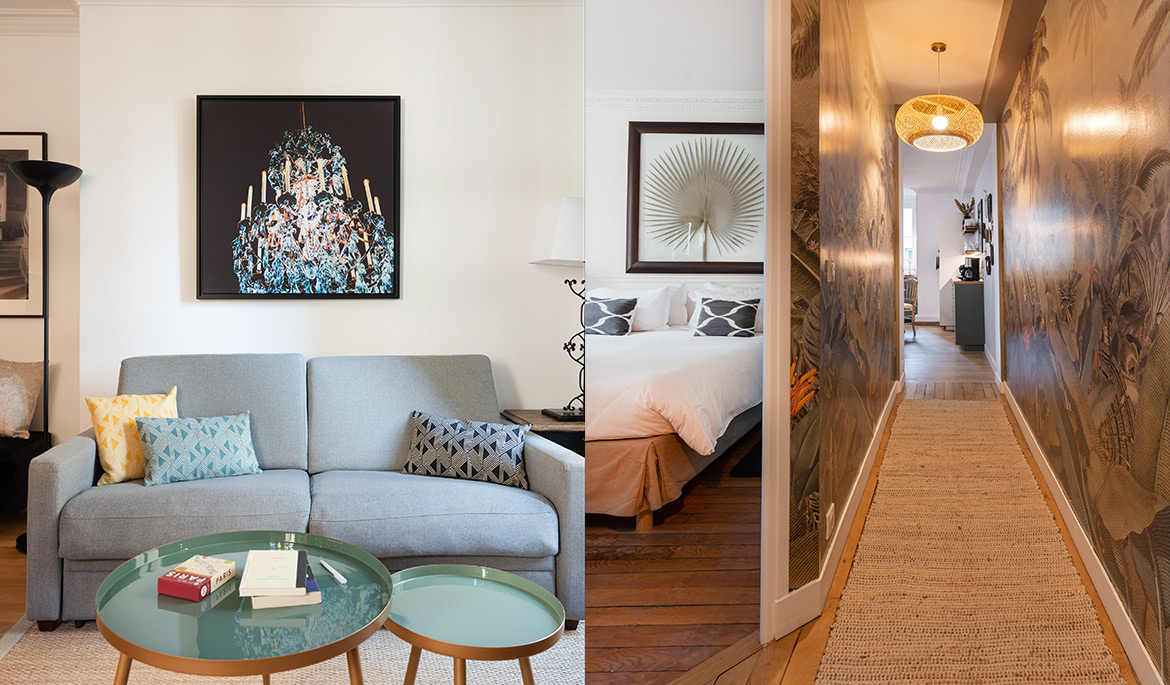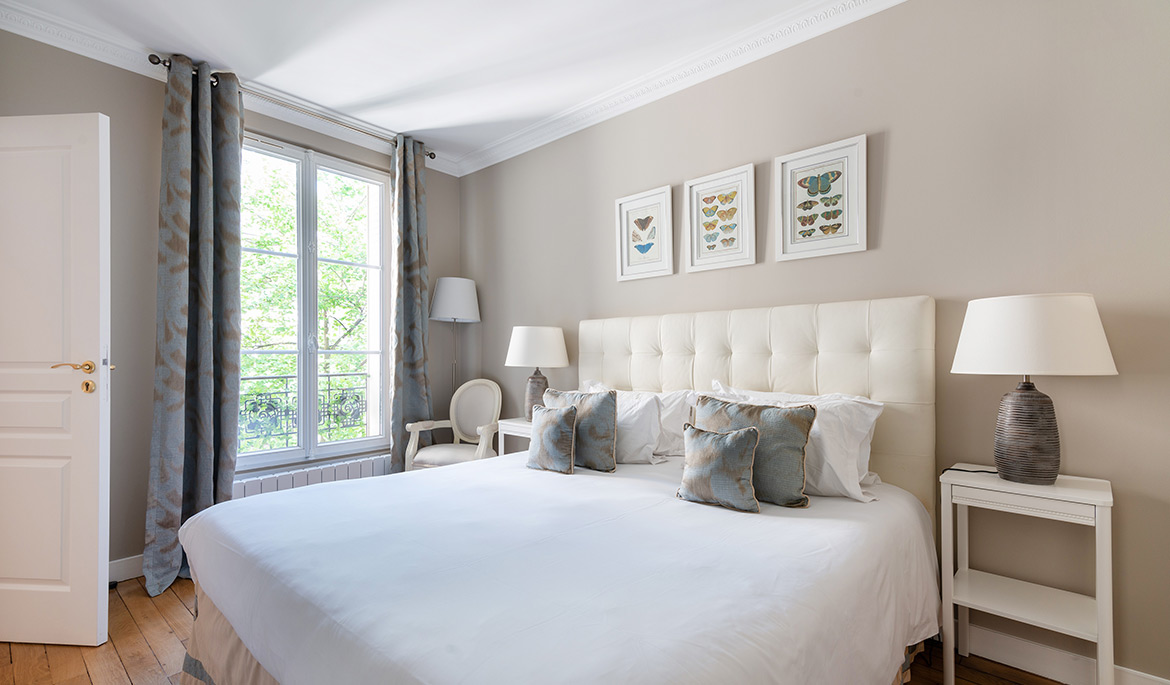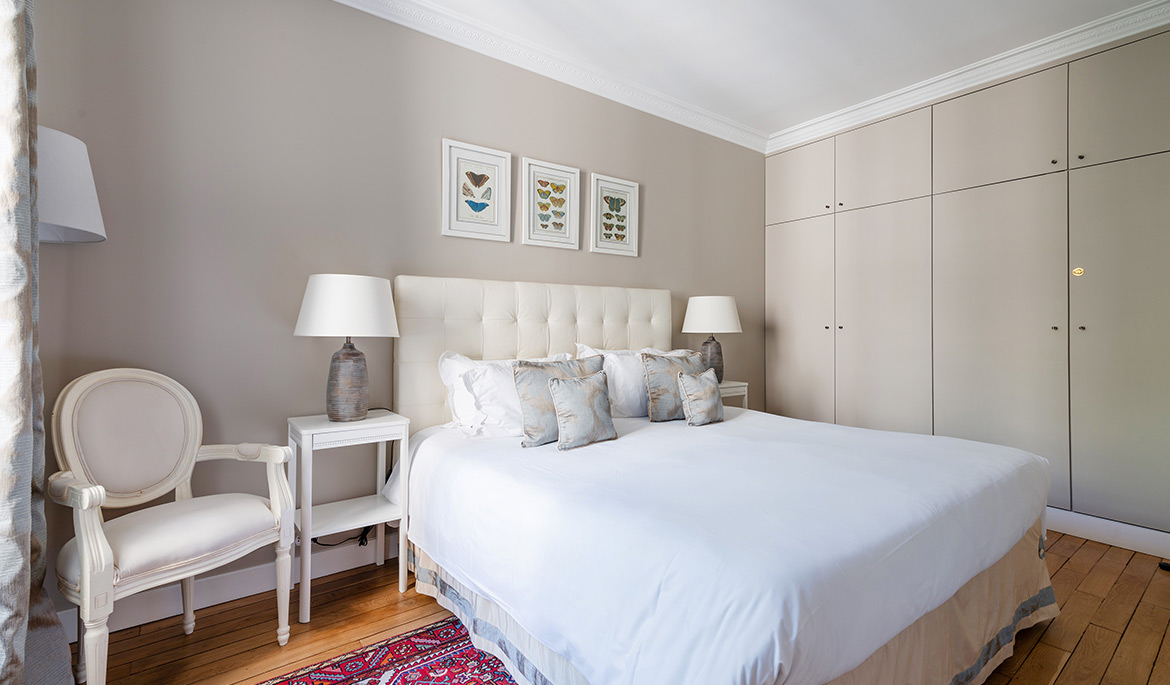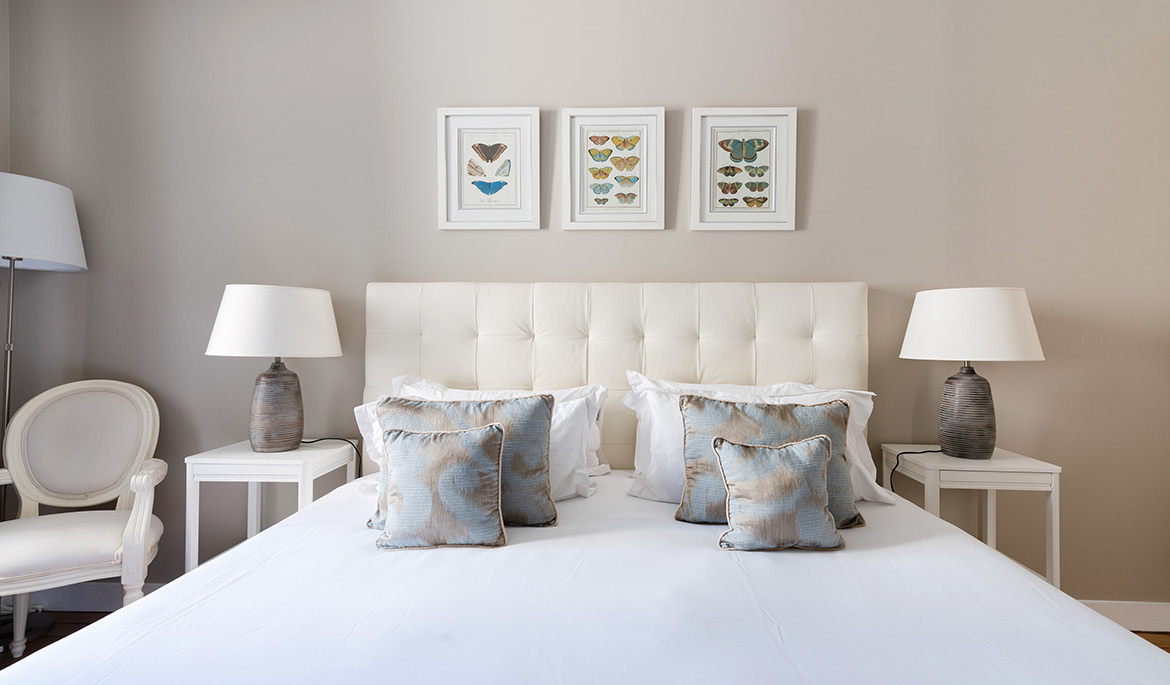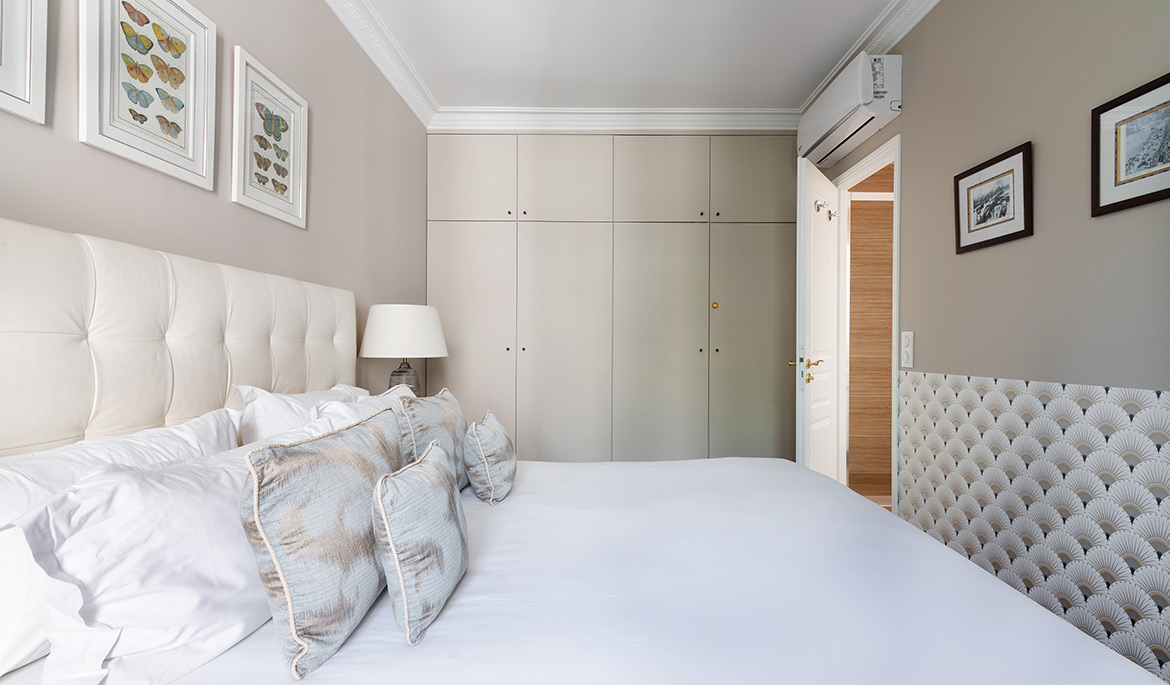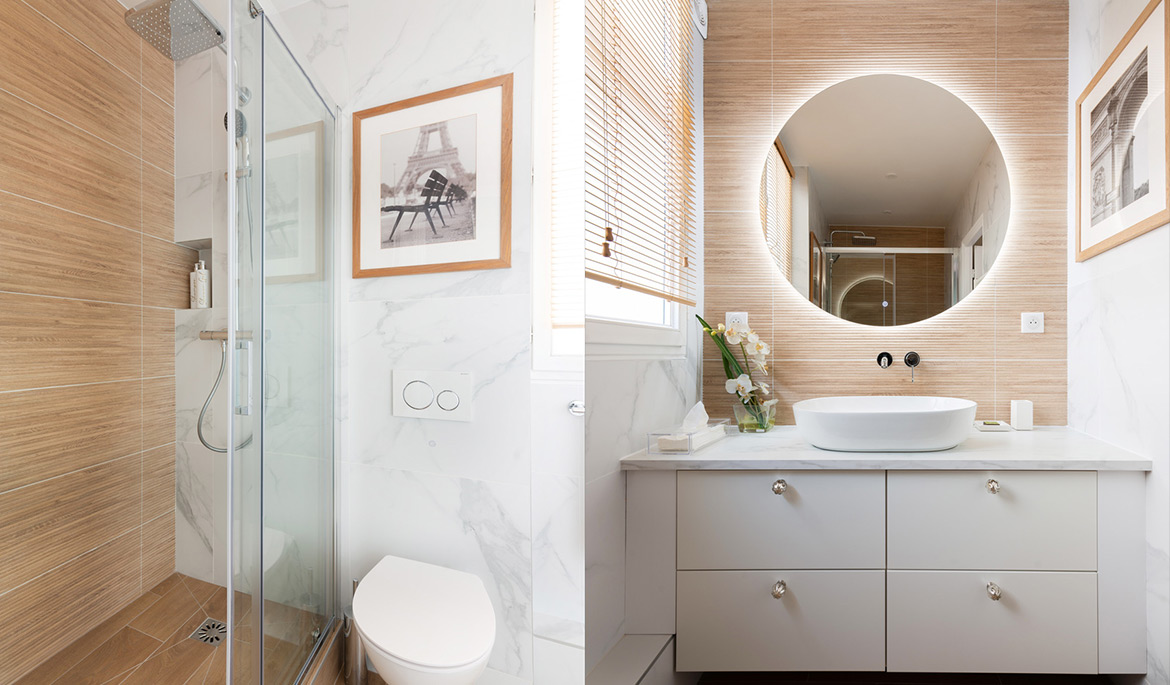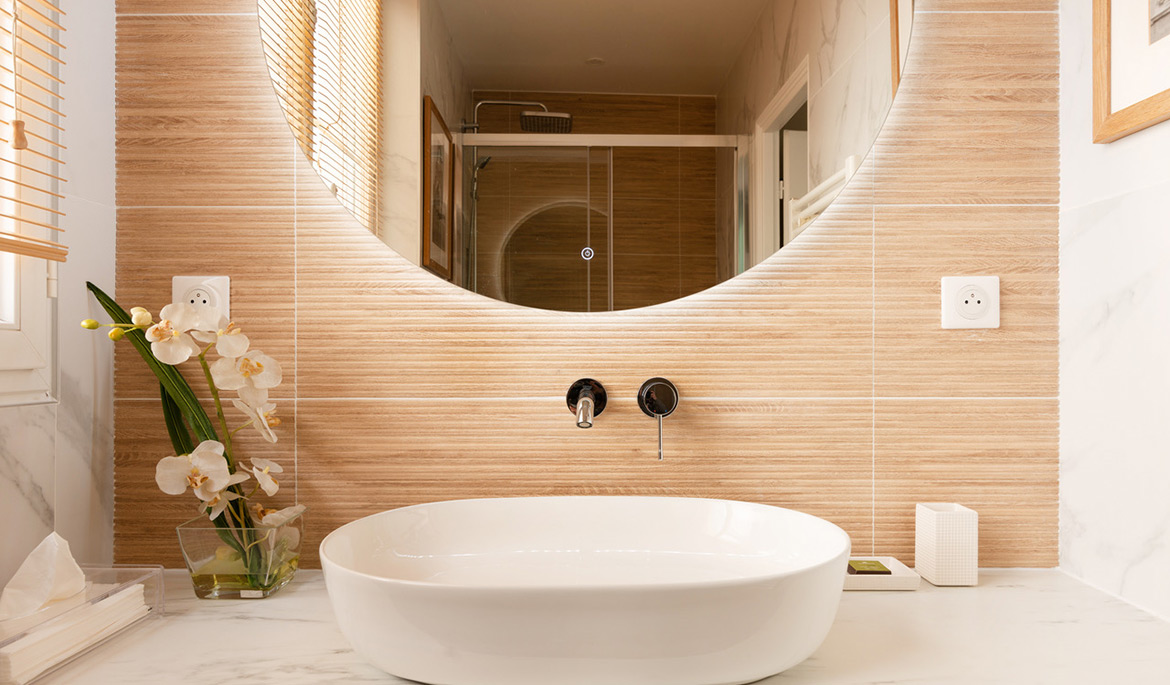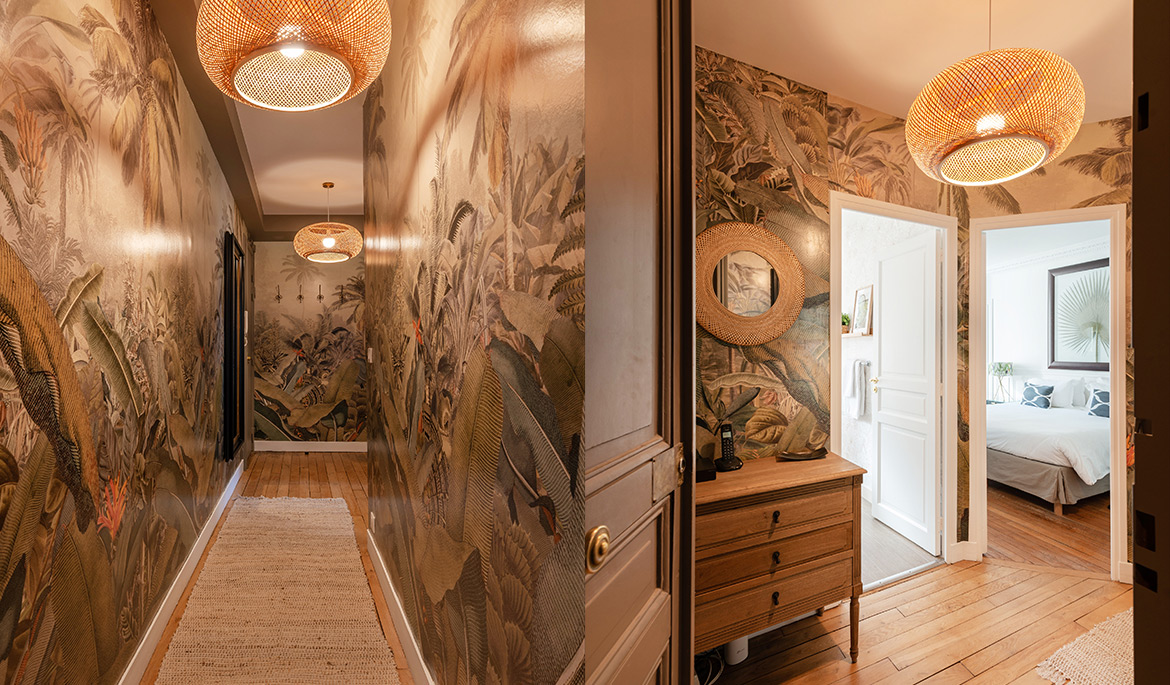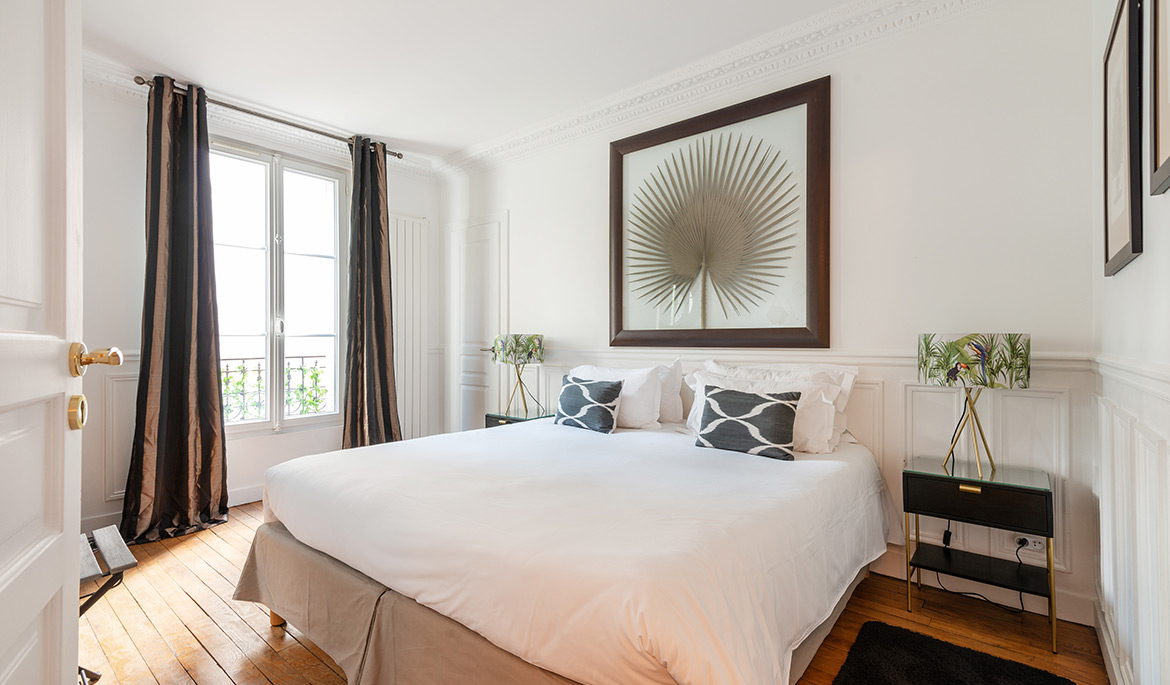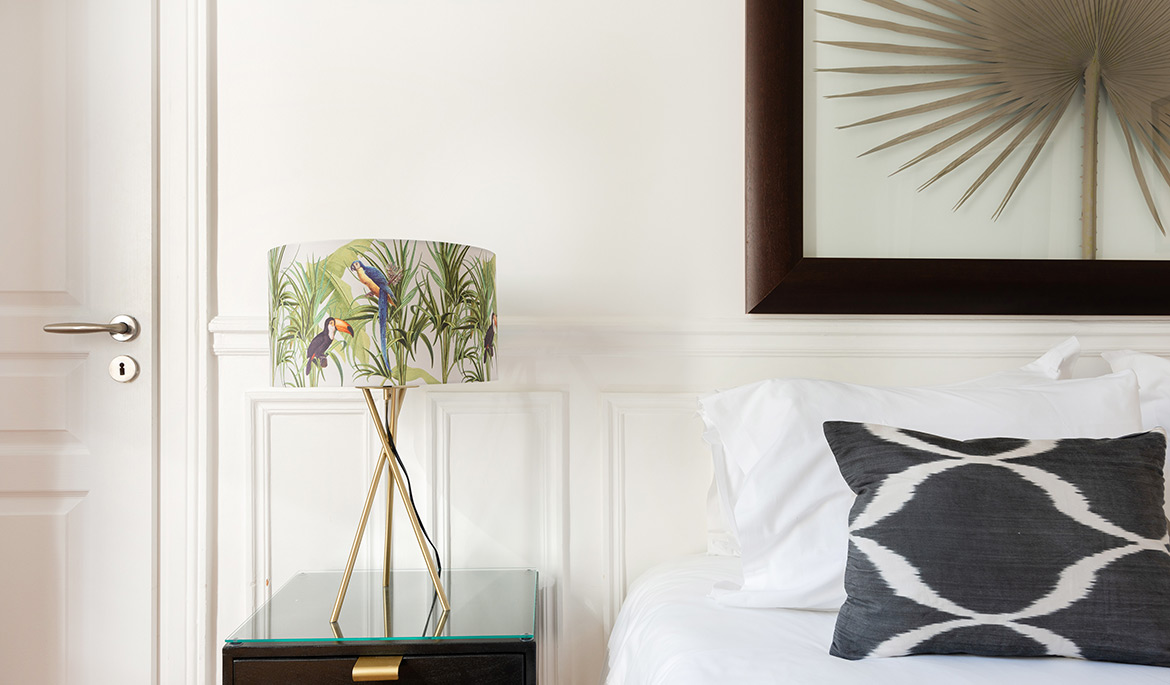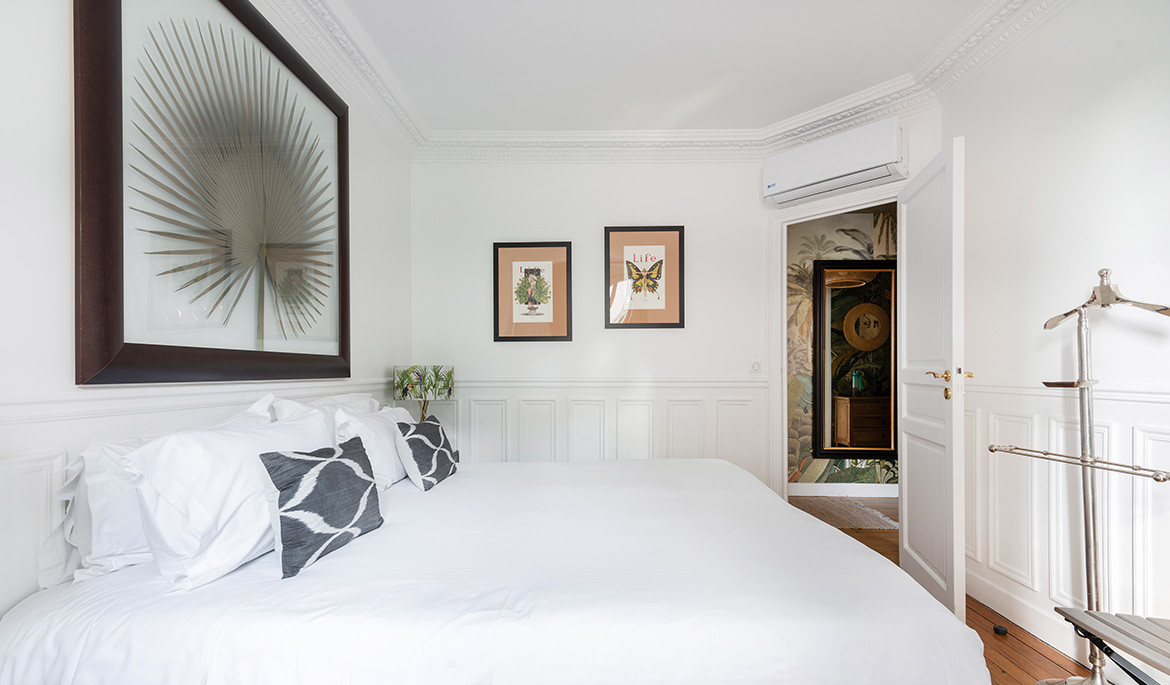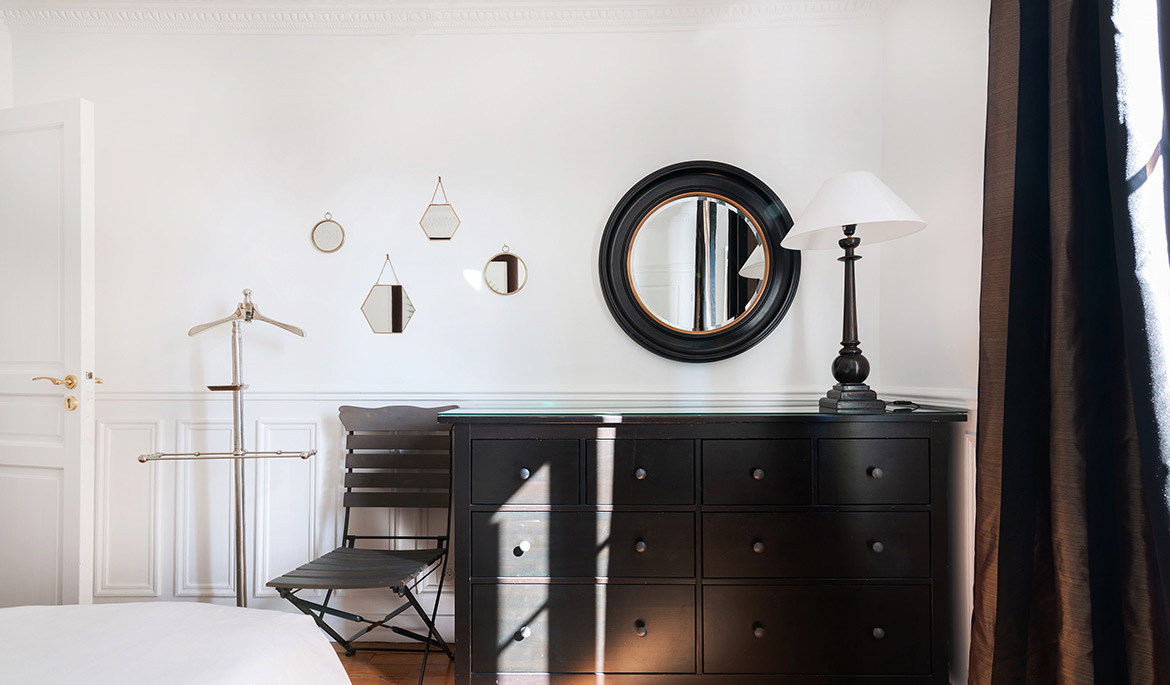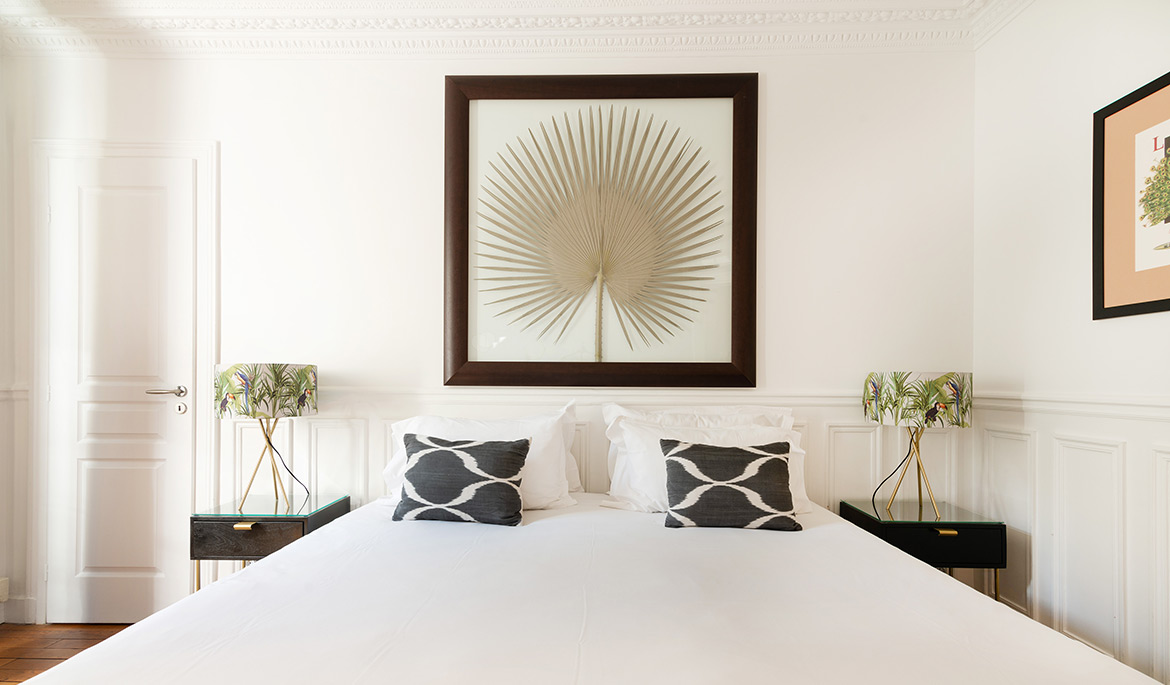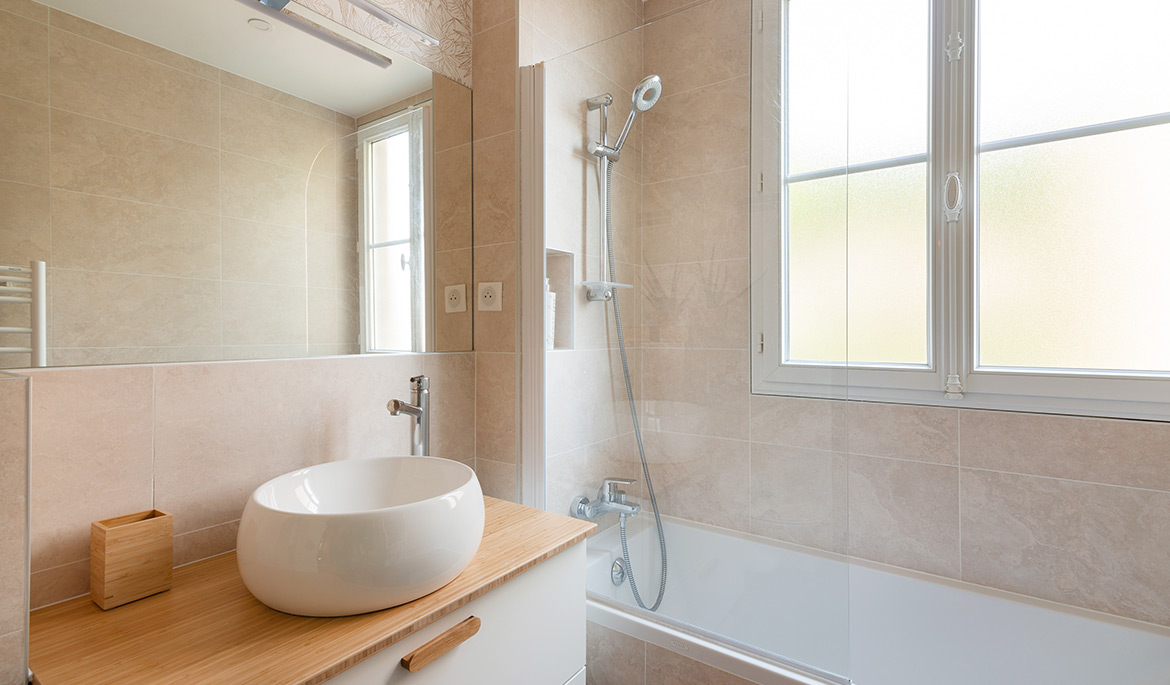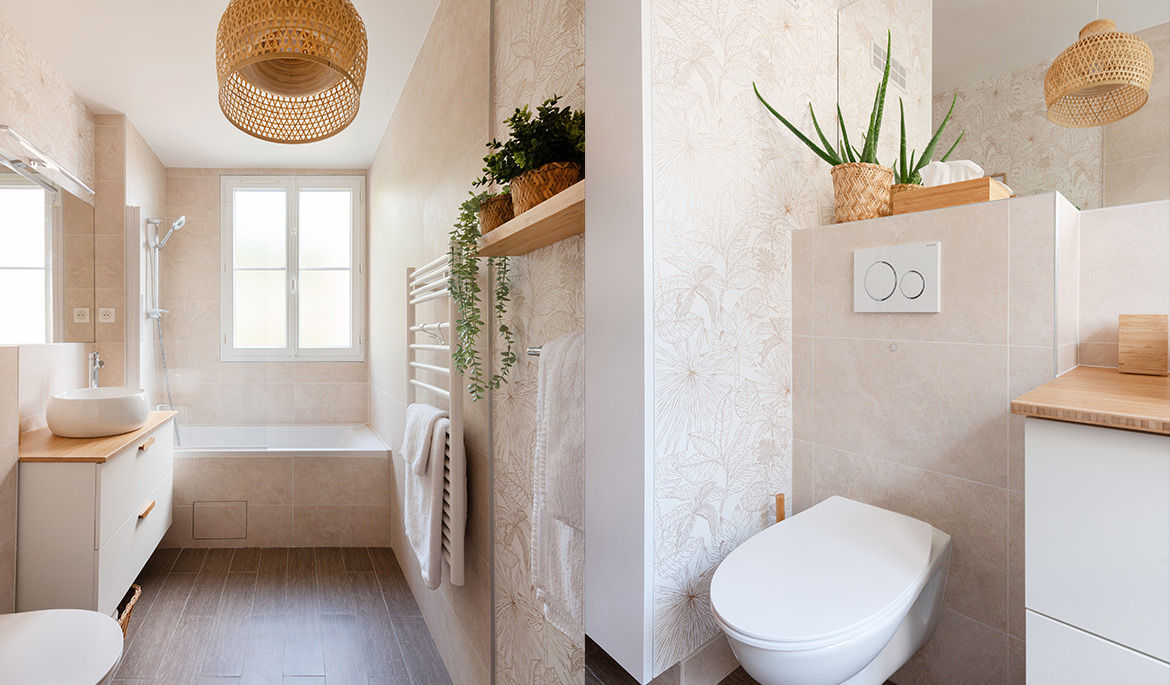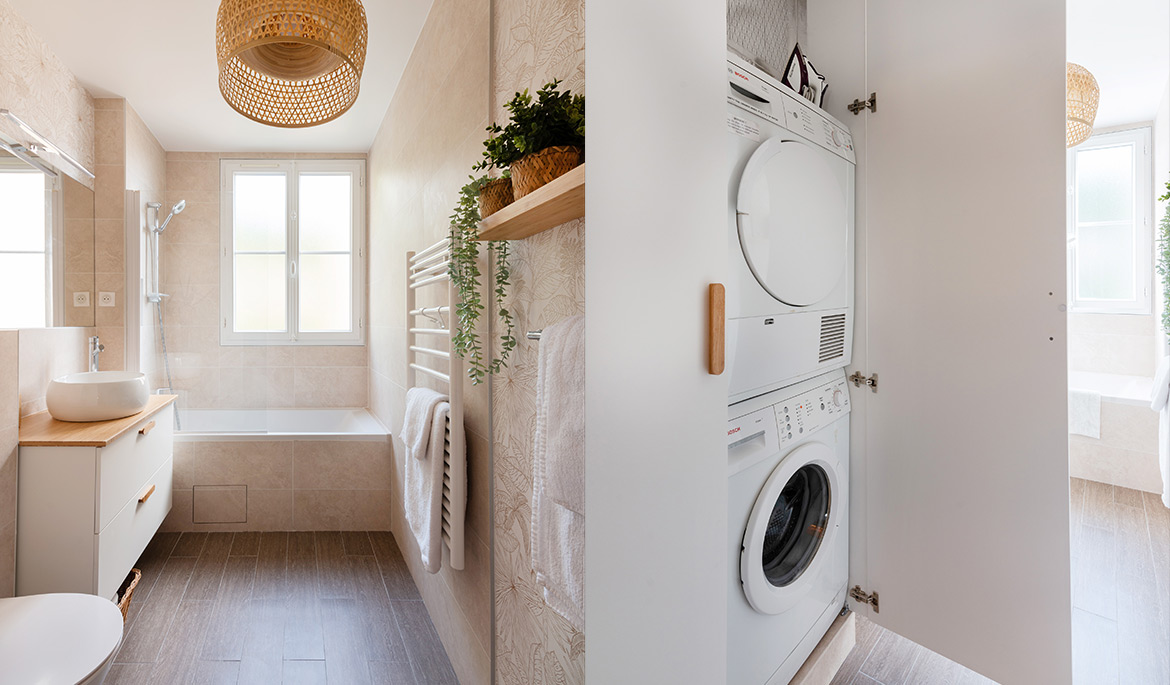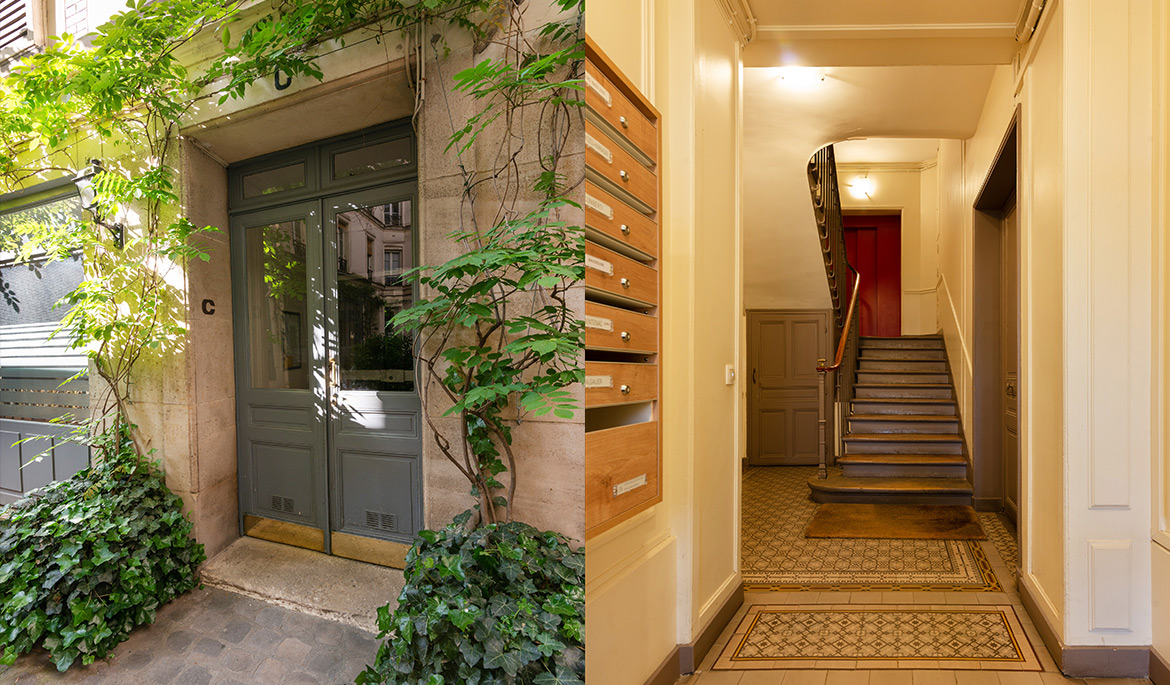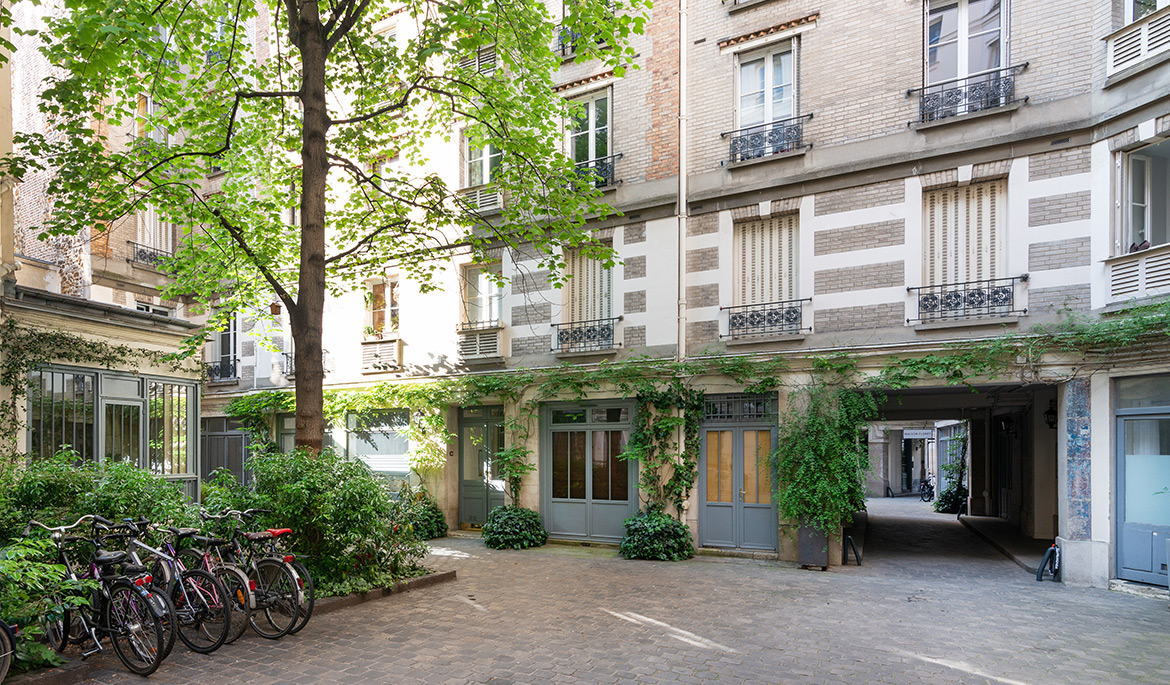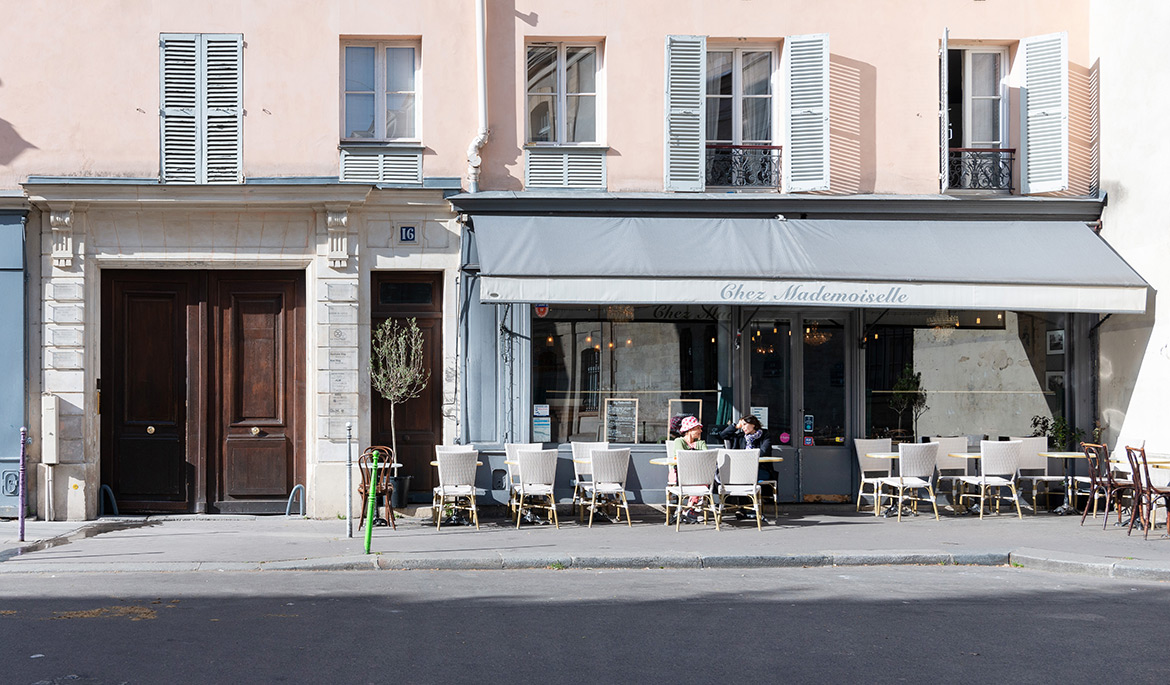 The Marais Chic apartment enjoys a perfectly central location, literally steps from the metro Saint-Paul. Once you have crossed the leafy and peaceful courtyard of this charming 20th century building, you could almost forget that you are in the heart of the vibrant Marais district. The interior of the apartment is beautifully designed and finished, with a timeless elegance that will make your Paris stay a special one. The floor plan offers lots of privacy for 2 couples.
The two bedrooms have AC, king sized beds, and closets. The two modern bathrooms have toilets and showers. The kitchen is open on the bright living room. The whole apartment is quiet, overlooking the charming courtyard. The second bedroom can also be set with two twin beds and two more guests can sleep in the living room sofa bed. Anti bed bug mattress protector in each bed.
The apartment is in accordance with the regulations of the city of Paris regarding short term rental. Registration Number: 7510400405296
General

Check in time : 14:00
Check out time : 10:00
On Floor 4 (has lift)
Driver on request

Amenities
Air conditioning (in the bedrooms)

High-speed Fiber Internet

Dishwasher

Fridge

Stove

Microwave / Oven

Toaster, Coffee pot, Kettle, Nespresso machine

Washing machine

Clothes Dryer

Sheets, towels, toiletries provided

TV with English speaking channels

Bluetooth speaker

Phone with free calls to many countries including USA, UK, Australia, Canada, and more.

Iron & ironing board

Umbrellas

HairDryers

Safe

Sleeping arrangements
Master bedroomKing Bed
Bedroom 2Two single bed or one queen sized bed
Full double thick-matressed sleeper sofa
Reviews
Stephanie Peters, USA

My cousin and I really loved the apartment. It was so perfect in every way. Very comfortable and convenient to shops, restaurants and metro. Had everything you needed for a delightful stay. We lived the atmosphere inside a courtyard and with an elevator, a great plus. Beds and bathrooms were comfortable and well appointed. We used the owners driver to pick us up. He took us into the flat speedily and brought our luggage up. The owner is very responsive though we did not have any problems to report. We look forward to staying there again!!!

Shanon Bigelow, USA

Amazing space in the perfect location! Cecile was a superb host with easy communication and helping us with arranging transportation. She was generous and flexible with check-in time which meant a great deal to us. The space is in the most secure apartment in a gated complex. It was so quiet and quaint with local neighbors. We slept with the windows open and you could not believe how quiet it was.The apartment is as clean as possible and bathrooms are spotless! The location is one block from the metro and one block from the Seine. It is a couple of blocks from the heart of Marais, the hottest arrrondisement in Paris! Thank you Cecile!

Mercy Elansary, USA

Cecile's place exceeded our expectations! Great location, very clean home and had everything we needed to function well as a family. We will definitely be coming back if and when we return to Paris! Highly recommend!

Michelle Van Buren, USA

This was the perfect place for our family of four to stay in Paris! Apartment is lovely and so nice and clean. The binder that Cecile provides has all the information you could ever ask for...very helpful. Close walking distance to many sites and there are two very close metro stations. Great communication from host. Thank you, Cecile!

Amanda Chipman, USA

The apartment was great. Very clean and exactly what you see in the pictures. The owner is very responsive and helpful. We loved the location and how quiet the apartment is being tucked back in a courtyard but also being in a bustling neighborhood.

JB Ward, USA

We spent four wonderful nights at this apartment and would highly recommend it to others. The location is terrific — we walked the Seine every day, ate pastries at the many shops nearby, and loved the restaurant scene in the Marais (and even within a few blocks of our apartment). The apartment itself was spotless and comfortable, and the host was easy to deal with and quick to respond. All in all, a great stay. We would try to book this apartment again next time.

Vanessa Lilly, USA

Cecile's apartment is wonderful! Absolutely chic...and also comfortable, well-appointed, spacious, quiet and in a perfect location. The water pressure in the shower was even outstanding! Our family of four was so happy there and we could walk to most of the sights we wanted to visit. The Metro (line 1) is around the corner for places further afield. Also there is a lovely little bistro downstairs, Chez Madamoiselle, where we ate several times -- it is open lunch through late night dinner. But food shopping is all close on the Rue Sant-Antoine, as all are the gorgeous shops of Le Marais. We hope to stay there again next time and completely recommend it!

Steve Wider, USA

The Marais Chic apartment was warm, clean, lovely, and abundantly appointed. The location is outstanding in walking distance to shops, famous destinations, restaurants, and public transportation. Instructions for appliances were easy to follow. We felt secure with building access controls and apartment door locks. A driver recommended by the apartment owner was outstanding. The entire stay was completely enjoyable.

Matt Brower, Usa

Spent 2 nights with another couple and accommodations were great. The location was great for walking around, couple of blocks from shopping and food. Place itself was recently updated and very comfortable for the 4 of us. Would definitely stay again when we come back to Paris.

Jodie Siff, USA

The apartment was wonderful. It was very clean, large, chic and decorated impeccably. The owner provided good customer service and even let us leave our bags in the apartment for several hours after check-out time. The neighborhood was great. Overall, I would wholeheartedly recommend this apartment.

Joanne Sutherland, USA

This apartment is a great find. If you're tossing between a hotel or apartment go for this apartment definitely. We stayed for 2 nights with our 2 children ages 9 + 13. There are 2 bathrooms - a must for us - so this is great. Situated in the courtyard of a quiet apartment block in a nice area of Paris. From the apartment , walk a couple of minutes one way and reach the river or walk the other way and reach a main road, with shops and trains. The plus was the driver recommendation from Cecile to pick us up and return to the airport - helping to locate the keys and apartment door - made our arrival and departure so much easier. Many thanks!

Cherie Minghini, USA

We had a wonderful stay at Cecile's apartment and hope to be back some time in the future. The location of the apartment was in a nice neighborhood and very close to the St. Paul Metro. Many restaurants, shops, grocery stores, etc. were within close walking distance. The walk to Notre Dame was easy as well. Utilizing the Metro system was easy and the best way to get around Paris. The restaurant outside the apartment door was great also and probably our best meal. Cecile also set up transportation from the airport and to the train station which was very convenient. Thank you!

Bruce Toplek, USA

Good location, good floor plan, good architectural details (wood floors, crown molding) - quiet building. A Metro stop, taxi stand and many shops are just out the "back door" of the building. Felt like a local staying here. Apartment views are of a quiet courtyard. Apartment is in great shape. Bedrooms are at opposite ends of the apartment so don't share a wall making them more private. Baths and kitchen are modern and very functional. Owner was very helpful. Two big thumbs up!!

M; Mc Carthy

This nicely appointed apartment was very comfortable and in a quiet area. It easily accommodated 4 adults. The access to the Metro, grocery stores, cafes and bakeries was outstanding. Would stay here again.

Guy Peifer, USA

A clean, spacious and nicely decorated apartment great for two couples. The bedrooms and baths are pretty equal in size at opposite ends of the apartment. Lots of room to stretch out in the common living/kitchen area. The St. Paul Metro stop and a supermarket are only a few steps from the back entrance. Many good cafes, shops and restaurants nearby. We stayed here during a period of very warm weather in August and the lack of air conditioning wasn't a problem. In fact, we found that most places, including the museums, are not air conditioned.

Anne Crawford, USA

My husband and I recently returned to this wonderful apartment in Paris for the third time. We love the comfort and convenience of the Marais Chic apartment. The location is perfect, the courtyard creates a little island of peace and quiet in a busy city. There are wonderful shops and restaurants in easy walking distance. It's a pleasure to come back to this cozy apartment at the end of a busy day!

Lori Angus, USA

My family and I stayed in January and couldn't have been happier with the apartment. It is exactly as the pictures in the ad and very nicely appointed. The kitchen has everything needed, the washer/dryer in the master bath were very useful since we had a couple of rainy days and the proximity to the Saint Paul metro station made it so easy to get around the city. We can't wait to come back and hope we can stay here again.

Stefano de Nardis, Italy

I've been to Paris many time, and I know my way around it - but it's always a pleasure to make new discoveries. One of them was this beautiful apartment, in a fabulous location between trendy Le Marais and touristy Rue de Rivoli : a stone trow from the underground stop and a taxi point, it made easy going around, either by feet or by transport. Moreover, the back-and-forth from Airport transport service was impeccable. The apartment is large (well, for parisian standards - of course), serviced by an elevator (something not granted in Paris) - full of light, and tastefully furnished, with a very stylish overall touch I was very pleased about. I would definitely recommend it to friends - and will do my best in order to be back as soon as possible. Last but not least, I would say that , even if the rental doesn't definitely come cheap , it's worth every penny.

George Banks, USA

Quiet neighborhood. Perfect for a family. Great location. Very clean and fresh. Driver was a wonderful perk, on time and professional. Will recommend to friends.

Emile Girgis, Canada

This apartment is in an excellent location, walking distance to most of Paris' attractions and two minute walk to metro station. It is also in a very quiet area but very close to shops and restaurants. The place is very clean well furnished and well equipped. Added bonus is the restaurant just down the stairs, Mademoiselle, great food and good prices.

Cheryl Buck, USA

This is the second time I've stayed in Cecile's Marais Chic apartment. I absolutely loved it both times. It's in a fabulous part of Paris. The apartment is beautiful, clean, and comfortable. I can't wait for my next trip to Paris. I hope to stay again at Marais Chic.

Brooke B., USA

Our family had a wonderful stay in this Marais apartment! Everything was ready and clean upon our arrival. The apartment is in a perfect location to explore some of the best attractions and restaurants in Paris and right next to the metro stop. The car service to and from the airport was a great bonus! We are so happy we chose to stay here instead of a hotel! Cecile was a pleasure to work with!

Robert Raines, USA

This two bedroom, two bath apartment was perfect for a weeklong stay for me, my wife and two teenage kids. The apartment is on the fourth floor overlooking a classic French interior courtyard with trees. It's on a quiet street with little to no traffic. You wouldn't hear it anyway because you're facing the courtyard. The unit was very clean and bright. Very comfortable. Everything worked. There's a metro stop 100 yards away, accessed through a secret little passage to the street. And a fantastic French bakery at the same location. There's a nice restaurant downstairs with English speaking staff. All good. I'd stay here again.

Mark Kavanaugh, USA

My wife and I, along with our son and daughter-in-law stayed in this beautiful and well located apartment and enjoyed every minute we were there. The apt is quiet, beautifully furnished and quite spacious. Location is amazing with the St. Paul Metro literally a few steps away, yet quiet since it overlooks a large courtyard. The apartment is close to markets, restaurants, grocery stores, patisseries, boulangeries, etc. The apartment also has privacy within since the bedrooms are located on opposite ends from each other. Highly recommend this and any apartments managed by Dreams Apartments.

The Goldbergs, USA

This was the perfect home base for our group of 3 -- nice neighborhood, beautiful courtyard building, close to Metro, and great apt. owners who really look out for their guests. The flat is small, no doubt, but the layout is ideal, with bedrooms on opposite sides of the space. Having the driver to meet us at the airport was a wonderful touch -- really made a big difference to weary travelers. There is a lift in the building, which came in very handy.

Jerilyn Tabor, USA

We loved this apartment! The location was perfect with many wonderful choices for restaurants and food shopping. The Thai Canteen down the street was my favorite. The apartment is very clean and decorated beautifully. Truly, a very comfortable and cozy place to stay while visiting Paris!

Bruce Goldberg, USA

We spent 5 days in the Marais Chic 2 bedroom apartment and had a wonderful stay. The service was flawless. The apartment was beautiful and comfortable and well appointed. This is the first time we rented an apartment in Paris instead of doing hotels. What a great experience. You really get to know your neighborhood and surroundings so much better. And the location of this apartment is wonderful. Overall - no complaints- a great experience. We will do this again. Thanks!!

Gabrielle Campbell, Canada

We enjoyed a wonderful stay of two weeks at the Marais Chic apartment. Location was perfect, apartment catered to our ever need and we would definitely stay again. Cecile was a pleasure to work with. The apartment was close to metro, shops and yet still quiet.

Karen Zachary, USA

This was a great apartment. From the organized booking process, to check-in, to the apartment decor, apartment cleanliness, and so on...everything was as good as advertised or better. You're a passageway stroll away from a taxi stop and Metro station. You're a ten minute walk from the antique area and a couple of great restaurants. You're a seven minute taxi ride from the Louvre. It's quiet. You can get the space warm. The bedding is warm. There's water pressure. There's hot water. I mean, it was exactly what I was looking for...a stress-free comfortable home base. My friends and I all said that we'd definitely book this same apartment again.

Marcia Erickson, USA

Attractive, clean and comfortable with modern amenities, spacious, comfortable beds, well-located just steps from the Metro, restaurants, markets, museums and boutiques--it would be hard to do better than the Marais Chic apartment. The apartment was quiet at night. Apartment manager and driver were accommodating to our every need..they made Paris very easy!

Joanna Gerenser, USA

4 of us stayed in this location and it was awesome!! Clean, private, perfect for 2 couples who want a common room at the end of an amazing day in Paris to relax and talk about the day. Location was perfect, with great restaurants, bakery, starbucks and shops close by. Walking distance to Notre Dame and so many other places to visit. We will stay here again the next time we head to Paris.

Sandra Rader, USA

This apartment was everything it said it was, plus more. It was convenient to shopping, sightseeing, metro, bakery,bistros, just perfect! The owner was so accommodating. We had one in our party that became sick and she offered to send a Doctor (english speaking) to the apartment! The owner was a pleasure to work with and made the experience in Paris unforgettable, once in a lifetime! Weather was horrible but it didn't stop us from experiencing the wonderful 4th arrondissement and beyond! I would highly recommend this area and this apartment!

Monica Rice, USA

The apartment turned out to be the gem that you see on the internet photos. It was the perfect place for our family of four. It was well decorated, very quiet and a perfect location. A grocery store, bakery, butcher, cheese shop and metro stop were steps away as you exited the corridor on Rue de Rivoli. I most enjoyed that it did not feel like someone's home, but rather a two bedroom hotel suite with clean crisp white sheets and chic coordinating decor. The bedrooms and bathrooms are on opposite sides of the apartment, so there is a great deal of privacy as well. The kitchen has everything you will need to cook a meal, if you wish. Just across Rue de Rivoli there are a ton of cute shops and amazing restaurants. It was a great alternative to an expensive hotel. Lastly, the apartment manager was very professional and responsive.

Jean Bushband, USA

The apartment was exactly as advertised, beautifully decorated and well appointed with efficient use of space. Comfortably spacious for our family of five. Photos and description accurately reflect its appearance. Clean and well maintained. Cecile was prompt in answering our questions and helped arranged for us to be picked up at the train station as well as deliver us to the airport. Plenty of restaurants, shops, parks, grocers in the area. Overlooks quiet courtyard but has quick access to a main street and metro station. Central to everything.

John Hamilton, USA

The Marais Chic apartment was outstanding in every way! The location was very convenient to the St Paul Metro stop, grocery stores, patisseries and restaurants. The apartment was modern, spacious, clean and comfortable, with all the amenities needed for travelers. We enjoyed the quiet, courtyard location and had the windows open at night for late Spring ventilation. Cecile was prompt and helpful as we made arrangements for the apartment. We took advantage of the van shuttle service to and from CDG airport, which was very much appreciated, after an all-night flight. Marais is a convenient base for either walking or taking the Metro to sights throughout Paris. We would highly recommend this apartment for a great stay in Paris.

Nathalie Doyle, USA

Just returned from a fabulous stay at Marais Chic 2 bedroom apartment. What a gem! Perfectly situated on a metro line and walking distance to the Ile St. Louis. Even better than the pictures indicate. Every amenity available from umbrella, to electric converters to great diffuser blow dryers. Comfortable beds. Fourth floor by elevator, then down a half flight of stairs. They also provide great tips on restaurants, a booklet on how the European appliances and heaters work in the apartment, and is personally highly responsive when potential issues arise. A great find.

Thomas Bradley, USA

The Marais Chic 2 bedroom Apartment by Dreams Apartments was perfect for our family of four! Everything was as advertised. Quiet street but close to everything. We could walk to most of the museums and the St. Paul Metro stop was less than 5 minutes away. The apartment was clean and included anything we needed. The driver was waiting for us at CDG airport and promptly returned us to the airport after our stay He picked up the keys and took our luggage up to the apartment. I would recommend this apartment to all of our friends

Laura Hughes, USA

I loved everything about this apartment in Le Marais. I visit Paris several times a year and now that I have found Dremas apartments I will not stay anywhere else. The apartment is lovely. Spotlessly clean, wonderful bedrooms, linens, etc.. The kitchen is great as well. Stocked with everything you could possibly need. The building is very charming and in a fantastic location for getting around Paris. Many wonderful restaurants, bakeries, shops steps away. Thank you. We will see you again.

Albert Thompson, USA

Four of us had the pleasure of staying at this wonderful apartment. It was perfectly laid out with great separation of bedrooms and a central living-dining-kitchen area. It was quiet and charming. The location and convenience to St. Paul Metro Stop was perfect...3 minutes away! Cecile was a pleasure to work with and took excellent care of us. I would highly recommend this apartment for a perfect week end Paris. Thank you Dreams Apartments for a great stay!

Richard Balser, USA

The apartment is very beautifully and tastefully decorated, and includes everything you might need. The location could not be more convenient for the Metro, and the neighbourhood is lovely. Staying at one Dreams apartments allows you to feel as though in a small way you are a 'local'. We enjoyed our stay very much and look forward to coming back to one of the Dreams apartments - and we would only change one thing- we'll stay longer!

Ms Jo Harding, USA

What more can one ask? The kitchen was well stocked for preparing your meal, the linens were soft and the apt was immaculate. This was not my first stay at this location and, hopefully, not the last. Supermarkets, bakeries, pharmacies, produce stands, restaurants, taxi stand & metro station were available right outside the back gate on the Rue de Rivoli along with clothing, shoe stores, jewelry shops and department stores. It's an easy walk to the Louve, Notre Dame and many other famous sites. Doing business with Dreams Apartments is straightforward & simple as they are very patient and accommodating. The perfect place for all ages.

James Neel, USA

This apartment is fantastic. It's in a very charming neighborhood and the apartment itself is beautifully maintained with modern amenities and decor. Key pickup was quick and easy. Everything was clean, inviting and just perfect. My wife and I brought our grandmother and children to Paris for the first time and they absolutely loved it. We couldn't be more happier with this fantastic and comfortable apartment. We will definitely be staying here again.

Cori Jones, USA

We absolutely loved this apartment in the Marais! When the website said it was close to everything - it's definitely right! Our kids, ages 9, 11, 14 loved being able to run down to the boulangerie for croissants each morning. It was spacious - especially compared to a hotel room, comfy - and convenient! We loved having a washer and dryer! The apartment's handbook of suggestions was very handy as well. We have already recommended the apartment to friends and wish they had places in other cities in Europe!

Lynne Dougherty, USA

We would give this apartment an outstanding approval rating. It looks exactly as shown in the photos. It is very efficient and spotless! The surprise was the quietness and safety of the courtyard setting. The attention to detail was impressive with everything you needed provided, including a very handy"users" manual. There were recommendations of local interest.
As well "Just a few steps to St Paul Metro" is not an exaggeration! There a taxi stand there as well. It is a great location and is within walking distance to many shops, restaurants and attractions. We will highly recommend Dreams Apartments to my friends and can not imagine returning to Paris and not staying in these properties.

Toni Laidlaw, Canada

We shared the apartment with another couple and it was perfect for the four of us. The two bedrooms, each with a full bathroom, are situated at either end of the apartment and separated by the common living space (living room/dining and kitchen), providing privacy when needed. It is also located in a wonderful neighbourhood of Paris, with easy access to everything.

Roy Ladner, USA

This apartment surpassed our expectations! We found it very spacious for four adults, modern, nicely decorated, very well equipped. Most of all, it is perfectly located with everything right at our fingertips: the metro, the sites, pastry shops, grocery stores, pharmacies, hundreds of restaurants. We especially enjoyed the restaurant that was right next door - Chez Mademoiselle. We will definitely stay at this or another of Dreams apartments on our next trip to Paris!

Pam White, USA

This apartment was a greatl Paris find! It's HUGE and very clean and nice. It was very conveniently located right off of the St. Paul Metro stop and had many great stores very nearby. Extremely well appointed and comfortable. Thanks for a wonderful stay in Paris.

Karen et Nigel Beckman et Suzanne et John Hartman (Sydney, Australia)

The apartment was so well-equipped; it had everything we needed, lovely, bright rooms, and comfortable beds to rest our weary heads after much Parisienne sight-seeing!
The location was so convenient - we loved being able to walk right outside and being "amongst" the Paris life. Loved the restaurants, cafes nearby, the Metro and the fact that the apartment was hidden behind a gate which you open and voila - there are all these old-worldy apartments around a courtyard. Someone practises the piano in the afternoons - he or she was very good - and we enjoyed listening when we were there!
Our fave restaurants were C'est Mon plaisir - in Ile St Louis, and right next door to the apartment - Le Bistro des Compere.Loved being able to walk (in 5 minutes) to Ile de la Cite.
We hope to come back to Paris, and would always choose your apartments - wouldn't hesitate to recommend them.
Merci beaucoup!

Penny Hatch

Thank you for another wonderful stay in one of your apartments in Paris. This is the second year in a row I have rented an apartment from you and it was a wonderful experience and very easy. I would be happy to recommend you and your apartments to anyone I know going to Paris. If anyone would like to email me and ask anything I would be happy to answer them. The apartments are well equipped, nicely furnished and in great areas. Congratulations on a job very well done. Hopefully I see you next summer.

Bob and Laurie, California

We spent a wonderful two weeks this June in the Marais Chic apartment in Paris. Cecile is extremely helpful and supportive and did everything she could to ensure that we were comfortable and happy. The apartment is ideally located, in a quiet setting but within steps of the lively and fun Marais area. The local cafes, bakeries and shops were all waiting to be explored and we walked the area over and over. The apartment is also a few blocks from the Ile St Louis and the Ile de la Cite where Notre Dame and the Ste Chapelle await. We anticipate going back to Paris as soon as we can and we feel like we have a "pied a terre" by using Dream lovely apartments.

Ginger Snell

My husband and I spent four wonderful nights at the Marais Chic apartment. Everything was perfect from the location (a minute to the metro and a stroll to Notre Dame and much more) to the comfort and beauty of the apartment. The king size bed was a dream. Not only was it large, the mattress was of exeptional quality. I had an accident in which my back was broken, so traveling can be difficult due to uncomfortable beds. It was such a treat to find something so comfotable in Paris! I would not hesitate to stay in any of the Dreams apartments. I am already looking forward to our next visit.