Marais Chic two bedroom apartment in Paris
The Marais Chic two bedroom-two bathroom apartment is litteraly steps from the St Paul metro stop. Elegant, quiet and comfortable, this apartment also has a floorplan that provides lots of privacy. The location can't be beaten since the building is on the edge of the famous Village St Paul, and one block for the River Seine and the Islands. Rate : from 1890 to 2850 euros per week.
EQUIPMENTS
Apartment
70 sq. meters (755 sq. feet)
4th floor with elevator
Building equiped with security code and interphone
Sleeping arrangements
Master bedroom with king-sized bed
Second bedroom with two single beds or one queen sized bed
Full double thick-matressed sleeper sofa
(up to 4 guests)
Bathroom
Bathroom with bathtub and shower, and 2 wash basins and lavatory
Ensuite bathroom in the master bedroom with large shower, wash basin and lavatory
Kitchen's' appliances
Dish washer
Fridge
Stove
Microwave / Oven
Toaster, coffee pot, kettle
Washing machine
Clothes dryer
Other equipments
Stereo Iron and ironing board
Fans
Vacuum cleaner
Umbrella
Hair dryer
Safe
Telephone
Free phone calls to 70 different countries, including USA, UK, Australia, Canada, Italy, Spain, Israel, China, Ireland, etc.
Internet
Wireless DSL Internet connection
TV
Cable channels (including CNN, BBC, Skynews)
DVD player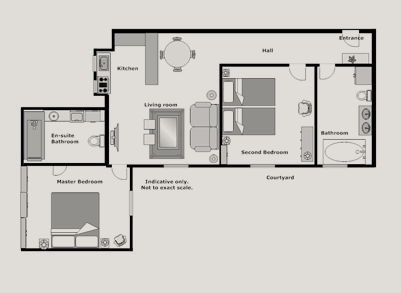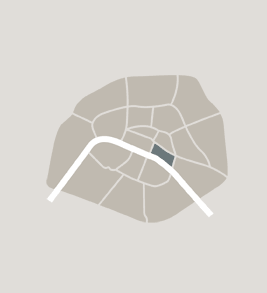 TESTIMONIAL
« This two bedroom, two bath apartment was perfect for a weeklong stay for me, my wife and two teenage kids. The apartment is on the fourth floor overlooking a classic French interior courtyard with trees. It's on a quiet street with little to no traffic. You wouldn't hear it anyway because you're facing the courtyard. The unit was very clean and bright. Very comfortable. Everything worked. There's a metro stop 100 yards away, accessed through a secret little passage to the street. And a fantastic French bakery at the same location. There's a nice restaurant downstairs with English speaking staff. All good. I'd stay here again. »
Robert Raines, USA, 06/08/2014
Google map
LOCATION
The apartment is located in the Village Saint Paul which lets you discover another facet of the Marais. A veritable market on the streets and in the courtyards of the Marais with 100 boutiques selling furniture, clothes and art. From the apartment you have direct access to the Metro, and plenty of stores to buy delicious French food and wine. The River Seine is one block from the building as well as the Ile Saint Louis. Notre Dame is only a few minutes walk from the apartment.
Closest metro : Saint Paul (line 1).
CALENDAR
November 2014
| Su | Mo | Tu | We | Th | Fr | Sa |
| --- | --- | --- | --- | --- | --- | --- |
| | | | | | | 01 |
| 02 | 03 | 04 | 05 | 06 | 07 | 08 |
| 09 | 10 | 11 | 12 | 13 | 14 | 15 |
| 16 | 17 | 18 | 19 | 20 | 21 | 22 |
| 23 | 24 | 25 | 26 | 27 | 28 | 29 |
| 30 | | | | | | |
December 2014
| Su | Mo | Tu | We | Th | Fr | Sa |
| --- | --- | --- | --- | --- | --- | --- |
| | 01 | 02 | 03 | 04 | 05 | 06 |
| 07 | 08 | 09 | 10 | 11 | 12 | 13 |
| 14 | 15 | 16 | 17 | 18 | 19 | 20 |
| 21 | 22 | 23 | 24 | 25 | 26 | 27 |
| 28 | 29 | 30 | 31 | | | |
| | | | | | | |
January 2015
| Su | Mo | Tu | We | Th | Fr | Sa |
| --- | --- | --- | --- | --- | --- | --- |
| | | | | 01 | 02 | 03 |
| 04 | 05 | 06 | 07 | 08 | 09 | 10 |
| 11 | 12 | 13 | 14 | 15 | 16 | 17 |
| 18 | 19 | 20 | 21 | 22 | 23 | 24 |
| 25 | 26 | 27 | 28 | 29 | 30 | 31 |
| | | | | | | |
February 2015
| Su | Mo | Tu | We | Th | Fr | Sa |
| --- | --- | --- | --- | --- | --- | --- |
| 01 | 02 | 03 | 04 | 05 | 06 | 07 |
| 08 | 09 | 10 | 11 | 12 | 13 | 14 |
| 15 | 16 | 17 | 18 | 19 | 20 | 21 |
| 22 | 23 | 24 | 25 | 26 | 27 | 28 |
| | | | | | | |
| | | | | | | |
CHECK AVAILABILITY