Welcome to your furnished Paris apartments!
The Dreams Apartments team manages 7 apartments in the heart of Paris. We hope you're ready to enjoy a nice and spacious apartment, rather than a cramped hotel room, and live like a real Parisian in your home away from home!
With Dreams Apartments, you are sure to stay at a beautifully decorated apartment, perfectly located in the center of Paris, close to the metro and to many must-see tourist attractions. Our team also guarantees clean and well-maintained apartments. We make every effort to keep them up to the high standards we believe our clients deserve.
Still hesitating? Check the testimonials our guests posted after their stays in the apartments. Like the hundreds of clients who chose Drems Apartments, you won't be disappointed.

News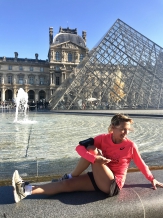 RUNNING SIGHTSEEING TOUR
Combining leisure and training, let's discover Paris while running!
Guide Lorraine was born in Paris and completed the Paris Marathon in 2016, 2017, and 2018. After leaving her office job, Lorraine now shares with clients the pleasure of running and discovering her city's most beautiful sites.
Lorraine will adapt the tour to your wishes. She considers your running experience and general physical preparation, and she can add in additional abdominal exercises and more…all while seeing Paris!
What a pleasure to run in Paris free of cars and beside the Seine!
Bois de Boulogne: Lorraine can take you through this special park, if you want to move away from the center of Paris and run around lakes.
She's a great personal trainer and she speaks English.