Welcome to your furnished Paris apartments!
The Dreams Apartments team manages 7 apartments in the heart of Paris. We hope you're ready to enjoy a nice and spacious apartment, rather than a cramped hotel room, and live like a real Parisian in your home away from home!
With Dreams Apartments, you are sure to stay at a beautifully decorated apartment, perfectly located in the center of Paris, close to the metro and to many must-see tourist attractions. Our team also guarantees clean and well-maintained apartments. We make every effort to keep them up to the high standards we believe our clients deserve.
Still hesitating? Check the testimonials our guests posted after their stays in the apartments. Like the hundreds of clients who chose Drems Apartments, you won't be disappointed.

News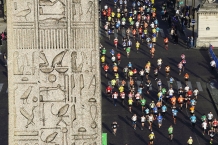 Come run the Paris Marathon in April!
Nearly 145 nationalities and 57,000 runners come to tackle the most fabled long-distance discipline in athletics. In April, this race across Paris, taking in the Champs Elysées, the Bois de Vincennes and Bois de Boulogne, offers an incomparable backdrop, with spectacular views and landmarks all along the route. This is the opportunity to take a trip to Paris. The days after the race, you'll just have to relax along the river Seine or enjoy a good meal on a restaurant terrace.
Or you can just enjoy Paris and support the runners and feel the particular atmosphere of Paris during this vibrant day...