Saint Germain Elegance one bedroom apartment in Paris
From your first step into this comfortable and perfectly located apartment, you will feel at home. Spacious and equipped with all the necessary appliances, the apartment is full of charm, thanks to its tasteful decoration and beautifully exposed beams that reveal a bit of old Paris.
Rate : from 1090 to 1750 euros per week.
EQUIPMENTS
Apartment
45 sq. meters (480 sq. feet).
4th floor walk-up
Building equipped with security doors and interphone
Sleeping arrangements
Bedroom with king sized bed
Full double thick-matressed sleeper sofa
(up to 4 guests)
Bathroom
Bathroom with large shower, wash basin and lavatory
Kitchen's' appliances
Dish washer
Fridge
Stove
Microwave
Oven
Toaster, coffee pot, kettle
Washing machine and separate dryer
Other equipments
Air condtioning
Stereo
Iron and ironing board
Vacuum cleaner
Umbrella
Hair dryer
Safe
Telephone
Free phone calls to 70 different countries, including USA, UK, Australia, Canada, Italy, Spain, Israel, China, Ireland, etc.
Internet
Wireless DSL Internet connection
TV
Cable channels (including CNN, BBC, Skynews)
DVD player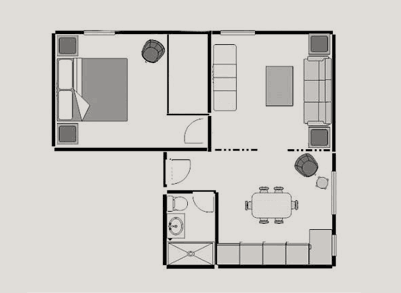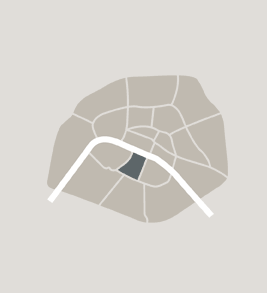 TESTIMONIAL
« We spent a week in St Germain Elegance apartment in November. I found it after lengthy research and changed our flights from October to November in order to get a booking. We were a little apprehensive and so pleased it worked out so well. The apartments manager is highly organized and completely dependable. The apartment is very comfortable and thoughtfully equipped ( washing machine, dryer, excellent cooker, a good range of stainless steel saucepans... even had utensils for baking + lots of sensible cleaning aids ) in a great location (we walked everywhere) close to an good carrefour supermarket and Nicolas wine shop. It has a proper king sized bed... a luxury in Paris rental apartments it seems to me. We will be back. Maybe we will stay in the Marais apt next time. »
Marie Foley, Ireland, 02/11/2014
Google map
LOCATION
At the corner of Rue Tournon and Rue St Suplice in St Germain des Près, you'll enjoy the view of the Senat's dome. The upper house of the French Parliament is right next to the entrance of the famous Luxembourg Garden, the largest and most pleasant park in Paris, and both are only a few steps away from the apartment. Near by, you can also explore countless chic shops, art galleries, and the famous Gérard Mulot bakery. When you want to pick up some fine food to cook a parisian meal at the apartment, you can visit the fabulous Marché St Germain. And once you decide to explore other parts of Paris, the metro is a 2 minute walk away.
Closest metro : Odeon (lines 4 and 10).
CALENDAR
October 2014
| Su | Mo | Tu | We | Th | Fr | Sa |
| --- | --- | --- | --- | --- | --- | --- |
| | | | 01 | 02 | 03 | 04 |
| 05 | 06 | 07 | 08 | 09 | 10 | 11 |
| 12 | 13 | 14 | 15 | 16 | 17 | 18 |
| 19 | 20 | 21 | 22 | 23 | 24 | 25 |
| 26 | 27 | 28 | 29 | 30 | 31 | |
| | | | | | | |
November 2014
| Su | Mo | Tu | We | Th | Fr | Sa |
| --- | --- | --- | --- | --- | --- | --- |
| | | | | | | 01 |
| 02 | 03 | 04 | 05 | 06 | 07 | 08 |
| 09 | 10 | 11 | 12 | 13 | 14 | 15 |
| 16 | 17 | 18 | 19 | 20 | 21 | 22 |
| 23 | 24 | 25 | 26 | 27 | 28 | 29 |
| 30 | | | | | | |
December 2014
| Su | Mo | Tu | We | Th | Fr | Sa |
| --- | --- | --- | --- | --- | --- | --- |
| | 01 | 02 | 03 | 04 | 05 | 06 |
| 07 | 08 | 09 | 10 | 11 | 12 | 13 |
| 14 | 15 | 16 | 17 | 18 | 19 | 20 |
| 21 | 22 | 23 | 24 | 25 | 26 | 27 |
| 28 | 29 | 30 | 31 | | | |
| | | | | | | |
January 2015
| Su | Mo | Tu | We | Th | Fr | Sa |
| --- | --- | --- | --- | --- | --- | --- |
| | | | | 01 | 02 | 03 |
| 04 | 05 | 06 | 07 | 08 | 09 | 10 |
| 11 | 12 | 13 | 14 | 15 | 16 | 17 |
| 18 | 19 | 20 | 21 | 22 | 23 | 24 |
| 25 | 26 | 27 | 28 | 29 | 30 | 31 |
| | | | | | | |
CHECK AVAILABILITY