Studio Marais Studio in Paris
A few steps from the Place des Vosges, the Marais Studio is located right in the heart of the trendy Le Marais district, very close to the Metro, fashionable clothing stores, and convenient everyday shopping. You couldn't ask for a better location! The Marais Studio is very comfortable, decorated with sophisticated, warm earth tones. It is bright, well appointed and equipped, and very quiet. This is the best choice for a couple on a budget or anyone looking for long term rental.

EQUIPMENTS
Apartment
25 sq. meters (300 sq. feet)
4th floor walk-up. Building equiped with security code and interphone
Sleeping arrangements
Full thick-matressed queen-sized sofabed,
very convenient and comfortable for daily sleeping
Bathroom
Bathroom with large shower, wash basin and lavatory
Kitchen's appliances
Fridge
Stove
Microwave/oven
Toaster, coffeepot, kettle
Washing machine with integrated dryer
Dishwahser
Other equipments
Stereo with Ipod dock
Iron and ironing board
Vacuum cleaner
Umbrella
Hairdryer
Telephone
Free phone calls to 70 different countries, including USA, UK, Australia, Canada, Italy, Israel, etc.
Internet
Wireless DSL Internet connection
TV
Cable channels (including CNN, BBC, Skynews)
European DVD player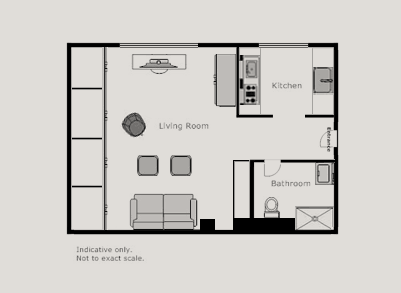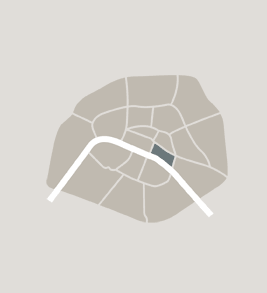 TESTIMONIAL
« We had a fantastic stay at St Germain and would not hesitate to rebook if we are lucky enough to return to Paris. The apartment was in the best area for shopping, restaurants, walking, in fact it was just perfect. Miss it already! »
Lorraine Ryan, Australia, 05/21/2014
Google map
LOCATION
In the heart of the Marais district, the apartment is located half a block from the famous Rue des Francs Bourgeois. This beautiful street offers a great mix of fashion, chic boutiques and home design, plus restaurants and cultural places to visit such as the Musée Carnavalet and the beautiful Place des Vosges. The metro St Paul is a few steps from the apartment too, and if you walk a little further, you'll cross the River Seine and reach the Ile Saint Louis, the Ile de la Cité and Notre Dame. And you couldn't be closer from the cutest square, the Place du Marché Ste Catherine, my favorite!
CALENDAR
December 2018
| Su | Mo | Tu | We | Th | Fr | Sa |
| --- | --- | --- | --- | --- | --- | --- |
| | | | | | | 01 |
| 02 | 03 | 04 | 05 | 06 | 07 | 08 |
| 09 | 10 | 11 | 12 | 13 | 14 | 15 |
| 16 | 17 | 18 | 19 | 20 | 21 | 22 |
| 23 | 24 | 25 | 26 | 27 | 28 | 29 |
| 30 | 31 | | | | | |
January 2019
| Su | Mo | Tu | We | Th | Fr | Sa |
| --- | --- | --- | --- | --- | --- | --- |
| | | 01 | 02 | 03 | 04 | 05 |
| 06 | 07 | 08 | 09 | 10 | 11 | 12 |
| 13 | 14 | 15 | 16 | 17 | 18 | 19 |
| 20 | 21 | 22 | 23 | 24 | 25 | 26 |
| 27 | 28 | 29 | 30 | 31 | | |
| | | | | | | |
February 2019
| Su | Mo | Tu | We | Th | Fr | Sa |
| --- | --- | --- | --- | --- | --- | --- |
| | | | | | 01 | 02 |
| 03 | 04 | 05 | 06 | 07 | 08 | 09 |
| 10 | 11 | 12 | 13 | 14 | 15 | 16 |
| 17 | 18 | 19 | 20 | 21 | 22 | 23 |
| 24 | 25 | 26 | 27 | 28 | | |
| | | | | | | |
March 2019
| Su | Mo | Tu | We | Th | Fr | Sa |
| --- | --- | --- | --- | --- | --- | --- |
| | | | | | 01 | 02 |
| 03 | 04 | 05 | 06 | 07 | 08 | 09 |
| 10 | 11 | 12 | 13 | 14 | 15 | 16 |
| 17 | 18 | 19 | 20 | 21 | 22 | 23 |
| 24 | 25 | 26 | 27 | 28 | 29 | 30 |
| 31 | | | | | | |
CHECK AVAILABILITY