Marais Delight one bedroom apartment in Paris
Located right in the very center of Paris, in a charming side street of the historic Marais area, this apartment combines the classic Parisian charm of exposed beam architecture with the comfort and style of modern furnishings and amenities. This is an ideal Paris home from which to explore all the best areas of central Paris on foot.

EQUIPMENTS
Apartment
50 sq. meters (540 sq. feet). Duplex apartment.
3rd floor walk-up
Building equiped with security code and interphone
Sleeping arrangements
Bedroom with one king-sized bed or 2 twin beds
Full double thick-matressed queen-sized sleeper sofa
(up to 4 guests)
Bathroom
Bathroom with basin, Italian shower and lavatory
Kitchen's' appliances
Fridge
Dishwasher
Stove
Microwave/oven
Toaster, Coffee pot, kettle
Washing machine with integrated dryer
Other equipments
Bluetooth Stereo system
Iron and ironing board
Vacuum cleaner
Umbrella
Hair dryer
Safe
Telephone
Free phone calls to 70 different countries, including USA, UK, Australia, Canada, Italy, Spain, Israel, China, Ireland, etc.
Internet
Wireless DSL Internet connection
TV
Cable channels (including CNN, BBC, Skynews)
DVD player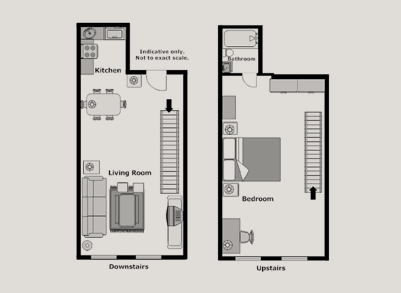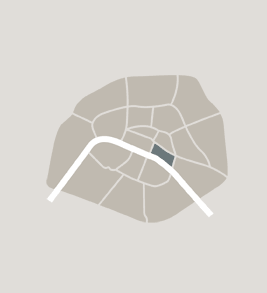 TESTIMONIAL
« This is a very nice place, and well maintained. The location is also outstanding. Easy walk to major sites and public transportation options. Bakery across street excellent too. Cecile very responsive and helpful. »
Ron Pessner, USA, 05/30/2017
AT YOUR DOORSTEP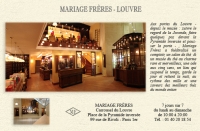 Mariage Freres Tea shop
Tucked into the apartment's street, the Rue du Bourg Tibourg, Mariage Frères is quite the experience. The vicinity, home to the Picasso Museum and the residence where Victor Hugo penned Les Misérables, invites you to meander. We were lost in the medieval lanes and architecture when we found the address we were seeking. True to the Mariage family's roots in the Marias this space, which began as their warehouse in the early 1980s, now houses a tearoom, shop and museum. Albeit puffy eyes and jet lag my husband and I truly enjoyed a few hours in this temple to tea and French civility.
Google map
LOCATION
Located in one of the most charming streets of the Marais district, the Rue du Bourg Tibourg (13th century), the Marais Delight apartment is in the very heart of Paris. It is a few minutes walk only from Notre Dame and Place des Vosges, the beautiful Ile Saint Louis and the River Seine.
Closest metro : Hotel de Ville (line 1).
CALENDAR
December 2018
| Su | Mo | Tu | We | Th | Fr | Sa |
| --- | --- | --- | --- | --- | --- | --- |
| | | | | | | 01 |
| 02 | 03 | 04 | 05 | 06 | 07 | 08 |
| 09 | 10 | 11 | 12 | 13 | 14 | 15 |
| 16 | 17 | 18 | 19 | 20 | 21 | 22 |
| 23 | 24 | 25 | 26 | 27 | 28 | 29 |
| 30 | 31 | | | | | |
January 2019
| Su | Mo | Tu | We | Th | Fr | Sa |
| --- | --- | --- | --- | --- | --- | --- |
| | | 01 | 02 | 03 | 04 | 05 |
| 06 | 07 | 08 | 09 | 10 | 11 | 12 |
| 13 | 14 | 15 | 16 | 17 | 18 | 19 |
| 20 | 21 | 22 | 23 | 24 | 25 | 26 |
| 27 | 28 | 29 | 30 | 31 | | |
| | | | | | | |
February 2019
| Su | Mo | Tu | We | Th | Fr | Sa |
| --- | --- | --- | --- | --- | --- | --- |
| | | | | | 01 | 02 |
| 03 | 04 | 05 | 06 | 07 | 08 | 09 |
| 10 | 11 | 12 | 13 | 14 | 15 | 16 |
| 17 | 18 | 19 | 20 | 21 | 22 | 23 |
| 24 | 25 | 26 | 27 | 28 | | |
| | | | | | | |
March 2019
| Su | Mo | Tu | We | Th | Fr | Sa |
| --- | --- | --- | --- | --- | --- | --- |
| | | | | | 01 | 02 |
| 03 | 04 | 05 | 06 | 07 | 08 | 09 |
| 10 | 11 | 12 | 13 | 14 | 15 | 16 |
| 17 | 18 | 19 | 20 | 21 | 22 | 23 |
| 24 | 25 | 26 | 27 | 28 | 29 | 30 |
| 31 | | | | | | |
CHECK AVAILABILITY